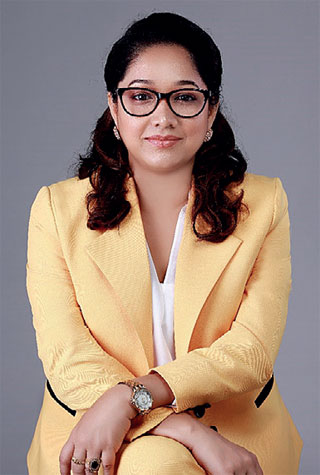 Ishara Koralage
---
Asia Awards, powered by the Rula Awards, now regarded as a benchmark of corporate excellence worldwide, recently announced Ishara Koralage as the Most Innovative Bridal Dresser in Asia for the year 2022.

Ishara Koralage is one of Sri Lanka's most successful young businesswomen in her domain. She runs a successful chain of bridal salons and a certified training centre for aspiring cosmetologists under the umbrella company Ishara Koralage Holdings Ltd. Ishara Koralage despises that "bridal dressing" has become one of the most challenging tasks in the fashion world.

"I want to bring all the fashion-forward elements of ready-to-wear to the bridal experience and give my client something that I see them looking for, but that they're not finding: simple pieces that are technically beautiful and investment pieces that you can carry beyond the wedding," said Koralage.

Ishara, now a winner of Asia's Most Innovative Bridal Dresser Award, is all about taking the best parts of getting dressed – layering and styling – and applying them to bridal. Her signature pieces, such as makeup, hairstyle jackets, jewellery, and one-of-a-kind separates, take centre stage, and styling looks with them is central to her brand's ethos.

Ishara's brand gives women what they want while also breaking the mould. Her vibe has drawn the attention of many prominent personalities for their wedding days, creating such a high demand that booking an appointment to be dressed by her is a rare privilege.

Sensuality, creativity, and wit are just a few sources of inspiration in Ishara's work. Ishara is now collaborating with an Italian designer to create her dress line that incorporates all of her favourite details.

"It has always been a privilege to offer my brides pieces by the most talented fashion designers," Koralage commented. She now offers her label not only in her bridal salon but also in stores worldwide.

Ishara founded Ishara Koralage Inc. with a well-known and leading US retailer; the company was jointly funded and incorporated in the United States to promote a premium leather product line for the US and European markets. The company has already launched their online store at www.isharakoralage.com. It plans to open ten physical sales locations across the United States and Europe over the next 24 months.

Ishara is also well-known in Sri Lanka as a prime-time news anchor for several significant networks before venturing on her own.