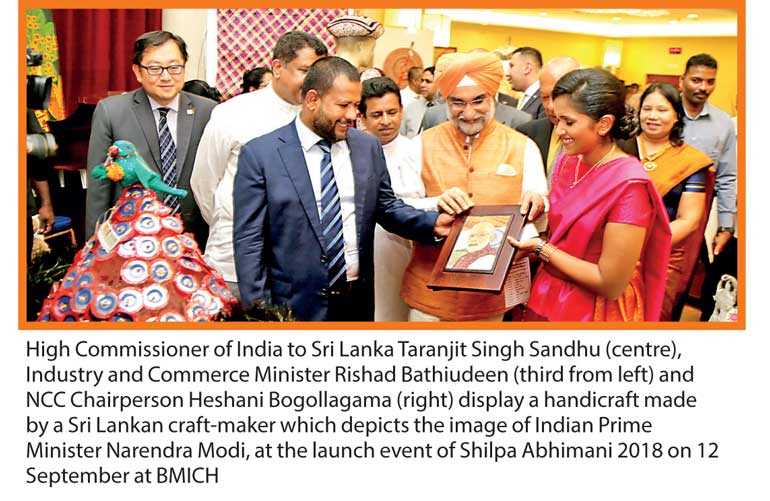 Highest sales in a Sri Lankan crafts event – at Rs. 12 m+' – Rishad
Craftsmen from five countries, 27,000 visitors in the six-day festival
SL craft exports surge by 11%
The recently concluded six-day long national handcrafts festival has netted highest sales reported in the series so far.

"The Shilpa Abhimani 2018 festival reported a total sale of Rs. 10.82 million. This is the best sales in this series so far. We thank all our craftsmen," said Minister of Industry and Commerce Rishad Bathiudeen, evaluating the event report from National Crafts Council (NCC) Chairperson Heshani Bogollagama on 20 September.

The event was launched on 12 September in Colombo by Minister of Industry and Commerce Rishad Bathiudeen with the participation of High Commissioner of India to Sri Lanka Taranjit Singh Sandhu, Agricultural Minister Mahinda Amaraweera, Deputy Minister of Industry and Commerce Buddika Pathirana, NCC Chairperson Bogollagama and many other distinguished craftsmen from Sri Lanka, India, Bangladesh, Nepal, and Malaysia. The six-day long Shilpa Abhimani showcased 1,418 designs (of Lankan craftsmen that won awards at Provincial levels) that will compete for Presidential Awards later.

NCC report showed 27,000 visitors arriving to experience the crafts festival. Total sale value of Rs. 10.1 million (local Rs. 9 million and foreign Rs. 1 million – from 14 foreign exhibitors) was apart from Rs. 2.1 million orders received by Lankan craftsmen. Another Rs. 710,000 was collected from sale of award winning crafts. A total of 101 booths were displaying a wide range of designs and hand-work by craftsmen from Sri Lanka, India, Bangladesh, Nepal, and Malaysia.

Addressing the 12 September launch event Minister Bathiudeen stressed of the achievements of NCC and added: "With the Japan based International Research Centre for Intangible Cultural Heritage in the Asia-Pacific Region (IRCI) the Government is now working on a project to revive traditional textiles and women's handicrafts in North and Eastern Provinces. We thank both UNESCO and IRCI for supporting us in this project which is expected to close in 2019."

According to Bogollagama there are 26,000 registered Lankan craftsmen. "Training them and taking their crafts to the market are important activities. NCC expanded training centres and now we have a total of 112 centres across the country," she said.

According to the Sri Lanka Export Development Board, export of crafts increased last year by 11% to $ 61 million from 2016's $ 56 million. The largest craft volumes were toys, ceramic ornaments and copper designs.