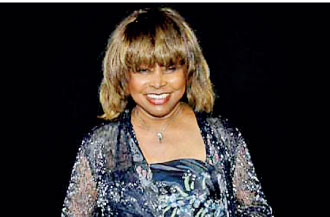 Tina Turner
---
LOS ANGELES (AFP): Tina Turner, the trailblazing rocker whose powerful voice and imposing stage presence thrilled global audiences for decades, died Wednesday at the age of 83.

Tributes poured in from around the world, with some of music's biggest names lamenting the loss of a singular and instantly recognisable performer, whose popularity spanned generations.

Rolling Stones frontman Mick Jagger – who, legend has it, learned his dance moves from the diva, said the world had lost "an enormously talented performer and singer." "She was inspiring, warm, funny and generous. She helped me so much when I was young and I will never forget her." Bandmate Ronnie Wood called Turner "the Queen Of Rock And Soul and a dear friend." Fans lined up to pay tribute at the wrought iron gates of her huge compound in Kusnacht, on Switzerland's Lake Zurich, many bearing candles and flowers.

Chateau Algonquin had been the home Turner shared with her German husband Erwin Bach for almost three decades, including when she took Swiss citizenship in 2013, and relinquished her US passport.

"The world has lost an icon," Swiss President Alain Berset said.

US President Joe Biden paid a pointed tribute to a "once-in-a-generation talent that changed American music forever." "Tina's personal strength was remarkable," Biden wrote. "Overcoming adversity, and even abuse, she built a career for the ages and a life and legacy that were entirely hers," he added, calling Turner "simply the best." Biden's former boss, Barack Obama called her "a star whose light will never fade." "Tina Turner was raw. She was powerful. She was unstoppable. And she was unapologetically herself – speaking and singing her truth through joy and pain; triumph and tragedy," America's first Black president wrote of the star held up as a Black icon.

Turner's Britain-based publicist Bernard Doherty said her death came after a long illness, and had robbed the world of "a music legend and a role model." He gave no details of the illness.

A career that would go on to net eight Grammy Awards began in the 1960s in a partnership with husband Ike Turner.