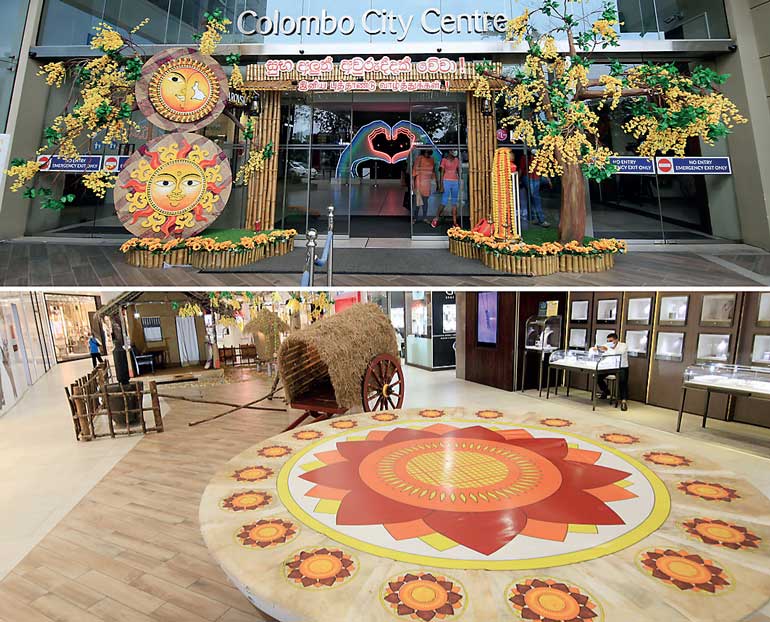 ---
Colombo City Centre (CCC) welcomes shoppers to celebrate the Sinhala and Tamil New Year at the mall from 1 to 15 April. Salient features of the CCC Avurudu include the 'Avurudu Gammanaya' (Village), Kevili Hut, and Avurudu Games, at the CCC Ground Floor Atrium.

Representing both Sinhala and Tamil cultures, the Avurudu décor creates a traditional village ambiance for the urban dweller as well as for the foreign traveller. Mall patrons will encounter a traditional clay house, a swing, Sekkuwa, Kolam designs, Vee Bissa, and the largest rabana in Sri Lanka, with a diameter of 10 ft, at the village.

Shoppers can take part in Avurudu games and activities. Professional raban players will lead the way for customers to usher in the Avurudu spirit. The festivities will take place every weekend leading to the day of the Sinhala and Tamil New Year, starting on 2 April.

You can enjoy a taste of traditional sweetmeats, such as Kewum, Kokis, Athirasa, Jalebi, and Laddu, that accentuate Sinhala-Tamil cultural comradery, at the Kevili hut for free, while shopping and experiencing a traditional Avurudu atmosphere, at CCC.

Avurudu games such as lime and spoon, Banis Kaema, balloon blowing, 'how many kawums in the jar?', Andayata Kiri Keweema, pin the eye of the elephant, and Sengawunu Amutta Seweema, will keep both kids and adults entertained, enabling everyone to enjoy Avurudu as a family.

Shoppers can win CCC gift vouchers with exciting Avurudu promotions introduced by CCC this season. The first 150 customers stand a chance to win CCC gift vouchers worth Rs. 1,000 when they spend Rs. 15,000 or more at any of the CCC's food and beverage outlets. Those who spend Rs. 30,000 or more on a single day will receive vouchers worth Rs. 1,000. These offers will be valid from 1 to 13 April. More information on these offers can be obtained by speaking to the CCC Customer Care team and via CCC›s Facebook and Instagram pages.

Await more exciting activities and promotions to celebrate many more festivities at the beating heart of Colombo.