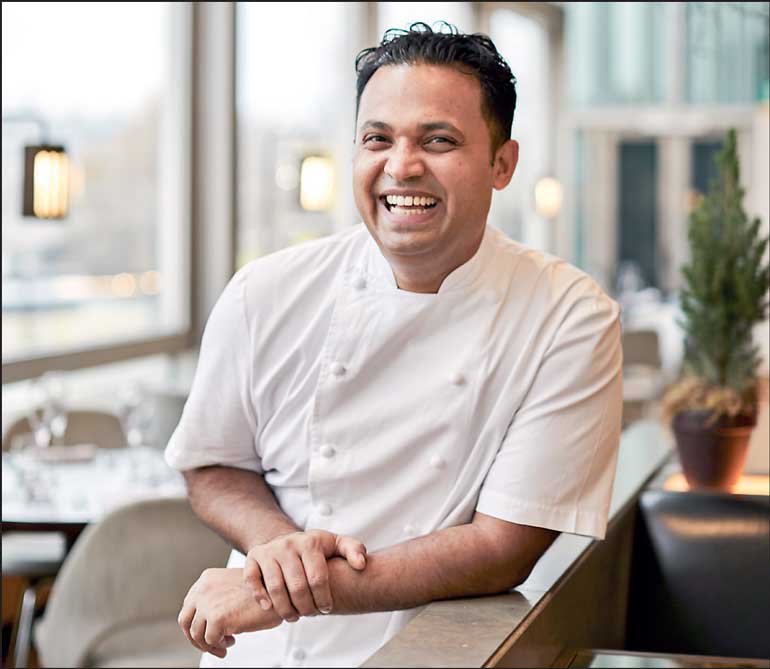 Chef Larry Jayasekera
---
Capital Bar & Grill will feature three exclusive dining events on 9, 10 and 11 February at 7.00 p.m., as part of Culinary Collaborations at Shangri-La Colombo
---
By Charumini de Silva
---
Shangri-La Colombo welcomes Sri Lankan culinary sensation in the form of One Starred Michelin Chef Larry Jayasekera to host three exclusive dining events where guests can experience first-hand his celebrated gastronomic flair.

Culinary Collaborations at Shangri-La Colombo is a series showcasing personalities in the culinary arts, exchanging ideas, and offering gastronomic delights to its valued patrons. The Culinary Collaborations series was launched in November 2022 to mark Shangri-La Colombo's 5th anniversary and this event featuring Chef Larry will be Volume Three of the series. Chef Larry's variety of mouth-watering delectable dishes will be paired to perfection by Sommelier Elvis Ziakos, who has been named Sommelier of The Year – UK in 2018 and 2019.

In an exclusive interview, Daily FT spoke to Michelin Chef Larry, who is in Sri Lanka preparing to serve a variety of mouth-watering delectable dishes for this exclusive Michelin Star dining experience on 9, 10 and 11 February at 7.00 p.m. at Capital Bar & Grill, Shangri-La Colombo.

From his early days as a cook in Sri Lanka to his current position as a Michelin-starred chef in the UK, Larry has come a long way.

Being a native of Hikkaduwa who moved to London as a teenager, Chef Larry has steadily risen through all the culinary ranks by creating exquisite dishes in some of the UK's most renowned restaurants, including Marcus Wareing's The Berkeley, Raymond Blanc's Le Manoir, and Michel Bras.

He was the former head of chef of Gordon Ramsay's famed Michelin Starred Restaurant – Pétrus and is the recipient of several highly acclaimed accolades such as National Chef of the Year 2016 (UK) and Young Chef Of The Year 2007 (UK).

Below are excerpts from the interview;
---
Q: In 2002, you moved to the UK from Hikkaduwa and the rest is history. Could you describe the early days of the journey briefly?
I loved every minute of it. When I arrived in the UK, I joined a Culinary College at South Devon College which gave me the foundation to start on my journey. It was an exciting time with so many new experiences for me all around.
Q: Was it always your goal to work in the culinary industry? or What was the trigger point that made you decide on a career as a chef?
It was always a dream of mine to work in the culinary world as I was always fascinated by different cuisines and produce from around the world. My time at the culinary college simply reaffirmed my passion for the industry.
Q: Where did you do your training and any unforgettable moments in that journey?
My initial training was at the culinary college and after that, I moved on to a local hotel to put my skills to practice. I was privileged to have the opportunity to then work at leading culinary establishments which allowed me to hone my skills. Working with incredible culinary personalities at Marcus Wareing's The Berkeley, Raymond Blanc's Le Manoir, Michel Bras and Gordon Ramsay's famed Michelin Starred Restaurant – Pétrus were all highlights of how I got to where I am today. Every establishment I was at contributed to my personal and professional development.
Q: As a Michelin Star Chef, what's the secret to preparing good food?
Achieving and maintaining a Michelin Star requires an incredible team to be by your side. It starts with having the best quality ingredients from our suppliers and a team of chefs who genuinely respect and love working with seasonal produce. It is important that our service team, which looks after the guests, needs to be equally passionate about promoting our dishes.
Q: Your resume is extremely impressive. What has had the biggest impact on your cooking style, and how has it changed it?
I would have to say that I am extremely fortunate to have met, worked alongside and been mentored by very dynamic personalities in the culinary world. But it's not just the big names that have inspired me, the chefs that I worked alongside at these amazing establishments became family and we all benefited from sharing our unique experiences. These experiences were not limited to just cooking but extended over to the business aspect of running a restaurant and managing a team.
Q: Who are your idol/s in the culinary world?
Michel Bras and Thomas Keller
Q: Are there chefs that you would love to work with? Could you elaborate on the reasons, please?
I would love to work with everyone! There are so many exceptional restaurants around the world; each with its unique personality. You will always learn something new at every restaurant which ultimately makes you a better chef.
Q: How do you describe your overall cooking philosophy?
I would describe my philosophy as simple, clean and elegant. The product is the star of the show and needs to be presented in a way that is aesthetically pleasing and bursting with flavour.
Q: Do you have any other ambitions in the culinary world? and outside the kitchen?
I am living my dream right now and I want to keep doing so. I have achieved a Michelin Star and will be opening my restaurant soon but each day I look forward to sharing and inspiring my guests and team with creative menus and concepts. Every day is an opportunity to teach and learn and that is why I love Culinary Collaboration and greatly look forward to my time at Shangri-La Colombo
Q: What is your specialty cuisine?
I cannot say that I have one, but I absolutely love getting creative with fresh seasonal ingredients and always look forward to the game season in the UK. I also greatly enjoyed learning Japanese, French and Nordic cuisine.
Q: What sort of cuisine will be offered during the promotion?
During my time at Shangri-La Colombo, guests can look forward to a specially curated menu served at the three exclusive events I am hosting at Capital Bar & Grill. I conceptualised the menu intending to use as many locally sourced ingredients to marry flavours that are staples in my menus in the UK. I will be working very closely with Shangri-La Colombo's Executive Chef Patrick Buttgereit and his team and I am so excited to be able to visit local markets alongside them. It's an incredible feeling to be able to share my dishes with the audience in Colombo.

On a personal note, I am really happy to have the opportunity to work alongside a diverse team where I can share my experiences and knowledge which I hope will inspire the young chefs at Shangri-La Colombo.
Q: Will you be using locally sourced ingredients or will you be bringing any special ingredients?
I am looking forward to revisiting the markets and sourcing home-grown, local produce. It is an exciting opportunity to pair these ingredients with unique techniques learned from my training for the past 18 years and create some interesting dishes for everyone to enjoy.
Q: What is your signature dish and will you be serving that?
Honestly I think the concept of "signature dishes" is coined by guests who prefer a specific dish and keep coming back for it. From my perspective, I don't have one because I always want my menus to evolve.
Q: What is your message to young chefs in Sri Lanka?
To all young talent in Sri Lanka; I would like to tell them to never give up. You may face obstacles or challenging times, but keep your head down and continuously cultivate your skills and creativity. Always be open to learning not just from chefs who are more experienced than you but also from your peers. I can't stress this enough – the produce and ingredients need to be respected and should shine on the plate. Always taste your food and make adjustments as you go along, listen to your gut and never be afraid to try something new. I promise you – if you keep learning and investing your heart and soul into this journey, you will succeed.