The Triple Treat Box comes with two delicious medium pan pizzas, an appetiser and a dessert! Satisfy your taste buds with scintillating flavours from Classic Veg, Classic or Signature pizza ranges including Devilled Chicken, Double Chicken and Cheese Fiesta, Veggie Supreme, Hot and Spicy Chicken, to name a few. Choose your appetiser from Chicken Wings, Spicy Chicken and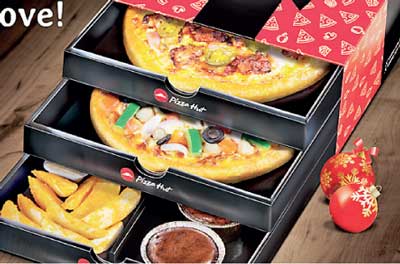 Cheese Balls, Cheesy Garlic Bread Supreme, Potato Wedges or Garlic Bread and wrap up this tantalising Triple Treat with our desserts, where you could either select two delicious Chocolate Melt Lava Cakes or a Gooey Chocolate Brownie. "It's a special treat tht's tailor-made to be shared with those you love, which is ideal for the season whether it's with your family or friends. It's the perfect treat for everyone," said Gamma Pizzakraft Lanka CEO Yasa Nadaraja.

Gamma Pizzakraft Lanka Director Marketing Sharmila Arasaratnam added, "The Triple Treat Box is the perfect gift from us to you this season. It is all about celebrating moments with Pizza Hut and we hope that our triple treat box helps you create even more memories this season."

Whether it's you and your significant other, or whether you want to spend time with your beloved family, the Triple Treat Box is the perfect form of happiness for you this festive season.

The Triple Treat Box is yours for a special price of Rs. 2,500 so don't miss out on this limited time experience and make us part of your special moments this season. Visit Pizza Hut, call 2729729 or order online on www.pizzahut.lk, or through the Pizza Hut app.