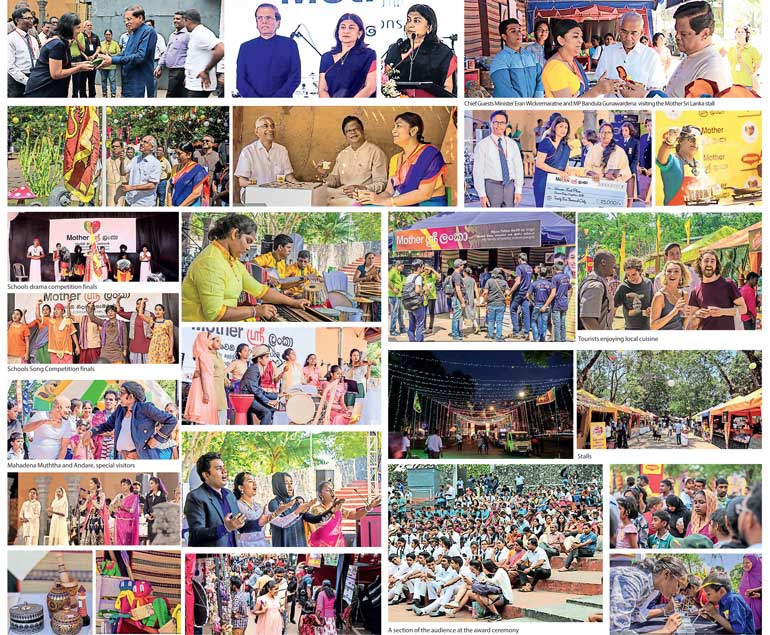 Sri Lanka celebrated the 70th Independence Day on 4 February 2018. In Sri Lanka, we celebrate so many festivals on religious and ethnic lines, but we wanted to celebrate an occasion that all Sri Lankans can come together and celebrate as one nation, regardless of ethnic and religious divisions. At a time where certain forms of disunity are raising its ugly head in some parts of the country, the Mother Sri Lanka movement (MSL) thought it is timely to do activities to remind us all about the importance of being united as Sri Lankans. Hence, as a movement promoting the pride of being Sri Lankan, and as an organisation who always believed in the potential of Sri Lanka, MSL launched a series of activities to celebrate the 70th Anniversary of Independence in a grand scale with the aim of re-kindling the 'pride of being Sri Lankan' and 'love for the Motherland'.

MSL's activities for celebrating independence have started as far back as September 2017, with the support of the Ministry of Education and corporate partners, and the blessings of the President's Office and the Ministry of Tourism. The programs that were launched by Mother Sri Lanka in lieu of the 70th Independence Day celebrations included an all island schools drama competition, on the theme "I must change for my country to change", and an all island schools patriotic song competition, a Sri Lanka souvenir design competition, and the Love Sri Lanka Street Festival, which was the grand finale of the celebrations to re-kindle 'everything Sri Lankan'.

The grand finale of the above activities was an amazing festival which lasted the whole day, from 8.30 am to 11 pm on Saturday, 3 February, unfolding as follows:

nAt 8.30 am the final judging of the all island schools song and drama competitions started, where children from all 9 provinces participated, were evaluated and winners selected
The Love Sri Lanka festival kicked off at 10.30 am by hoisting the national flag and by singing the national anthem, with the participation of State Minister of Finance Eran Wickremaratne and former Minister of Education Bandula Gunawardena, MP.
Award ceremony for the winners of the above schools competitions, and the all island souvenir designing competition were felicitated at an award ceremony at 5pm, with the participation of President Maithripala Sirisena, Ministry of Education Secretary Sunil Hettiarachchi and distinguished invitees from the sponsors and other well-wishers.
nThe last event for the day was the musical show featuring the band 'Infinity' live in performance, which started at 8 pm inside the amphitheatre, while the festival continued outside.

The dramas presented by the schools were quite impressive, with strong messages about what needs to be changed in our country in order to progress as a nation, while the songs were nostalgic and memorable with quite a few songs that addressed the need for unity among all ethnic groups, sung in English, Sinhala and Tamil.

The winners of the school competitions were:

All-Island Drama Competition Winners

1st place Nugawela Model School, Katugastota; 2nd place Thambuththegama Central College, Thanmbuttegama; 3rdplace Musaeus College, Colombo 7.

All-Island Song Competition Winners

1st place Matara Central College, Matara; 2ndplace Thalawa Maha Vidyalaya, Thalawa; 3rd place Hindu College, Colombo 4

The corporate partners for these events have been, NSB – Platinum Sponsor, Maggie – Gold Sponsor, Munchee, Watawala, Lifebuoy, Astra, Zesta, Ritzbury – Silver Sponsors, Samaposha, Nutriline, Prima Stella, Elephant House and Keells Foods as Bronze sponsors and Real FM, Derana TV , Derana FM, PULSE, Atom Media as Media Sponsors.

Established in 2008, Mother Sri Lanka (MSL) is a non-profit organisation which brings together the collaborative efforts of the public and private sectors, focusing on the educational, socio-economic and cultural development of Sri Lankans. MSL's primary focus is developing responsible citizens among our children, youth and adults, through an all-island network of over 2600 school clubs with a membership of approximately 75,000 youth and over 500 pre-schools. Moreover, MSL projects help develop entrepreneurship, leadership and project management skills of our youth, in order to gear them up to take over our motherland in the future. MSL has also embarked on livelihood development through the Patriot Collection of Sri Lanka souvenirs which now gives livelihood to about 30 self- employed people. Visit www.mothersrilanka.lk for more details.