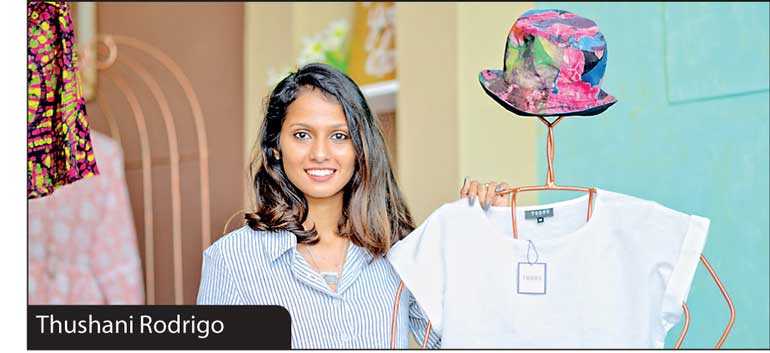 ---
Sri Lanka has a long-standing history of being a supplier for big fashion brands. A majority of these organisations have been blue-chip companies with a large number of staff and factories that have gone on to put Sri Lanka on the map.

However, today in Sri Lanka, a new breed of fashion design suppliers that have made a mark in the global market has been born. These are individual fashion entrepreneurs that have pushed the local fashion industry forward, through their design innovation and new business models, and exemplify the motivation and perseverance required for success in today's competitive fashion industry. They have helped to put Sri Lanka in the global fashion arena through their innovative fashion brands and designs.

One such recent brand to make this happen is TODOS, a brand which from launch and its early traction has gone on to scaling the heights as a business.

The brains and talent behind the brand, Thushani Rodrigo, having discovered her passion, took her first step towards carving out a career for herself at the age of 13, whilst she was still a student at Alethea International School. Having commenced sewing classes early in her life, she pursued on her diploma in Scientific Dressmaking at the Singer Fashion Academy, where she successfully completed it by the age of 15. She then went on take the stage at the Singer Fashion Show, and her success was testified when she bagged the CATS Award for the best category in evening wear for two consecutive years.

Being just 16 years old and armed with her awards, Thushani never looked back. Word spread of her creative work and intricate sewing with attention to detail. Believing she needed to put a brand name to her work led to the TODOS brand being born. TODOS, a Spanish word means "everything", which Thushani says epitomises what she delivers, are making clothes that break borders to fulfil a clothing dream of a customer.

With orders flowing in, Thushani started building her own skilled team by giving opportunities to youth like herself to join in her path of growth.Thushani then expanded her reach to public through Good Market, and subsequently started producing to a niche designer overseas and a few known brands in Sri Lanka. Today, Thushani with her team of people have set up a fully-fledged fashion design and production house, comprising of a development team, a cutting department, sample room, quality control, and production team.

Thushani was recognised for her efforts by Women in Management (WIN) in 2014, winning the entrepreneurship award for the small category and the bronze award for the small category in Entrepreneurship presented by WCIC for 2017.Singer Business School Head Koshitha Peramunagamage, taking pride on having helped hone the talents of an innovator such as Thushani, commented: "Our academy has been a launch pad for several fashion entrepreneurs. We believe in not only harnessing their talents in fashion design, but also in giving them training on entrepreneurship to launching new ventures, and on fashion branding and managing creative enterprises. Such trainings encourage self-employment and enterprise creation. The success stories of students such as Thushani is a strong testimony to this fact. " Thushani's future plan is to establish TODOS as a bespoke clothing brand in Sri Lanka.