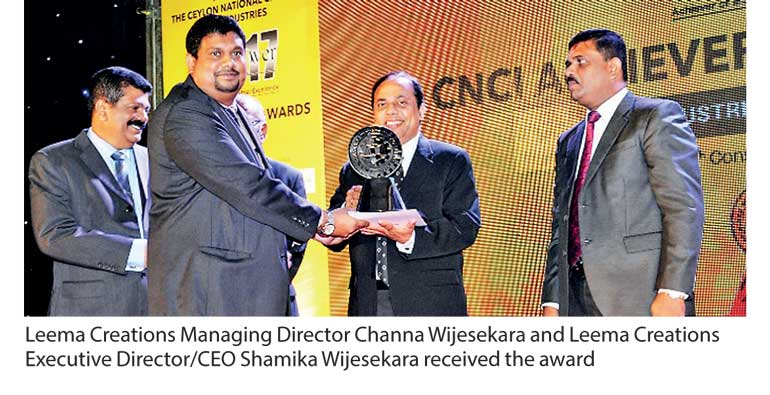 Total interior solutions provider Leema Creations Ltd. was recognised and honoured with the National Silver Award for Large Category Business at the CNCI Achiever of the Year 2017 awards ceremony held at Hotel Galadari on 17 August.

This is the seventh consecutive year Leema Creations has been recognised with a CNCI Achiever Award. Managing Director Channa Wijesekara and Executive Director/CEO Shamika Wijesekara of Leema Creations accepted the award at the ceremony.

Leema is geared to provide the clients with the most creative and innovative interior design concepts and execute and complete projects that will fulfill the desires of the client generating a bond that translate into long-term client loyalty as they retain the products through well-structured customer care program. These objectives are achieved through the direct involvement of a professional team of dedicated interior designers and expert technical team from the inception of a project.

The management of Leema gives priority to provide training to all categories of staff both internally and externally to improve their skills which will enable them to provide the best services and products to the clients.

Further the availability of a state-of-the-art factory at Dompe with the most modern computerised machinery has enabled Leema to turn out highest quality furniture with precise finishes. Leema is ISO 9001:2008 certified and company's processors are based on the ISO Standards and staff is constantly made aware of these concepts.