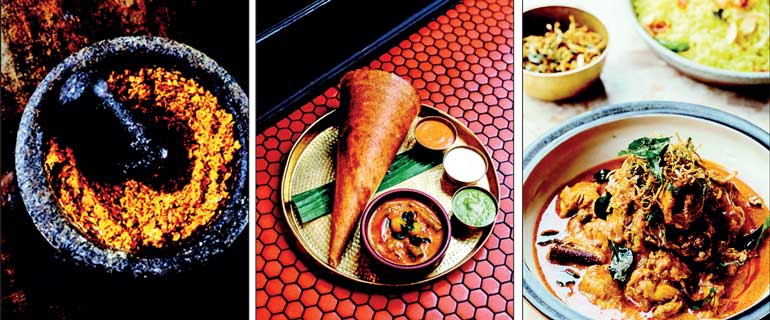 ---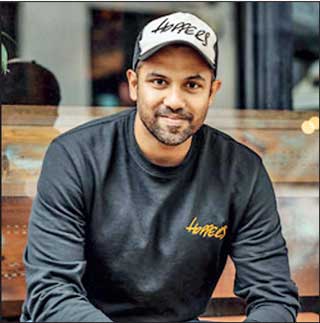 Karan Gokani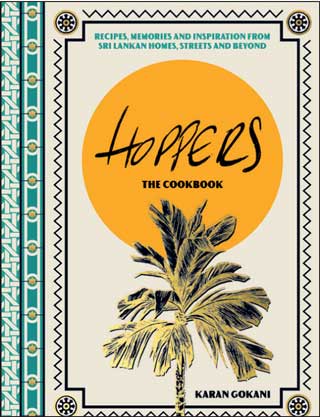 Book cover
---
The hotly anticipated first cookbook from the multi-award winning and acclaimed Hoppers restaurants in London "Hoppers: The Cookbook" containing recipes, memories and inspiration from Sri Lanka homes, streets and beyond by Karan Gokani will premiere in Sri Lanka next week.

The book is published by Quadrille.

Launch events are at Barefoot, Colombo on 6 February from 6.30 p.m. onwards and at Jetwing Colombo 7 Hotel on 7 February from 6 p.m. onwards.

Hoppers published its debut cookbook in Autumn 2022, "HOPPERS: The Cookbook," featuring signature recipes from the restaurants, recipes from friends and new dishes developed specifically for the home kitchen, alongside plenty of anecdotes and travel tips collected over the years by Hoppers' co-founder, Karan Gokani.

"Hoppers: The Cookbook" tells a personal story of the inspiration behind Hoppers and the people and places that shaped it, through recipes and stunning imagery, collected over several trips to Sri Lanka.

"I wanted this book to be much more than a cookbook. It seeks to document some of our favourite food and achievements over the years on the one hand; while simultaneously going beyond the walls of our restaurants to celebrate the people we admire, experiences that have shaped us, and off-menu dishes that we love," says Karan Gokani.

Subtitled Recipes, Memories and Inspiration from Sri Lankan Homes, Streets and Beyond, Hoppers: The Cookbook focuses on the food, places and people of the island: from Hoppers, Dosas, snacks of Hot Butter Squid and fiery Devilled Dishes to Bone Marrow Varuval and Black Pork Curry; Banana Leaf Bream with coriander and lemongrass, to sizzling plates of Beef Rib Fry; Tropical Tipples to the classic Chocolate Biscuit Pudding.

The recipes serve up the best of Hoppers and bring the warmth, character and generosity of Sri Lankan cooking into the home kitchen.

In addition to sharing recipes, Karan provides travel tips, as well as an in-depth breakdown of the Sri Lankan larder, the key herbs, spices, and essential curry powders alongside helpful notes on substitutions and equipment to make this incredible collection of recipes as approachable and accessible as possible.

The book features beautiful location and recipe shots by Sri Lankan photographer Ryan Wijayaratne, taking the reader on a food journey through homes, roadside shacks, hotels, and restaurants across the country. Sri Lankan graphic artist Rosa Gunasingha has created original artworks for the insides and graphic designer Luke Bird has art-directed and designed.

Karan grew up in Mumbai and moved to England in 2005 to study law at the University of Cambridge. Even as a practicing solicitor, Karan's passion for food and hospitality never faded and he spent time in professional kitchens in his spare time. In 2012, he left his legal career at a city law firm to pursue a career in hospitality, traveling across India and Sri Lanka to immerse himself in the food and culture of the countries Over the years Karan has written travel features and recipes on Sri Lanka and southern India for major national and international publications including The Sunday Times, The Telegraph, The Guardian, National Geographic, Conde Nast Traveller, The ES Magazine, Bloomberg, The Financial Times; and appeared on Sunday Brunch, Great British Chefs, Sorted Food's YouTube channel and various food festivals across the UK.

Hoppers was founded by JKS Restaurants and Karan Gokani in October 2015. The first Hoppers in Soho was inspired by the toddy-shops, home cooking and roadside stalls of Sri Lanka and South India, and served its namesake Hoppers alongside Dosas, Kothu, Short Eats, Rice and Roasts. The acclaim soon followed with reviews from London Evening Standard's Fay Maschler and the late Sunday Times critic A.A. Gill applauded Hoppers for its "seductive, come-hither menu" and "spectacular, impressive, authentic, confident and swaggering kitchen".

The restaurant went on to secure its Michelin Bib Gourmand in its first year. Following the success of Hoppers Soho, a second Hoppers at Marylebone's St Christopher's Place, themed around the iconic Tropical Modernist movement of the late Sri Lankan architect Geoffrey Bawa, followed in September 2017.

Hoppers King's Cross, the third and largest of the three restaurants, opened in February 2020 inspired by the much-travelled coastal journey from Colombo, the island's capital, to the historical Dutch town of Galle.