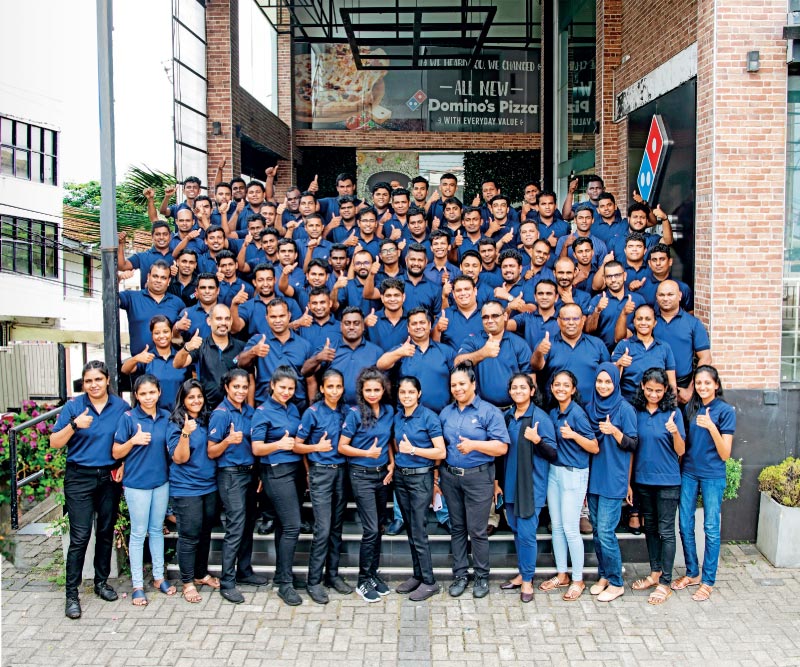 As testament towards continuously encouraging and nurturing individuals with a positive attitude and willingness to go the extra mile, Jubilant FoodWorks Lanka Ltd., a fully owned subsidiary of Jubilant FoodWorks Ltd. (JFL), was recently accredited as a Great Place to Work certifiedTM by the independent analysts at Great Place to Work in Sri Lanka.

Jubilant FoodWorks Lanka Ltd., as a fully owned subsidiary of Jubilant FoodWorks Ltd. (JFL), primarily a food-service company, operates its stores pursuant to a Master Franchise Agreement with Domino's Pizza International. JFL is provided with the exclusive right to develop and operate Domino's Pizza stores and the associated trademarks in the operation of stores in India, Bangladesh and Sri Lanka. JFL began its Sri Lanka operations in 2011 and currently operates with 49 stores bringing about a fresh outlook to the food industry.

Acknowledging that to be Great Place to Work certified takes ongoing commitment towards fostering a positive employee experience, the milestone achieved by Jubilant FoodWorks showcases official recognition voiced by employees themselves of the supportive culture of the company. Today, more than 300 employees operating across 49 stores work in tangent as torchbearers, equipped to take the brand to the pinnacle of service excellence.

The survey findings revealed that employees believed they are treated fairly regardless of race, took pride in their accomplishments, and were willing to work hard/go extra mile to get the job done. In addition, employees believe that they are treated as full members regardless of position and are provided with ample training and development to help them thrive professionally in their careers.

Jubilant FoodWorks Lanka Ltd. Country Head/Director Iranga Dharmawardhana said, "We are honoured to have received the Great Place to Work certificationTM. This is a testament to our commitment to creating a work culture that promotes an inclusive work environment where each and every individual brings their best to work every day. We believe it is a badge of honour that validates the employee experience, fostering value creation in putting our employees' well-being first and solidifies our position is one of the best companies to work for in the country."

Continuously nurturing employee passion, the company has spearheaded a series of initiatives to create a workplace that is welcoming, inclusive and reflective of its purpose and values. Jubilant FoodWorks believes in creating a diverse, equitable and inclusive workplace, with a higher representation of women, and an environment where everyone feels included, doing their best work across teams.

To meet the challenges of the past few years and prioritise employee safety and security, Jubilant FoodWorks created a hybrid workplace. This measure has not only contributed to greater flexibility and work-life balance, but it also demonstrated the company being fully- committed in supporting employees to be the best version of themselves.

Harnessing the power of continuous and active listening, the company conducts holistic and regular communication by leaders in addition to quarterly Town halls actively promoting transparent and authentic discussions. Committed to providing its employees with a collaborative and fulfilling work environment, Jubilant FoodWorks builds careers through multiple learning avenues, development opportunities to practice new skills and grow their own potential.

Celebrating employees for their efforts, the company's rewards and recognition programs thrives in driving a solid performance driven culture. Additionally, through Jubilant FoodWorks social initiatives such as donation of dry rations and vital electrical appliances, beds for less privileged homes for children, etc. have helped to build a sense of shared purpose, collaboration and teamwork and a culture that values social and environmental responsibility, and a positive reputation.