Cuisine of princely hearths from the 'City of Pearls' in the contemporary way
---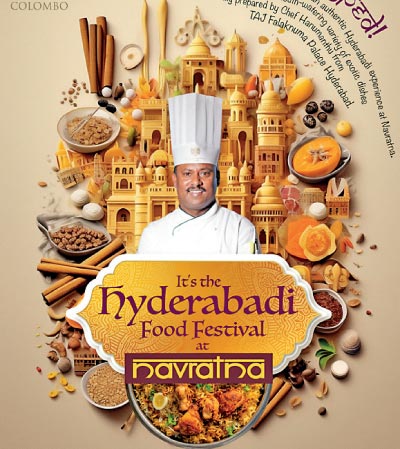 Ever discovered the twist of Hyderabadi food?

Taj Samudra, Colombo once again reignites the passion to indulge your taste buds. The Hyderabadi Food Festival will be held from 9 to 18 June, as Navratna Restaurant of Taj Samudra welcomes the world of redefined regional cuisine and gourmet paradise, reflecting flavours of India in a contemporary way.

Chef Hanumanthu will be flown in from Taj Falaknuma Palace Hyderabad, India, for this promotion assuring you the authentic cuisine. Navratna will be open for lunch from 12:30 p.m. to 3 p.m. and dinner from 7 p.m. to 10:30 p.m., with a scrumptious a la carte menu offering popular items.

Legend says that at one time, there were 140 Hyderabadi biryani varieties. Interestingly, vegetarian dishes too, cooked to perfection with gravy, each seem to have its own secret recipe for mix of spices, and are not an exception in their cuisine apart from its naan, paratha and kebabs. How meat is cooked in rice, spices, aroma and slow cooking with a lot of patience ("Ithmenaan se") bring the magic in Hyderabadi cuisine. It has been inspired by the state banquets from the ancient days with heirloom recipes from the princely hearths of Nizams and part of their legacy. Each dish is crafted with attention to detail, using novel culinary techniques to ensure the awe-inspiring authentic taste.

Among signature items: appetisers include patthar ki ghost (this is nut based, marinated for 48 hours, cooked on a hot stone), shikampuri kebab (pan fried ground lamb patties with yoghurt filling), Hyderabadi dahi kebab (pan fried hung yoghurt patty) and zimikand shikampuri kebab (pan fried elephant yam patty with yoghurt filling; mains and biryani include Hyderabadi kaccha ghost ki biryani (lamb marinated overnight cooked in a sealed brass pot and layered with fragrant basmati rice), haleem (regional Ramadan dish, ground meat and wheat, sheermal bread), and subz gulezar biryani (Mélange of vegetables marinated and cooked in a sealed brass pot and layered with fragrant basmati rice) among vegetarian dishes. To wrap up, desserts include nalli Gosht double ka meetha (Hyderabadi bread pudding), jauzi halwa (Almond cooked with broken wheat and saffron), accompanied with exotic Hyderabadi cocktails and mocktails, infused to perfection.

Hyderabad, 'The City of Pearls' dubbed as the City of Nizams derived its name in Arabic origin- from lion (Hydra) and city (bad), which also resemble the city's roots. Also known as 'Deccani cuisine' that reminisces the pulse of the region having ties with many parts of the world, Hyderabad cuisine is inspired by South Asian, Turkish, Mughlai, Arabic, Telangana and Marathwada dishes.