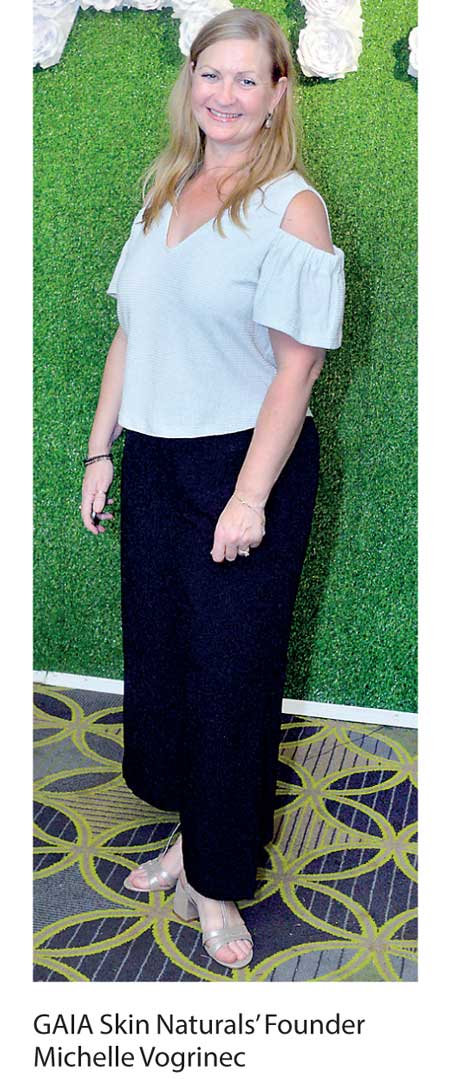 To fill a niche for organic, natural skincare products
Plans to launch men's range soon
By Charumini de Silva

Gaia Skin Naturals held its grand launch in Sri Lanka with exclusive agency partners Nyth Global Ventres Ltd. recently to fill in a niche in the market for high quality, naturally derived, certified organic, thoughtfully designed, innovative and safe skincare products.

Established by Directors, Fazal Ahamed and Mifra Sadikeen, Nyth Global Venture Ltd. was created with the goal of partnering with renowned, world-class quality, natural and organic brands to cater to the niche yet growth intensive Sri Lankan market for toxin free, natural products.

Gaia, the trusted natural and organic skincare range in Australia, with a global presence in over 23 countries, is committed to quality and excellence. The company partners with institutions that create natural and extraordinary products and services while reducing their impact on the environment through green practices.

"It all started with my first child who suffered, like many children do, from eczema. After many visits to the doctors and skin clinics nothing seemed to work on him and his skin reacted to all of these products. I then started to make herbal potions off the stove and it actually started to work. Following on the success of this, Gaia has come a long way as a leading international skincare brand," GAIA Skin Naturals' Founder Michelle Vorginec told the Daily FT.

Noting that the firm has grown over the past 15 years she assured that GAIA utilise all natural organic ingredients to keep the moisture into the skin construction. At present their products ranges from baby care, pregnancy care, lice control, adult skin care. It was noted that they soon expect to introduce the Gaia men's range also in Sri Lanka.

"When we created our range, we created it very basic. It is light, but very effective. All our products are supportive of skin structure construction, regardless of your location of the world because they are all natural ingredients, oils and are not tested on animals, which mean they are cruelty free and vegan friendly," Vorginec added.

Speaking to the press and invited guests GAIA Skin Naturals' founder Michelle Vorginec said, "We believe that what you put on your body is just as important as what you put in it, which is why all our ingredients are natural and toxin free. Our products use certified organic oils and are not tested on animals, which mean they are 'cruelty free' and 'vegan friendly'."

The certified organic oils and unique blends of pure and natural ingredients used in all Gaia products mean that they are incredibly safe and gentle to use and don't contain any hidden toxins and irritants that are harmful. Perfect for use on your baby and children's sensitive skin as well as mums to be, especially since your skin absorbs about 60% of what's applied on it.

Gaia products have been winners of several prestigious Australian and international awards since its inception to date, including Mother and Baby, My child excellence awards, Cozycot parenting and more.

Nyth Global Ventures Director Mifra Sadikeen said the entire range of Gaia products are now available online www.gaia.lk with islandwide delivery, while it will be also on sale at six Healthguard outlets. In addition the products could be found at Milk & Honey outlet in Colombo.

The Gaia range of products in Sri Lanka include the Natural Baby bath and body washes, shampoo, wipes, talc-free powder, body lotion, massage oil, soothing cream and more. The Pure Pregnancy range includes the belly butter, nipple cream and belly oil. There is also the extremely effective and successful HIT NITZ 4 6 range which provides an easy, toxin free, two-step system to help control head lice.
Pic by Manoj Rathnayake