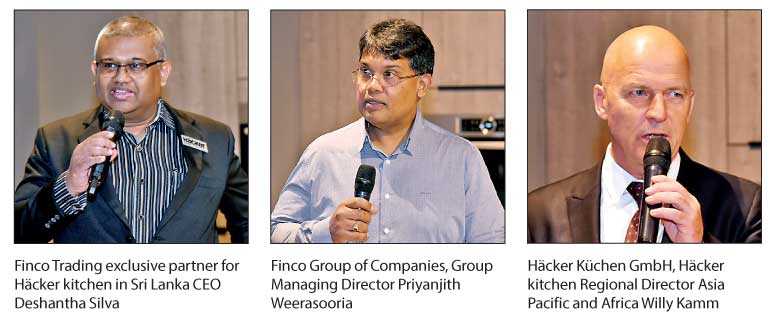 Finco Trading, a subsidiary company of Finco Holdings last week announced its exclusive partnership with Häcker Kitchen germanMade, German-based company Häcker küchen GmbH & Co. KG.

Häcker is the definitive German luxury kitchen company, dedicated to designing and crafting some of the world's most desirable modern kitchens. As a company, the Häcker philosophy is simple, to provide clients with modern, fitted kitchens that fulfil the highest claims in terms of quality, functionality and design.

Finco Trading the exclusive partner for Häcker Kitchen in Sri Lanka has created a unique, state-of-the-art Design Centre with multiple kitchen and bar display units to showcase the capabilities and beauty of these designs. This exceptional showroom was launched last week and is conveniently located at 55 Galle Rd. Colombo 3. It is unquestionably the redefinition of the luxurious kitchen space and the first choice for anyone looking for the very best quality, handmade, bespoke kitchens.

The new Häcker Kitchen showroom is an appreciation of fine craftsmanship that is dedicated to innovation and provides complete solutions for kitchen design projects. All the products are bifurcated according to precise consumer needs, clients can have private consultations with Häcker experts and experience the complete range of products from the cabinetry, to electrical appliances to a dedicated area for finishes, making it easy and convenient to create a total solution kitchen.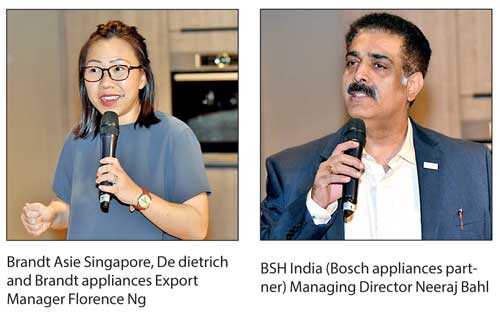 The artistry of design in its sleekness, its simplicity and its clean unblemished lines across the Häcker kitchen range is both aesthetically pleasing and possesses incredible functional value. Its engineering technology supports design and integration into any customised kitchen requirement. Häcker uses high-tech and high quality accessories with its hinges tested over 80,000 times in an open/close cycle test to ensure the highest level of quality.

Häcker are renowned for their constant investment into R&D and the technological advancement of its products and features. Every year Häcker introduce new finishes which have recently included concrete, ceramic tops, steel cabinetry systems and stone laminations to name a few, all of which can be viewed at the new showroom. Häcker is also able to integrate most of the leading appliances in to the kitchen programs making them as seamless as possible for clients. With its system Häcker can easily reproduce any part of the imported kitchen with the same precision in dimensions and thicknesses.

Flying Bridge one of the most innovative additions to kitchens, where the worktop moves out to become a breakfast bar, is only manufactured by Häcker and is now available in Sri Lanka.

Häcker currently manufactures 900 units per day and its boards are tested for zero emissions with certifications in Europe and in USA.

The decision to create and plan a new kitchen is the beginning of a truly exciting process. While engaging, it can often be accompanied by uncertainties – especiallly if it is your first time planning a kitchen, or your first time in a long while. At the Häcker Kitchen showroom, you can find a comprehensive picture of timelessly elegant kitchen design married with the best combination of exquisite master craftsmanship and absolute state-of- the-art technology.

Häcker manufactures all its kitchens in Germany which make them unique, they are also manufactured using tropicalised material which is perfect for the balmy tropical weather in Sri Lanka. To make your experience as seamless as possible Häcker Kitchen showroom employees are regularly trained in kitchen design, so they can provide information and inspiration to make the kitchen of your dreams a reality.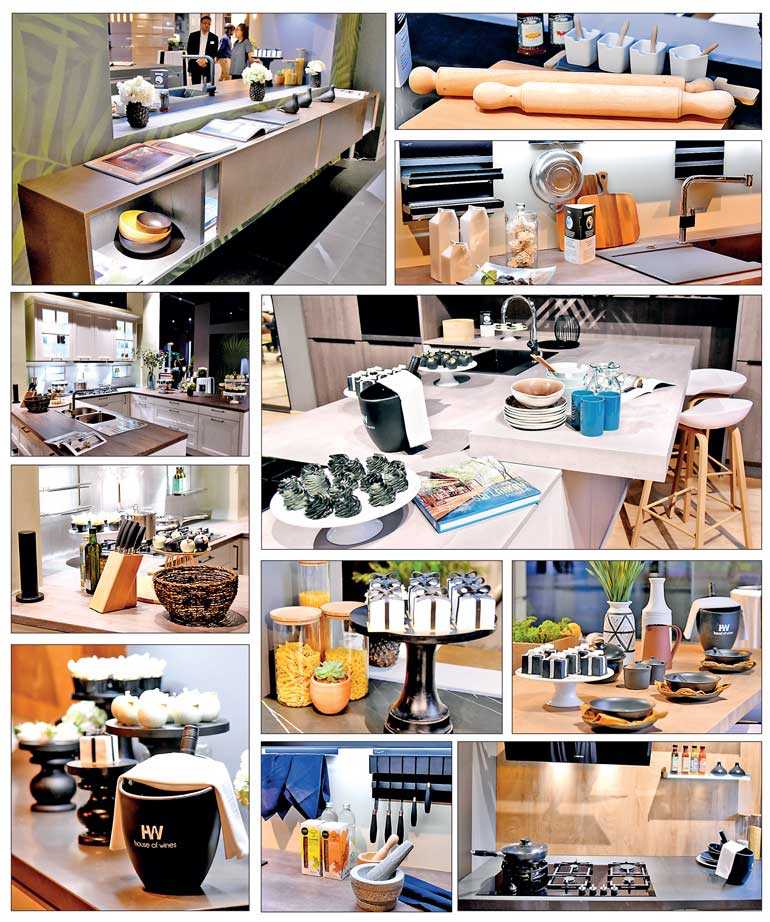 Pix by Ruwan Walpola