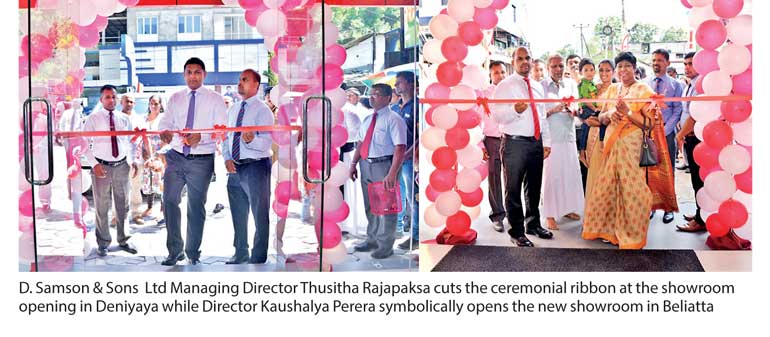 Taking the upcoming Avurudu season into consideration, D. Samson & Sons Ltd. celebrated the opening of two brand new DSI showrooms in Beliatta and Deniyaya on 14 and 19 March respectively. The showrooms are located at No. 54B, Tangalle Road, Beliatta and No. 54A, Main Street, Deniyaya.

Attending the opening ceremony at Deniyaya were D. Samson & Sons Managing Director Thusitha Rajapaksa and members of the organisation's senior management. D. Samson & Sons Director Kaushalya Perera attended the opening ceremony at Beliatta, along with senior members of the company's management.

The new DSI showrooms boast a wide variety of footwear and apparel for ladies, gents and children at attractive prices. The showrooms also feature the very latest designs for the approaching festive season.

The largest retail networks in the country, D. Samson & Sons serves as the sole distributor of a number of local footwear brands including, DSI, Ranpa, Samsons, Supersport, Beat, Beach, Petalz, Fun Souls, Tamik, Waves, Jessica and AVI as well as popular international brands such as, Reebok, Puma, Fila, U.S Polo, Clarks, Arrow, Redtape, W and Aurelia.

The company network spans more than 200 company outlets, 4000 dealers and 50 sales representatives islandwide, all of which are involved in fulfilling the company's vision of creating a customer-centric business.