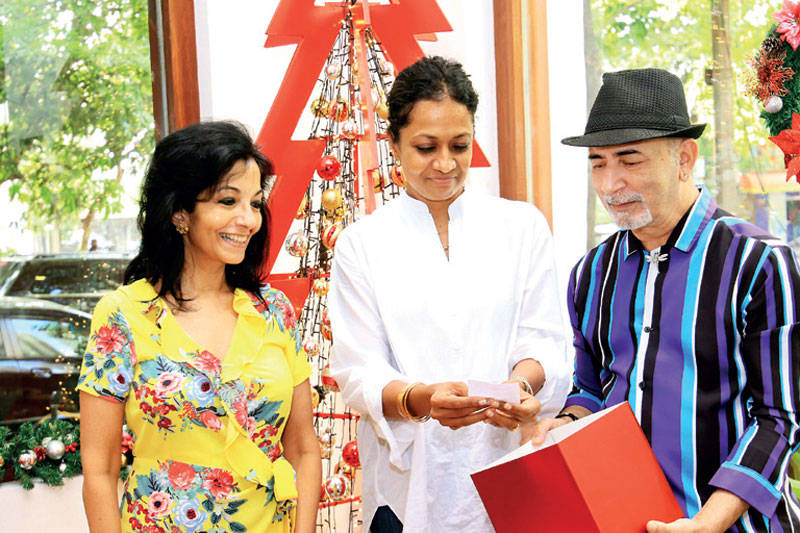 Gerald Solomons, Kasturi Chellaraja Wilson, and Anusha David
---
Chagall, everyone's hair and grooming destination, came up with a New Year's Eve Bonanza for its clients, and it was won by none other than Thusitha Ranasinghe, leaving many ladies disappointed at not being the lucky winner for this all-important night of the year!

Hemas Holdings CEO Kasturi Chellaraja Wilson was present to draw the lucky winner on 31 December, herself being a client of Chagall, while Gerald Solomons, Headlines PR Chairman and Interbrand Sri Lanka and the Maldives Partner Anusha David, and other customers of Chagall were also present at the draw.

Master stylist and hair wizard Gerald Solomons, the owner of Chagall who offered one lucky Chagall patron a complete makeover for New Year's Eve, which will include hair, make up, manicure and pedicure, was delighted at the fact that the winner was a man and said he hoped this would encourage more men to visit proper stylists and hairdressers, as opposed to just going to any old barber shop.

Gerald attributes his success despite COVID, to his personal brand of affability and warmth and his upbeat, never say die attitude which permeates down the line to all his staff.

The happy and cheerful atmosphere that pervades Chagall, the superlative treatments and care that you get and above all Maestro Gerald's magic fingers, make Chagall the 'must visit' destination all year round.

"Happy 2022 everybody and let us all get ready to have a fabulous new year. Above all, don't let anything get you down," says Gerald.