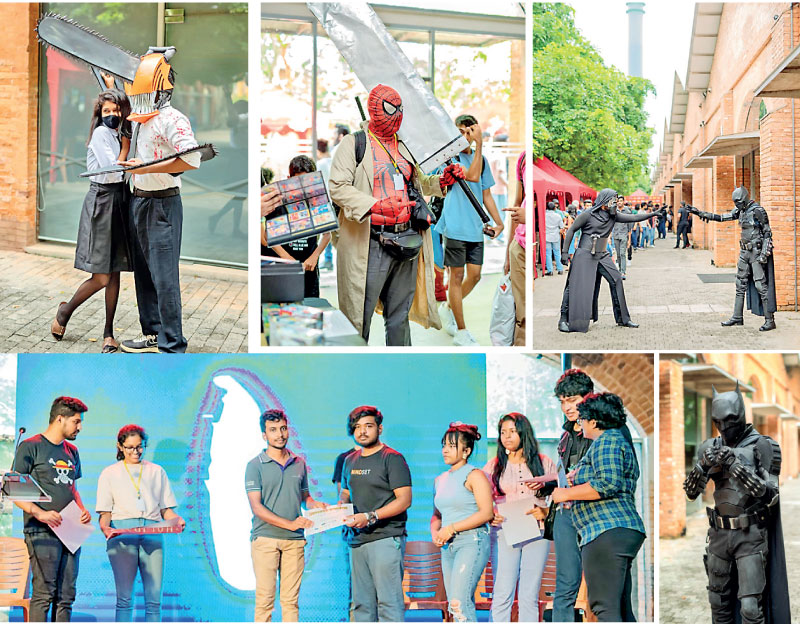 Ceylon Comic Fest was a novel initiative by the Club Service Avenue of the Rotaract Club of University of Sri Jayewardenepura done in collaboration with Sri COM to bring together fans of comics, fantasy, manga, anime, gaming, science fiction, and pop culture to enjoy, discuss, and share information and experiences about their interests and about being part of the geek community in Sri Lanka.

The event provided a perfect opportunity for friends and families to trance to their childhoods while spending quality time with their loved ones away from their hectic schedules.

The Rotaract Club of University of Sri Jayewardenepura (RACUSJ), with a history of over 12 years, is one of the largest and most active Rotaract clubs of the Rotaract in Rotary International District 3220 Sri Lanka and Maldives, and is very well known for its passion for service and excellence.

Sri COM, as a leading geek page among the geek community in Sri Lanka, has already gained experience regarding comic conventions taking the initiative and forming a social media partnership for several fan events organised by the geek community in the past.

Referring to Ceylon Comic Fest, the two-day event, was held on 22 and 23 April 2023 at Trace Expert City, Maradana, and the RACUSJ's organising committee led by RACUSJ Vice President Rtr. Supun Ransila and the Sri COM team overlooked the project.

Day one of the event began with much enthusiasm from attendees who were looking forward to attending a comic-related event after around four years. Though the weather was gloomy, people started arriving at the venue even before the proceedings formally started. The attendees were treated to a taste of comics and anime from the entrance itself through the tickets that were printed in three different designs, allowing them to purchase a ticket imprinted with their preferred work of fiction that they can keep as a piece of memorabilia from Ceylon Comic Fest.

The main hall of Trace was where the main proceedings took place, where there were stalls from which people could buy comic books, limited edition merchandise from different fictional works, posters, and action figures. The other main attraction was the photo booths with props set up by the main sponsor of the event, Innovate. The booth with the 360 Cam was a great hit among the crowd. Everybody was excited to make a fun 360 video with friends, and there were long lines on both days of the event.

The events of the first day of Ceylon Comic Fest began with a 'Comic Creators and Digital Artists Panel' where young Sri Lankan creators got the chance to showcase their comics and artworks to the audience and talk about their creations, inspiration, and artwork. Next was the 'Short Film panel' hosted by a short film director, Mahela Hettiarachchi. Several new short films and trailers created by Sinhala and Tamil amateur artists were showcased, and they were allowed to explain their creations. The panel ended with an open invitation to all those who attended to look forward to their future creations.

Up next was the 'Anime Panel' hosted by the NFSL Anime Community, which introduced the audience to popular anime creations and led an interesting discussion regarding Anime and Manga.

Panels for day two began with the 'Astro Panel' hosted by the Central Initiative for Astronomical Studies, a club formed to familiarise Sri Lankans with the wonders of the galaxy. They explained different initiatives they have undertaken in this regard, such as organising astronomical night camps, educational lectures for school students, and hosting stalls and panels in exhibitions. All those interested in astronomy were invited to join the future activities of the club. The stage was then taken by 'Pruve', the team behind the film 'Marine Drive', which included some well-known faces in the Sri Lankan content creation sphere, such as Rusiru Ranasinghe, Sandakath Mahagamaarachchi, Umesh Rajapakse, and Sajith Kandanaarachchi. At the end of the panel, our audience was lucky enough to witness the first public reveal of the theme song for 'Marine Drive'.

Next up on stage was the much-awaited panel featuring the crew behind Sri Lanka's first 3D animation film, 'Gajaman'. Gajaman Director Chanaka Perera, was joined by the two writers Suneth Chithrananda and Gaminda Priyaviraj, more popularly known as Chooti Malli and Podi Malli, where they treated the audience to their experience of making the record-breaking film, behind-the-scenes scoops, and other insights.

Among all these, the most eye-catching event of Ceylon Comic Fest was the Cosplay Competition. On both days, many different cosplayers arrived adorned in attractive costumes from various works of fiction. Some DIY costumes were very well crafted, and it was impressive to see their attention to detail, which very well showcased their passion for art.

Day two of Ceylon Comic Fest ended with the ramp walk of the cosplayers, which was a truly memorable sight for everyone present. Batman, Zoro, Homelander, Harry Potter, Ghost from Call of Duty, Kylo Ren from Star Wars, Khonshu, Daredevil, and Loki were among the characters cosplayed. Nilaksha Srimal, who cosplayed Homelander, won the prize for best cosplayer with a cash prize of Rs. 50,000.

After two days of insightful sessions, fun and enjoyment, Ceylon Comic Fest came to an end, giving a fresh experience for all geeks for nearly after 4 years, giving a great opportunity for the Sri Lankan geek community to connect with each other. The day witnessed many new friendships and old friendships rekindling, and everyone who attended walked away with a lifetime of happy memories.