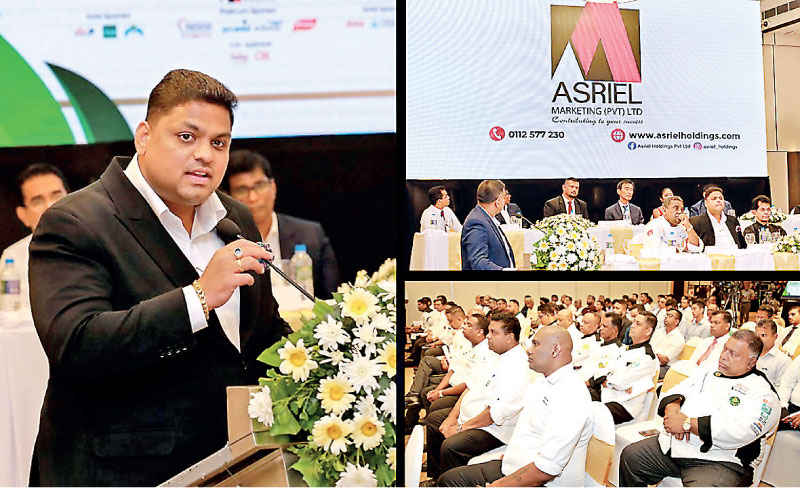 Asriel Marketing Chairman Shiran Peiris addressing the press conference
---
Asriel Marketing Ltd. is geared to power the highly anticipated "Culinary Art Food Expo 2023" as the event's Diamond Sponsor.

The Expo will be held from 9 to 11 June from 11.00 a.m. to 7.00 p.m. at the BMICH, Colombo.

An annual event, the "Culinary Art Food Expo" was inaugurated in 1988 with a mere 75 competitors. Today, the competition has grown tremendously over the years, with nearly 1000 participants competing for gold, silver, and bronze awards one platform. The Expo has resulted achieving excellence and has helped nurture the creative talents of chefs in a team setting. This provides an opportunity for chefs to showcase their skills, techniques, and knowledge amongst each other.

Asriel Marketing Chairman Shiran Peiris shared his thoughts on the event: "Being named as the Diamond Sponsor of such a prestigious event, is nothing short of an honour for us, especially in lieu of the fact that it gives young chef's to shine of a global level. We look forward to contributing to the culinary and hospitality industry even more in the future.

The Expo was held annually until 2019, after which the COVID-19 pandemic vastly impacted the competition. However, the organisers were able to overcome the challenges they faced and stage the event this year with the utmost support from the culinary industry. The demand for the competition was evident from the multitude of requests received from trade professionals who are eager to provide recognition and share their knowledge with fellow culinarians.

Adhering to the World Association of Chief's Societies (WACS) competition guidelines, the "Culinary Art Food Expo" must focus on food and beverage personnel. The competition has served as a platform where the talent of young chefs who are selected for many international events, including the World Culinary Good Olympics in Germany, and the Culinary World Cup in Luxembourg.

As a "Total Business Solutions Provider in the Food Industry", Asriel Marketing is dedicated to promoting culinary excellence and supporting the culinary and hospitality industry. The company is proud to be associated with this prestigious event and looks forward to contributing to the future success and growth of the culinary and hospitality industry.