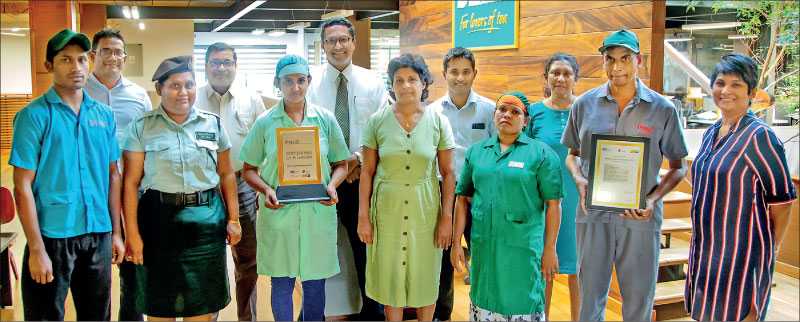 ---
Dilmah Ceylon Tea Company PLC, renowned globally for producing single origin Ceylon Tea has been announced as one of the 10 Most Admired Companies in Sri Lanka for the third consecutive year by the International Chamber of Commerce of Sri Lanka (ICCSL), the Chartered Institute of Management Accountants (CIMA), the Daily FT and assurance partner – KPMG.

The annual Most Admired Company Awards recognises companies that are cut above the rest in terms of not just their financial performance but also the value they create for their shareholders, customers, employees, and the wider community in general. A strict judging criterion considered multiple elements such as, human relationships, fostering teamwork, frugality, fulfilling commitments, fighting complacency, and reaching out to a wider community.

Dilmah was listed among the top 10 brands due its consistency, authority and sustainable growth while ensuring an excellent business performance. The Dilmah business model also transfers to the community based 'Small Entrepreneurship' program which lies at the heart of the Merrill J. Foundation and goes on to provide microbusiness with the knowledge, tools and resources to amplify their reach to connect them to the national and international markets.

The past year has been a trialling period however, Dilmah's contribution, in absolute terms, towards humanitarian and sustainability is by far the highest amongst the 10 companies recognized, and even greater when you consider the ratio to sales and profits. Unlike most corporate CSR units, the MJF Foundation directly implements projects and interventions in 14 locations and 43 plantation estates across Sri Lanka. Although the estates are affiliated with the MJF Group, all other locations selected by the Foundation were done so on evidence and a needs basis. Despite the gruelling demands of 2020, this recognition follows Dilmah being listed in Forbes' Most Admired Companies in Asia, and being listed as 'The Most Trusted Brand' in tea the category in Australia last year, and New Zealand for the sixth time in a row.

Dilmah Founder Merrill J. Fernando attributes the brand's success to the sheer quality of the product, but beyond that values giving back to the community, especially during these challenging times. "Success in business should be shared with the poor, needy and the wider community... Let us see the benefits of COVID-19 in giving us opportunity to reconciliation, forgiveness and repentance in preparation for living in a better world."

Dilmah maintains a commitment to taste, goodness, and purpose, fulfilling Founder Merrill J. Fernando's commitment to quality and integrity. This deeper story of tea is evident in everything Dilmah does, whether it is the broad reach of their MJF Charitable Foundation or via Dilmah Conservation, both supported entirely through the pre-tax profits of Dilmah Tea which today have not gone unnoticed.