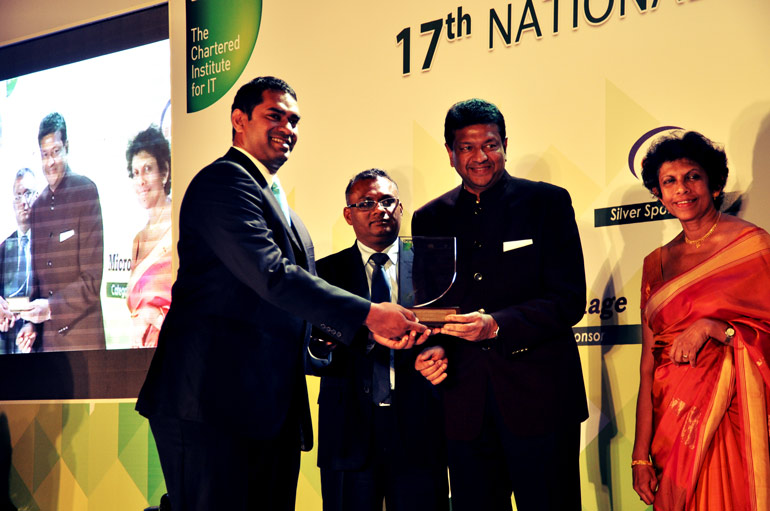 Kanishka Weeramunda receiving the Most Valuable ICT Entrepreneur Award 2015 at NBQSA
PayMedia Ltd. Founder Kanishka Weeramunda, one of Sri Lanka's most innovative startup companies, recently turned over a new chapter in entrepreneurship by grabbing the much-coveted 'Most Valuable ICT Entrepreneur of the Year 2015' accolade at the National Best Quality ICT Awards (NBQSA).

Only the most distinguished individuals who have excelled in the Information and Communication Technology (ICT) sector are selected and recognised in NBQSA for their entrepreneurship skills and delivery.

"I am overwhelmed by this award and I believe it will allow me to reach greater heights and accomplish much greater achievements for the organisations I serve," Weeramunda said.

"It's all about startups and innovation. I always had the burning desire to do new things," he added.

Weeramunda initiated PayMedia as an innovative startup company in 2014. Within a period of just 15 months PayMedia facilitated two leading banks in Sri Lanka - Sampath Bank and Hatton National Bank - to manage their Cash and Cheque Deposit Machines (CCDM), ensuring maximum efficiency and security.

Through PayMedia's CCDM these banks can now accept payments online in real-time. Sampath Bank currently facilitates nearly 4,000 transactions per day, which translates into 1.46 million transactions per annum.

PayMedia is also working with Sri Lanka's largest state-owned utility – Ceylon Electricity Board to automate its payment systems and recently completed the automation of CEB'sDehiwala Customer Centre.

PayMedia has also initiated another innovative telecommunication sector project in the Netherlands and Belgium relating to mobile top-ups. "Currently, we support 72 telcos in Netherlands and 54 in Belgium, distributing mobile topup vouchers on an electronic platform over 700 retail outlets. The project has eliminated card printing, logistics troubles, inventory management and it's a 99.9% script-less, paperless and green initiative as it involves a minimal amount of paper. The advantage of this project is that it facilitates the entire distribution, redistribution and sales process. Another aspect is that as the prepaid operation functions on a credit basis, it addresses the credit and collection issue and the complete system runs on a prepaid model. Nearly 10,000 customers rely on us every day, which translates to nearly 300,000 transactions per month," explained Weeramunda.

PayMedia's Smart Banking Solution, the gold award-winner in the startup category, is also nominated for an Asia Pacific ICT Award (APICTA) 2015, competing amongst 18 countries in Asia.

Speaking of their future plans, Weeramunda said: "As I said earlier, 4,000 transactions are done per day and we wanted to expand this to other teller operations. We are now on the verge of creating a unit to initiate cash deposit and withdrawal functions together – Smart Banking. From account opening to cash and cheque depositing to third party payment, loan approvals, current statements and inquiries; anything and everything is possible through a machine in Smart Banking."

Weeramunda has taken part in many international startup competitions such as, 4YFN (4 Years From Now) Barcelona 2015, InnovFestunBound Singapore and will showcase his products to the European Union) market by participating in InnovFestunBound London and this month at Gartner Symposium/ITxpo, Gold Cost, Australia

Currently he is the Campus Director of Edulink International Campus, where he took over the Victoria Higher Education Campus and restructured the business from a single provider to a multi-partner provider.

Equipped with a Bachelor of Information Technology from the University of Colombo and a Master's in Business Administration (MBA) conducted by the University of Manipal – India, Masters in Human Resource Management from Asia E University Malayasia and Charted IT professional from the British Computer Society/ The Charted institute of IT UK. Weeramunda is currently reading for a Doctorate in Enterprise Change Management. The other central pillars of PayMedia are Dasun Rathnayaka, Dinesh Karunathilaka and Thilanga Liyanage, who have been at PayMedia since its inception and have worked hard alongside Weeramunda to raise the company to its current position as a global player in the market.