VMware Inc., a global leader in cloud infrastructure and business mobility, has reinforced its commitment toward enabling digital transformation in Southeast Asia, by displaying a strong focus on enabling business mobility, future proofing the cloud and enhancing security.

At the Bali CIO summit, Accelerating Your Digital Enterprise by IDC and VMware, VMware showcased an end-to-end solutions portfolio that is set to fuel business transformation across the region.

According to IDC's 2016 Asia/Pacific Digital Transformation (DX) MaturityScape Benchmark Survey, 34% of organisations in ASEAN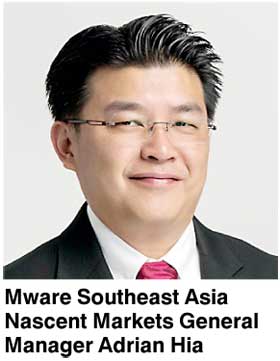 fall within the opportunistic stage of Digital Transformation (DX) maturity. Having already established basic digital capabilities, these organisations must focus on increasing the integration and consistency of digital initiatives to progress to the next stage of maturity (i.e. repeatable).

"Sri Lanka is undergoing rapid transformation. Widespread adoption of cloud and mobile technologies is enabling positive disruption in this extremely promising and evolving market. As businesses evolve, VMware stays committed to equipping organisations with the right infrastructure and tools that can offer higher levels of simplicity, speed and affordability," said VMware Southeast Asia Nascent Markets General Manager Adrian Hia.

"Digitalising the enterprise is a top priority for many CEOs and their leadership teams across Asia/Pacific. Organisations in ASEAN need to focus on accelerating the digital capabilities that will competitively differentiate them in the marketplace. Innovative contextualisation of technologies to transform and disrupt is the way forward" said IDC Asia Pacific group vice president Sandra Ng.


Mobilise and modernise: From infrastructure to application delivery

With almost half of the population connected via smartphones, Southeast Asia is quickly becoming a mobile-first region. Employees, devices, applications and data increasingly reside beyond the physical walls of the workplace. With disjointed technology and teams, digital enterprises are struggling to deliver a unified digital workspace. Through Workspace ONE, VMware has brought together identity management, device management and application delivery on an integrated platform, so business critical information can be easily accessed by employees regardless of platform, location, device or application.

Businesses in the region require an end-to-end approach to securely mobilise from data centre to desktop to device. Mobility solutions like VMware AirWatch and VMware Horizon allow enterprises to access and manage any application, on any device or operating system. VMware's software-defined infrastructure also provides consolidated management of both traditional and cloud-native apps, so businesses can use apps and data to reinvent, innovate and differentiate.

Forward thinking organisations like the Ministry of Education Malaysia (MOE) have successfully leveraged VMware technology to bridge the digital divide. The educational institute deployed VMware Horizon View and extended education resources to 10,000 rural schools, providing access to internet and online learning resources for more than 300,000 students across the country.

The VMware ASEAN Business survey revealed that 91 % of Southeast Asian businesses have highlighted cloud computing as a key enabler of innovation, with more than half (54 % ) set to adopt a hybrid cloud approach. VMware offers customers the ability to provision and manage compute, storage, network and application services across hybrid cloud environments at scale. The platform's comprehensive management capabilities for the software-defined data centre addresses three common use cases:

Intelligent Operations Management: Enables IT teams to proactively address health, performance and capacity management of IT services across heterogeneous and hybrid cloud environments, to improve IT service performance and availability.

Automated IT to Infrastructure as a Service (IaaS): Enables IT teams to automate the delivery and ongoing management of IT infrastructure. This reduces the time taken to respond to requests for IT resources, by providing self-service access to resources required by end-users.

DevOps-ready IT: Enables IT teams to build a cloud for development teams that can deliver a complete application stack, support developer choice in the form of both API and GUI access to resources, and provision resources across a hybrid cloud. IT can extend the solution scope by adopting VMware vRealise Code Stream, which speeds up application delivery.


Rethink cybersecurity

Border- or perimeter-based network security has so far proven to be ineffective, with more than 70 % of successful cyber-attackers gaining insider access through lost, stolen or weak credentials .As organisations accommodate employee demands for workplace mobility and continue on their digital transformation journeys, applications and user data are on more devices in more locations than ever before.

Cyber-attackers can now easily infiltrate or target new gaps or exposed frontiers within an organisation's ever-expanding network. To secure data and applications in today's digital business environment, VMware highlighted the need for a ubiquitous layer in between physical infrastructure and applications, one that provides full network visibility or an application-oriented lens into the infrastructure. This will enable IT to align security controls and protect the organisation's most important digital assets.

Business mobility and network virtualisation solutions like VMware AirWatch, VMware Identity Manager and VMware NSX allow centralised user and identity management, app-level micro-segmentation, secure containers, and fine-grained access to application capabilities and content. VMware NSX, in particular, offers organisations the new, architecture-based security they need to defend themselves.

Leveraging micro-segmentation, the VMware NSX network virtualisation platform offers automated provisioning, automated move, add or change for workloads, distributed policy enforcement at every virtual interface and in-kernel, and scale-out firewalls distributed to every hypervisor on the platform. This means that should a component within the network become compromised, its attributes can be quickly and automatically updated or deleted, and quarantine controls enforced to stop a cyber-threat from moving laterally and causing more damage.

"Forward-thinking organisations understand that the reactive security of today is no longer doing its job. They also acknowledge that people and systems can be easily bypassed or blindsided if the business lacks a ubiquitous IT architectural plan that cuts across all levels of compute, network, storage, clouds and devices. By taking a software-defined approach to IT that that enables security to be 'architectured' into everything, these organisations have gained the flexibility required to succeed as digital businesses," said Ron Goh, President, Southeast Asia and Korea, VMware.