LIMRA Holdings has announced the appointment of ICT industry veteran Suresh de Silva as the Chief Executive Officer (CEO) of its IT cluster of companies, Eguardian Lanka Ltd. (Eguardian Lanka) and DCS International Ltd. (DCS International), with effect from 1 May 2017.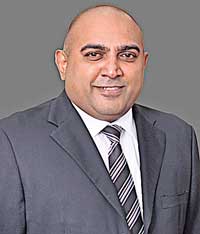 "I am delighted to announce the appointment of Suresh de Silva as the Chief Executive Officer of Eguardian Lanka and DCS International. He joins us at a time when Eguardian Lanka is actively growing its overseas operations while both companies are also focused on expanding their service offerings within the market. Given his extensive experience in the ICT sector, I strongly believe that his appointment will add great value to the two businesses, propelling them to greater heights," said LIMRA Holdings Managing Director Nabhan Akeel.

With over 20 years' experience in the ICT Industry, Suresh was previously Country Business Head for EMC in Sri Lanka and the Maldives where he helped set up a strong partner ecosystem and achieved significant growth in the customer base during his five-year tenure. Prior to joining EMC, he was with TATA Communications Lanka and Suntel where he held leadership roles in value added services and enterprise sales and internet sales respectively. Suresh holds an MBA from Edith Cowan University, Australia.

LIMRA Holdings is a diversified group of IT solutions and mother and child care companies in partnerships with some of the world's foremost brands in these sectors.

Eguardian Lanka is a provider of cyber security services, specialising in digital forensics, threat hunting and threat intelligence services. With its head office in Colombo, the company has operations in Singapore, Hong Kong, Oman and Bangladesh as well as a strategic office in Atlanta, US.

Eguardian Lanka is the sole distributor of Fortinet security solutions in Sri Lanka and the value added distributor for Symantec, Hewlett Packard Enterprise (HPE) and Arista solutions in the country.

DCS International is the exclusive distributor of ESET's award-winning security solutions in Sri Lanka, providing outstanding country-specific cyber security coverage as well as alerts on threats specific to the market.