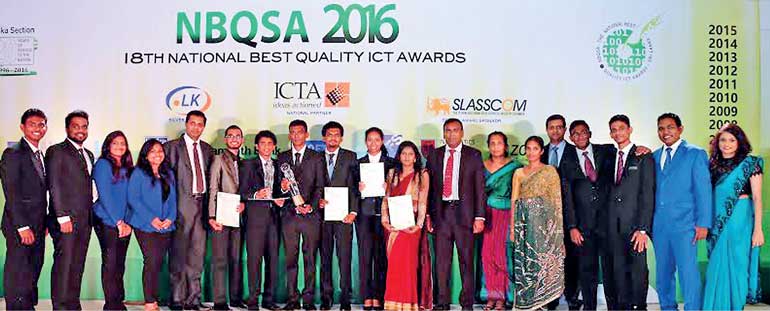 ​Showcasing the country's wealth of future ICT professional talent, SLIIT, an eminent degree-awarding institute, excelled with top awards at the recently concluded National Best Quality ICT Awards 2016 (NBQSA).

The annual NBQSA presents a unique platform for students to display and benchmark their ICT talents to the business community.

This year, representing SLIIT, Team GeniBux clinched Gold for their 'Forex Machine Learning System' project, while Project EmpSense's business intelligence tool received a Silver award.

SLIIT also continued its winning streak, receiving three merit awards for projects People Clues, Eye Vista and CodeMage respectively.

Heaping praise on the students, SLIIT President and CEO Prof. Lalith Gamage said: "Not only am I delighted to see our students being innovative and creative with their work but also for being recognised nationally. We are extremely proud of these awards as we continue to showcase how SLIIT students apply their knowledge and skills to meet industry standards and practices. We are proud of such students who not only dream to succeed but dare to strive and achieve their goals."

The Gold winning project in the Tertiary Business category was GeniBux's 'Forex Machine Learning System'. This software assists Foreign Currency Exchange Market (Forex) traders to test and enhance their trading strategies. The system allows traders to write new trading strategies using non-technical language. The users can also test the success of their strategies using past data. Additionally, GeniBux has an interactive dashboard providing insights on how strategy can be improved.

Mentoring the team was Dr. Jeewani Bamunusinghe, while team members included Sasika Rolendene, Nadun Liyanage, Lakna Ariyathilaka and Prasad Lakmal.

Winning Silver for SLIIT was project 'EmpSense: A business intelligent tool to analyse employees risk to leave behaviour' also under the Tertiary Business category. The team supervisor was Dr. Rohan Samarasinghe while the team members were Darrel Rayen, Chinthaka Suren Fernando, Nirmal Madasekera and Lakini Senanayake.

EmpSense predicts employees who are at risk of leaving an organisation. It gives the probability of an employee quitting an organisation and the most possible reason to leave. The results can be categorised in several ways too (department, designation, gender, etc.).

EmpSense has impressed industry leaders and several companies are discussing the implementation of this solution.

Winning merit in the Tertiary Business category was Project People Clues, another BI tool to dynamically select a group for a given project, which was supervised by Dr. Rohan Samarasinghe. The team members included B.G.A. Perera, L.N.P. Perera, H.K.L. Samarasingha and P.M. Senaratna.

A merit award was also won by Team Eye Vista in the Tertiary Technology category. Guidance for this project was provided by Namalie Walgampaya. The team members included H.K. Peiris, K.G.C.C. Kulasekara, W.D.C.H. Wijesinghe and B. J. Kothalawala Another impressive project known as CodeMage won a merit award under the Tertiary Technology category. Supervising this project was Dilshan De Silva with the team members comprising Kushnara Suriyawansa (Co-Supervisor), S.J. Whittall, W.A.C. Prashandi, G.L.S. Himasha and A.N.J.A. Fernando

CodeMage is an interactive educational programming environment targeted at novice Java programmers who have little knowledge in basic programming. The system comes with attractive and innovative features such as real-time guidance and reviews, a code generation tool, backstage view of code execution and a hinting system for best practices which makes it a unique educational programming environment. CodeMage is a simple easy to use programming environment that will change how children and novices practice java programming around the world.

SLIIT has been participating and successfully winning awards at the NBQSA for over a decade.