Oracle Pakistan and South Asia Growth Economies Country Managing Director M. Ahsen Javed speaks on the launching of latest oracle cloud platform offering. Following are excerpts:
Q: What is this PaaS launch all about?

A: Let me take a step back first. Did you know that almost half of all businesses are missing out on new technology-enabled business opportunities because their IT department is too slow to respond? In a recent study by Harvard Business Review Analytic Services, roughly half of the 750 business leaders said just that – IT is too slow. Don't you think that's concerning? I would hate to think about what that equates to in terms of lost revenue and opportunity cost.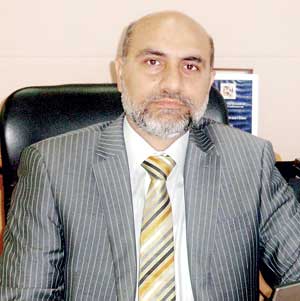 So what can organisations do? The study highlights that in today's digital age, business agility depends on responsive IT. To achieve this responsiveness and flexibility, the study suggests that organisations need to: Increase the speed with which they innovate around new digital initiatives; find new products and ways of working; and simplify IT operations, whilst at the same time orchestrating services from a variety of providers so the internal team can focus on how their business exploits technology, home grown or not.

This is why we believe that this launch of the next phase of our Oracle Cloud Platform is going to be so important to our customers. We are introducing the next wave of Oracle Cloud Platform-as-a-Service (PaaS) offerings that will help companies drive innovation and business transformation.


Q: Can you help me understand PaaS?

A: PaaS challenges the current ethos of enterprise IT, that every business application requires its own unique technology stack and that businesses are stuck with rigid deployment scenarios for their packaged and custom applications. The new digital business platform typically includes database and middleware, as well as development, management, security and integration capabilities, all delivered in a standardised, shared elastically scalable manner, as a service. PaaS enables organisations to consolidate existing applications on shared, common cloud architecture, as well as quickly develop and deploy new applications that leverage the shared services provided by the platform. PaaS lets organisations achieve the fastest time to market with the lowest cost of ownership and management.


Q: Can you explain more about what is being launched.

A:We're launching the next phase of our Oracle Cloud Platform. Like the rest of our cloud offerings as a whole, Oracle Cloud Platform delivers the broadest and deepest portfolio unmatched in the market. Launched in October last year, our PaaS portfolio already encompasses the Oracle Database Cloud (world's most popular database in the cloud), Oracle Java Cloud, supporting the development and deployment of applications built on the world's most popular programming language, Oracle BI Cloud, and Oracle Documents Cloud. We are seeing unprecedented adoption of these.

We are now extending the Oracle Cloud Platform to incorporate cloud services around:
Big Data – Big Data is a natural fit for the cloud. Growing data volumes demand elastic environments and agility in deployment. The new Big Data Cloud will enable customers to access enterprise-grade hardware, as well as a comprehensive portfolio of tools, in the cloud, and to integrate data in the cloud with existing data, all underpinned by a flexible deployment model and security by default. This all leads to customers achieving faster time-to-value from their activities in this area, so they can get the most out of Big Data, today.
Mobile – Mobile is such an important element of our daily lives today, and consumers have high expectations around the whole user experience. The reality around implementing mobile solutions is that the User Interface (UI) element, you know what the users sees, is the easier part. It is the integration that is challenging. It is amazing how many systems an app will draw on. For example, think of mobile banking. The app will typically let you manage your personal details. Those are in one system. Then you might have multiple accounts, so you will be accessing different systems to see each of those most likely. Then if you make a payment, a whole different system needs to come in to play seamlessly. Our Mobile Cloud is focused on simplifying enterprise mobile connectivity, so that companies can develop and deploy any app across any device using any data, securely.
Integration – One of the biggest challenges companies face today is integration of their isolated SaaS, and now mobile applications with their corporate systems. In fact, the Harvard Business Review Analytic Services survey found that 43% of companies that implemented shadow IT projects found that the inability to integrate new cloud services with other applications was a drawback to going around IT. So we think this area is going to be really key.
Process – Business is underpinned by processes; how supplies are ordered, staff is paid, invoices processed, and products are manufactured. Today, many of these workflows are still manual, but they don't have to be. Oracle Process Cloud provides fully managed, end-to-end business process automation in cloud, so that organisations can rapidly design, automate and manage business processes in the cloud, and with full integration to SaaS and on-premise applications, and the Oracle Documents Cloud.
Exadata – Our goal is to bring all our best technology to the cloud. We already have the world's number one database running with full functionality in the cloud with our Database Cloud Service. This Exadata Cloud Service takes that to the next level on the best platform, getting all performance, scalability, and reliability that our Engineered Systems bring. This is proven technology offering extreme performance, making it a low risk and industrial strength cloud for mission-critical workloads of all types whether that is transaction processing or analytics.
We are also adding a new Infrastructure as a Service (IaaS) offering: the Oracle Archive Storage Cloud Service. It allows customers to store very large volumes of data for long periods of time at a very low price. Again, this is an enterprise-grade service, and fully integrated with the rest of our offerings, it has security built in, and is very easy to use. We see this cloud service as really having a strong role in the areas of big data, in the media and entertainment industry for storing Gold Masters, in healthcare for long term storage of patient records and pharmaceutical research, within organisations for retaining corporate financial records and so on.


Q: So why are these services important to customers?

A: I would say that their importance fits across a couple of key areas:

Increased agility – many enterprises are still struggling to achieve the agility that's so critical to their success. The reason? It's simply taking too long. Developing and testing new applications and setting up the IT systems to support that can take weeks or even months. As a result, innovation slows, while the cost of supporting that innovation continues to rise

Lower costs – by using PaaS to develop and deploy applications, they can eliminate the cost and complexity of managing the underlying application platforms. In fact, businesses that use PaaS have reported operational savings of up to 50% compared to using siloed technology stacks.
Simplifying the administration and management of your IT systems means Developers can build new applications faster and more cost-effectively
IT organisations can shift focus from provisioning and maintaining environments to the strategic work of supporting and collaborating with the business
Business users can enhance employee productivity and automate business processes – without involving IT
And, with the pay-as-you-go delivery model, organisations can shift infrastructure and software costs from capital to predictable operational expenses – making it easier to scale environments to meet the changing needs of the business.


Q: What makes your PaaS solution different? Are all PaaS solutions/providers equal?

A: Oracle is the only company with an integrated suite of services at all levels of the cloud: Platform as a Service, as well as Software as a Service, Infrastructure as a Service and Data as a Service. All our Cloud solutions are built on flexibility, offering customers complete choice of cloud deployment models - public, private and hybrid - to suit specific business challenges; and the ability to quickly and easily move between them. Want to develop and test in the cloud, but deploy on-premises, well you can. You can even mix and match. With the Oracle Cloud, users can also integrate with existing applications, allowing businesses to maximise ROI and migrate to the cloud at a pace that suits them.

Our PaaS offering is built on a foundation of the world's No. 1 database and application server technology. Our PaaS offers unique cloud tooling and automation that is unparalleled in the industry, which not only reduces the cost and complexity of deploying and managing enterprise applications, but it also enables businesses to innovate faster and focus resources on other strategic initiatives.

Now, with the performance, scale and reliability of Engineered Systems underpinning our PaaS offerings, Oracle has raised the bar with respect to supporting mission-critical applications in the cloud.

On top of that Oracle is the only provider that has social capabilities fully integrated into every app at the platform level, bringing social into everything. It is the same for analytic capabilities; built in. And the big watch word: security. Yes, you guessed it. Built in!

So our aim with PaaS, as well as with SaaS and IaaS is to have the most complete and best suite available, with unprecedented levels of choice, flexibility and integration.

Some of the biggest and best-known companies in the world are turning to the Oracle Cloud, and many are choosing us for all levels of the cloud stack.


Q: What impact do you expect the availability of PaaS to have on the market? /How disruptive do you expect this area to be?

A: PaaS technology is a game changer and it is going to be a fascinating area to watch. Already, the customer interest and growth rates we are seeing in this area are unprecedented. PaaS really does enable a company to do more with less, to simplify IT and remove complexity. We are seeing time and again, it accelerating time to value and enabling innovation and transformation.

One of the main reasons is that PaaS gives companies the ability to try out ideas, quickly, easily and very cost effectively, through a test-dev capability in the cloud. It enables them to set up in literally an hour, what used to take weeks, if not months to do. Previously, users had to procure the hardware, set it up, install everything needed, and then either code a custom application or deploy a prebuilt application. Now you just provision an environment. Imagine, an hour!

This allows companies to encourage employees to innovate, explore, and experiment with new approaches with the enthusiasm and confidence of entrepreneurs.

This fail fast mentality is important. In the HBR study, the report clearly showed a correlation between an organisation's cloud maturity and the health of its growth initiatives. The upshot? Those companies with a strategic enterprise approach to the cloud are more likely to expand, innovate and transform.

And while IDC says, "Cloud is the engine for innovation for the digital enterprise," I prefer to echo one of my colleagues, Mike Lehmann, Oracle's Vice President of Product Management, who said, "I don't want to say it's magic, but to some degree that's what's happening."