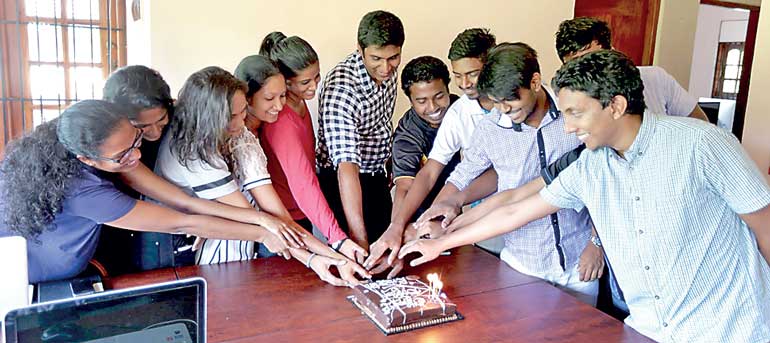 Amid a challenging market for mobile technology in Sri Lanka, one start-up seems to have broken through all these notions and grown up today as one of the premier Mobile and IoT (Internet of Things) in the country diving in to the world of the 'IoT' and its mobility.

Having officially begun as a company on 28 April 2014 as Erbenlab, the company's founder and Chief Executive Officer Sachira Fernando went on to say that a significant trend that he along with the Erbenlab team noticed during the last couple of months was the rapid growth in mobile internet usage in Sri Lanka.

"At one point we were really surprised to notice that some of Sri Lanka's leading websites were getting more traffic through mobile devices rather than desktop," he said adding that mobile traffic records a 57% reach while desktop has only 43%, and thus it is a huge change compared to the same period in 2013 (April) which indicated mobile as 18% and desktop 82%.

"This clearly indicates the significant growth since 2013, that people in Sri Lanka are starting to spend more and more time on their mobile devices compared to desktop when it comes to internet browsing," he pointed out. Having carefully analysing the latest trends in Sri Lanka's internet penetration and mobile penetration Sachira and his team had begun their venture into the market of mobile technology with their sole focus being placed on mobile technology and its development.

"Erbenlab set out to make a mark in the Sri Lankan landscape by actively developing apps and building technology to solve day to day problems," Fernando said adding that the company has already introduced ground breaking 'IOT' conceptualised products to various clients and to the mobile app market in overall.

Speaking on the concept of 'IoT' or the 'Internet of Things', Fernando explained that the Internet of Things (IoT) is the network of physical objects or 'things' embedded with electronics, software, sensors and connectivity to enable it to achieve greater value and service by exchanging data with the manufacturer, operator or other connected devices. Each thing is uniquely identifiable through its embedded computing system but is able to interoperate within the existing internet infrastructure. He said that the things, in the 'IoT', can refer to a wide variety of devices such as heart monitoring implants, biochip transponders on farm animals, electric clams in coastal waters, automobiles with built-in sensors, or field operation devices that assist fire-fighters in search and rescue.

"These devices collect useful data with the help of various existing technologies and then autonomously flow the data between other devices," he said adding that Erbenlab has already introduced and built 'IoT' systems that cater to various industries such as Media, Environmental Monitoring, Infrastructure Management, Manufacturing, Energy Management, Medical and Healthcare Systems, Building and Home Automation, Transportation and Large scale deployments.

With its one year anniversary just around the corner, it can be said without doubt the immense growth Erbenlab has seen within its team, the widely successful offering as well as the collaborative work has helped it to get on board with the biggest clients in Sri Lanka and worldwide. With mobile application development being its main area of focus, Erbenlab's first cloud based software project – Cense Cloud, stands as a testament to the growth and success that Erbenlab has experienced so far in its journey.

"With the growing trend of wearable technology we are seeing around these days, Erbenlab has also set out to writing apps to serve this market and it's demographic," Fernando added.

Erbenlab has also been able to produce the youngest CTO – Ajith Prasanna (22 years) and COO – Kelum Anthony (21 years) in the country.

Erbenlab is ready to cater every company that wants a smart, updatable platform with a backend which allows users to find specials in their town. Creating such an intelligent app like that would need a high-level of expertise and Erbenlab works with clients big and small across a range of sectors and we utilise latest up-to-date technologies to make sure your business stands out from the competition.