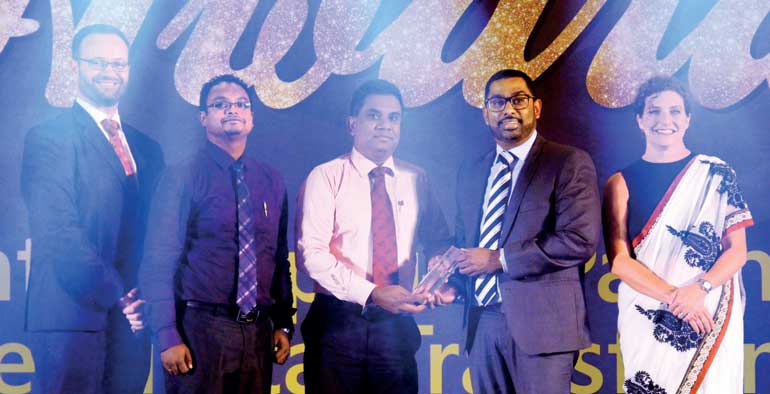 Standing from left: Microsoft Sri Lanka and Maldives Country Manager Brian Kealey, Jinasena Infotech Manager Marketing Hemaka Wijegunasekara, Jinasena Infotech Managing Director Senaka Attygalle, Private Secretary Nishan Fernandopulle, Harin Fernando, Microsoft South East Asia New Markets General Manager Michelle Simmons
Jinasena InfoTech were the proud recipients of the Microsoft Partner Award for 2016 at the award ceremony held on 29 September at Waters Edge. This is the second consecutive time Jinasena Infotech has laid claim to this award.

Speaking after the award ceremony, Jinasena InfoTech Managing Director Senaka Attygalle said, "We are extremely happy as a team to win the Best Dynamics Partner for Sri Lanka and Maldives for the second consecutive year. This result is certainly a credit to the team's dedication towards customer satisfaction and commitment to deliver quality support services to our clients. This award truly highlights our team spirit and the strong technical expertise we possess in being able to tackle difficult situations and provide tailor made solutions for customer requirements."

Since being awarded the distinction last year, Jinasena Infotech has gone on to improve and develop their portfolio of clients and services by leaps and bounds. The core focus at all times has been Transformation, Integration and Innovation, and this has truly produced results as the company not only successfully completed the first Microsoft Dynamics NAV ERP suit implementation in the FMCG sector within four months but also expanded into providing Enterprise Solutions embedded with cloud solutions through various cloud environments such as Microsoft Azure and Amazon.

The Enterprise Solution Industry is a constantly changing one with new trends emerging often. Jinasena InfoTech has adapted to providing solutions under business models such as Cloud and SAAS (Software as a Service) and was able to get their first Dynamics NAV customer under the SAAS Model/Subscription License Model.

The company has also been successful in penetrating industries such as Plantations, Energy and Power, Food & Beverages, Insurance Brokering, and Apparels, providing viable enterprise solutions to bring valuable business benefits to its customers.

Another key success story for the company has been their ability to execute rescue operations for customers who had suffered lapses in Dynamics NAV Implementations. On the recommendation of Microsoft Sri Lanka, Jinasena Infotech was able to step in and convert certain failure projects into successful ventures.

"Since last year we have introduced new solutions such as Microsoft Dynamics CRM, Business Intelligence and Business Analytics into our product development strategy and plan to further expand our business to other viable areas in the industry too. Not only do we intend to carry out our development drive in Sri Lanka but have also made great strides in establishing ourselves in Maldives, New Zealand and India. Our clients are our greatest testimony," said Attygalle speaking further.

One of the greatest aspects of Jinasena Infotech's success is the young blood in the team who are unafraid to not only think out of the box but to implement it as well. Therefore it is a company policy to take good care of its employees and value each and every contribution made towards the growth, development and sustainability of the company.

Jinasena Infotech believes in going beyond their comfort boundaries and has actively set the pace for some strategic development in the near future. With the Dynamics Partner Award under their belt once again, Jinasena Infotech is surely poised for greater achievements.