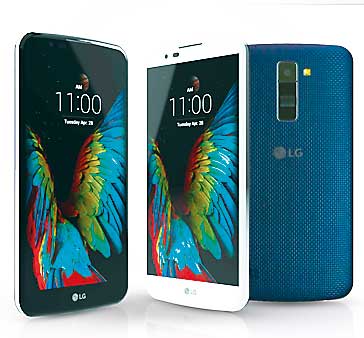 Due to popular request and high demand, HSBC has extended their special offers at Abans till 15th May 2016. If you have not yet seized these amazing offers at Abans, you can still do so while the offer lasts. So hurry, rush to your nearest Abans Showroom.

Of these amazing deals on offer, HSBC card holders, are entitled to a discount of up to 20% plus 20 months interest free installments on a wide range of the world's best Smartphones exclusively at Abans. For Apple product range you will get an amazing 20 months interest free installment with two installments waived off. You can also grab the latest and finest LG Smartphones, Lenovo and Haier Smartphones at an astounding 20 months interest free installment with one installment waived off.

Among the extraordinary brand range and line-up of smartphones that are offered at Abans with this exclusive HSBC offer, special attention must go to the latest LG K Series smartphone range. LG K Series smartphones are the first to offer LG's glossy pebble design language, a contemporary, stylish look with a curved, modern finish for a premium outlook. The glossy pebble design is complemented by LG's new 2.5D Arc Glass for a smooth and seamless style that could only be made possible due to the design of the K Series smartphones being free of button clutter. With design cues borrowed from nature, the K10 extends a premium and exclusive feel and experience and a craftsmanship that pleases the eye.

The K10 Smart cover features a smooth and intricate woven pattern for optimal grip and style of confidence on the move. The Swipe Smart View, notification reader, quick message viewer has evolved to the edge of the screen, where the new style is the smart cover. For those of you who have an active lifestyle, the K10 is designed with multimedia creating you in mind with a roomy display to show images and videos captured with the most advanced camera on a smartphone in this range. LG rear key offers K10 users to capture priceless moments whenever the need may arise, even in low light situations, giving you the experience of true colours visible to the naked eye. The popular Gesture Shot and Gesture Interval Shots, makes taking Selfie and pictures simpler, faster and hassle-free than any of the contenders, making LG rear key tech the benchmark of the industry.

The LG K10 sports a vivid 5.3" IPS LCD Incell Touch screen and powered by a quadcore (clocked at 1.3GHz) processors, Android OS, v5.1.1 (Lollipop), 8GB ROM, 1.5GB RAM variants with Dual SIM slots. The K10 model crafted with a Laser, autofocus and LED flash 8MP rear Camera to capture the world, a 5MP Selfie sharp Camera in front to capture your finest moments with your friends, family and of yourself. The K10 package is also equipped with the world's best battery hybrid technology of LG R&D offered a 2,300mAh durable power to your hand.