Epic Lanka Ltd. on Tuesday announced that Visa International, Master Card and American Express Global cards associations have certified and chosen its 'Access Control Server Solution'.

This world class product has now been certified by these three leading card associations for secure payment processing. Complying with 3D security for internet-based payment transactions, this is the preferred product with leading global banks, and financial institutions worldwide.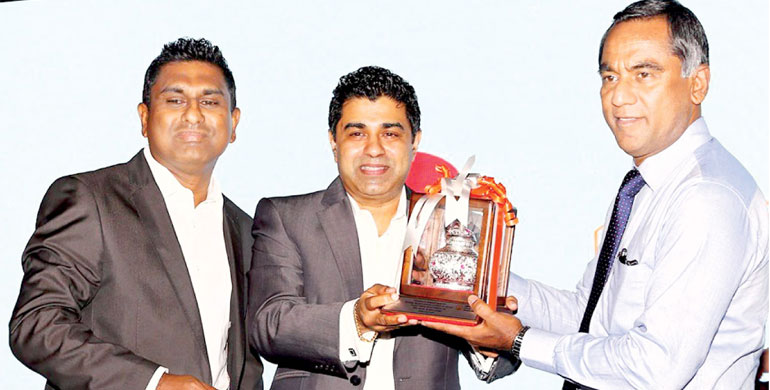 Epic Technology Group Executive Chairman and Managing Director Dr. Nayana Dehigama presents a memento to Sampath Bank Chief Operating Officer Nanda Fernando. The Sampath Bank goes on record as being the first-ever customer of the 'Access Control Server Solution'. Also present is Epic Technology Group Director/CEO and chief architect of this product, Viraj Mudalige


Joining a prestigious community of technology providers around the world, Epic Lanka Ltd goes on record as being the first and only Sri Lankan company to be appointed as a Certified Vendor for their Access Control Server Solution to provide secure payment processing products to be used in Visa International, Master Card and American Express Global networks.

Commenting on this achievement, Epic Technology Group Executive Chairman and Managing Director Dr. Nayana Dehigama said: "We're no doubt very proud of this achievement, which is not only an endorsement of the quality and excellence of our service, but also of what a Sri Lankan company can achieve in the international business arena. Credit goes to my entire team. The dedication and commitment they have individually put in to achieve this status was tremendous."

Established in 1998, the Epic Technology Group is a technology leader in providing technology of international standards to corporate and government organisations in Sri Lanka and in the region. Epic innovates, develops and implements world class technology solutions in the secure electronic payments, information systems security, mobile enterprise automation, secure document management, secure mobile communication, secure document personalisation and infrastructure outsourcing.

Being the pioneers in implementing some of the mission critical ICT solutions for several state organisations and leading corporate firms, the Epic Technology Group also provides a seamless and prompt customer support service in maintaining the largest network of on-line real time payment processors in the country.

"We design and develop software solutions in-house that conform to the highest international standards reflecting our commitment to quality, passion for excellence and quest for innovation. We strive to be a technology leader with a growing talent pool that is truly outstanding and committed to set the industry standards in transforming our vision in to reality," Dr. Dehigama added.

Commenting further on this Director/CEO and chief architect of this product Viraj Mudalige said: "This is a very niche product, with a unique domain expertise which is assimilated, designed and developed in-house at EPIC Lanka. There is no doubt that by the launch of this product we will be putting Sri Lanka on the world map with our Access Controller Server Solution for 3D Payments. In today's high tech digital society in which we live, having this solution greatly reduces the risk of fraudulent transactions, because the card issuing bank has to conduct a verification and a user authentication before sending the transaction to the card acquirer for payment authorisation. This shifts the liability to the card issuers, which, in turn will help to reduce fraud when the cardholder in not presenting his/her card for the transaction."

Epic also implemented its branchless banker solution for BSN Bank Malaysia, creating over 6,500 agents enabling the BSN Bank to seamlessly extend its reach nationwide and to provide on-line real time banking services to the public through external service agents.

"At Epic Technology Group, we value harmony, collaboration and ethical practices. We foster a family culture within the organisation where equal opportunities are given to everybody to excel. Continuous training, active technology transfer arrangements and a conducive learning atmosphere make our family stand out in their effort of making Epic a winning organisation in the region," Dr. Dehigama concluded.