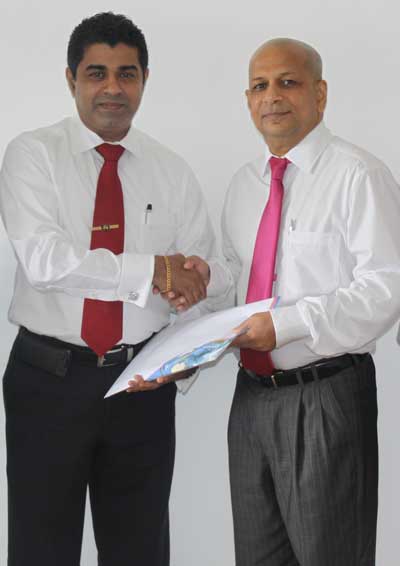 Epic Lanka Group Founder Chairman and Managing Director Nayana Dehigama and MTI's CEO Hilmy Cader
Sri Lanka's leading technology provider in secure payment automation and information systems security solutions, Epic Lanka has commenced implementing their strategic directional plan that was developed in conjunction with MTI Consulting. The project comprised of in-depth industry research and client interactions in order to map out Epic's strategic direction and 2020 vision.

During the last 17 years, Epic has experienced immense business growth in its business size, customer and project profile, staff strength and office environment. Riding on this successful growth and yearning to continually improve past performance, Epic has prudently realised the need to develop strategies that will be immediately implemented in order to deal with the dynamic environment and technology domain that they operate in.

MTI adopted the MTI 8S Model for this exercise, where significant time was spent scanning Epic's internal and external environment. By doing so, the 'big picture' challenges and opportunities were identified, with its impact on Epic's future. Accordingly, appropriate strategies were devised to take advantage of the emerging trends in the market, as well as safeguarding against potential negative impacts.


"MTI's Strategic Planning exercise has given good insight on the dire necessity to quickly restructure the organisation in order to facilitate Epic's intended 'diversification' and strategic goals. Epic undertook this strat-plan to look at the playing field from ground zero, identify the rules of the game that has changed and to ensure that Epic is geared to achieve its vision. To that effect, I have got a good picture of what industry domains Epic needs to play strong, whilst not overlooking the low-hanging fruits from other complementing domains," said Nayana Dehigama, founder Chairman and Managing Director, Epic Lanka Group.

"Working closely with Epic's management was imperative in order for MTI to understand the industry and its sub domains. To achieve this, MTI's regional team spent considerable time on industry research and numerous client interactions throughout the lifecycle of the project. As a result, this analysis has contributed greatly to the strategising process which has led to a concise roadmap for 2020 and specific initiatives that Epic should follow to take the business to the next level," said Hilmy Cader, CEO, MTI Consulting.