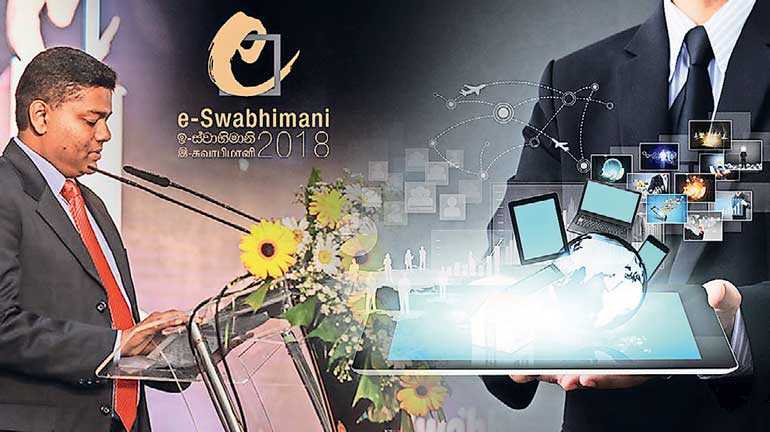 e-Swabhimani, the Digital Social Impact Awards, with the apt theme "Inspiring creativity and empowering entrepreneurship" recognises the creative and innovative use of Information and Communication Technology for social wellbeing. This initiative of the Information and Communication Technology Agency of Sri Lanka (ICTA), has during the past years successfully recognised the best of local talents in the categories of Government and Citizen Engagement, Health and Well-being, Learning and Education, Environment and Green Energy, Culture and Tourism, Smart Settlements and Urbanisation, Business and Commerce, Inclusion and Empowerment, and Digital Entertainments.

In its eighth consecutive year, e-Swabhimani not only recognises excellent talent, but also serves as a platform to take the best applications to international audiences encouraging them to reach greater heights with more recognition.

One of the e-Swabhimani winners in 2017 chargeNet Ltd., a company who provides end-to-end electric vehicle charging system is a game changer in the country. This award put chargeNET on the world map by giving an opportunity to compete at the World Summit Awards 2017 in Austria, where chargeNET was adjudged a winner under Smart Settlement and Urbanisation category, supporting the United Nations Sustainable Development Goals. ChargeNET was the only digital for social impact application under Sri Lankan brand to win this award in an international arena in 2017. Hence, e-Swabhimani has given the best platform to make great things happen; not just for an award, but for a country that is in need of a solution to welcome tomorrow's world.

PickMe was a proud winner of the prestigious 'e-Swabhimani 2016' award under the Inclusion and Empowerment category. Established as Sri Lanka's most innovative taxi-hailing app and a game changer, PickMe has revolutionised the traditional taxi industry. The e-Swabhimani award recognised PickMe's long term vision to change the existing taxi ecosystem. PickMe also received commendation for the app at the UN World Summit Awards (WSA).

Similarly, the Sri Lanka Tourism Development Authority (SLTDA) was adjudged a winner in the 'Government and Citizen Engagement' category at the e-Swabhimani awards 2017. The SLTDA was recognised for its Online Tourism Business Licensing Service which caterers to the booming tourism sector of the country. The key objective of the solution is to project tourism business licensing, a mandatory requirement by law for tourism service providers, as an online service, making the process more efficient and accessible to any tourism business from any part of the country.

It is no doubt that e-Swabhimani is the platform in Sri Lanka that appreciates digital solutions for social good and community wellbeing. Don't miss the opportunity to become the next winner. Apply through www.eswabhimani.lk before 25 July.