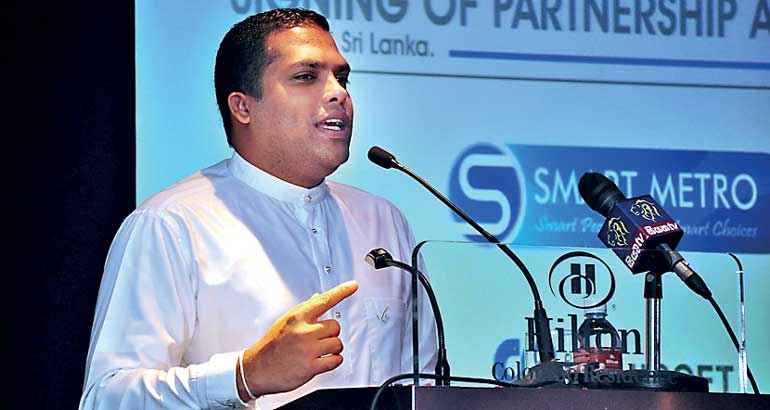 By Charumini de Silva

The Government yesterday expressed confidence in the country becoming a global hub for IT solutions, and emphasised the need for digitisation to increase State revenue as well as its savings.

"Sri Lanka is on the verge of becoming a significant country. We are going through a revolutionary stage of digitisation. With global giants coming with innovative technologies, which helps national infrastructure development, we could easily be the hub to cater to all IT solutions," Telecommunications and Digital Infrastructure Minister Harin Fernando said at the signing ceremony of historic agreements by Smart Metro with Sony Corporation and FujisoftInc, Japan.

Noting that e-governance goes in hand- in-hand in digitisation he pointed that adopting contactless technologies will enable Sri Lanka to save over Rs.150,000 million per day.

"Sri Lanka is a country which provides many social welfare benefits such as Samurdhi and pension schemes where the Government sends off money daily into many accounts. Despite some of them being deceased, their families still keep collecting the pensions and we have no way to track it. Hence, the digitisation here helps an economy like Sri Lanka to save money and generate income, thereby the finance Ministry will be in a better state," Fernando said.

Capitalising on the opportunity, the Minister hinted to the two Japanese companies that the Ministry has already sent out an international tender which would close around June or July to introduce a HTM which boasts the same features the two companies had been presenting about.

"This HTM card will redefine the Sri Lankan lifestyle. Smart Metro is similarly going in line with the particular card that we are going to introduce. If Sri Lanka introduces this card, we will be the third country in the world to do so. Only Estonia and Sweden have done this so far. It covers all sectors," he explained.

In addition, the Minister said that he has plans to introduce technology into education and healthcare sector. "The Government had already spoken to few companies in the US. Now that we have Sony and Fujisoft, we will certainly come and visit you all and present our case before you. We have 3.5 million students in Sri Lanka and my ultimate goal is to see them studying on a tablet or mini iPad. Thus, my Ministry is trying to get the infrastructure in place to enable these facilities in the next five years."

Adding that the Government hopes to cover the whole of Sri Lanka in fibre optic cables by next year, he said at present it had covered around 25,000sqkms.