IFS Global Enterprise Chief Technology Officer Dan Matthews visited Colombo for the launch of IFS Application 9.

Dan's responsibilities encompass researching, formulating and communicating the strategic direction for IFS Applications. To this end Dan leads the Research and Strategy unit within IFS. With one foot deep in the IT industry and the other firmly grounded in dialogue with IFS's customers across industries, Dan is in a unique position to see new trends in business technology both from the vendors and the customers' point of view.

IFS is a global company and one of the leading players in the ERP market today. IFS commenced its operations in Sri Lanka in 1997 and had now grown to have more than 750 employees in its Colombo and Kandy offices. IFS largest R&D centre, Global Support centre and now moving its Training Centre to Colombo making the local operations very significant among its worldwide expansion drive. Dan discussed the latest additions to IFS Application 9 and shared his thoughts about the ERP industry and its future trends. Following are excerpts from the interview:
By Kiyoshi J Berman


Q: Can you comment on the technology behind IFS Application 9 and its newly added features?

A: If we take a look at what's going on in business, we are more pushed forward for changes and things happening around us within the company. These can be gigantic shifts like totally new ways of doing things in the industry or it can be the little changes that happen every month in the company. What is quite important is that you respond to those changes by changing the software. If it takes too long to change the IT systems you're actually holding your business back.

The key characteristic of IFS Application 9 is that it gives those companies a tool that is agile and can respond to those changes. We made a few significant changes in the software itself; we introduced a few new concepts. For example, we introduced a feature called IFS lobby where the user can view what the situation is like at a glance. So you understand what's happening in the business and you see what's going on. We changed the architecture to something called layered architecture, giving new ways to configure the application. So it becomes quicker and easier to do those changes. Overall, what we want is to make it easier for people to be agile and respond to changes. This involves innovations in the experience side and innovations in the architecture side.


Q: What was your role behind the creation of IFS Application 9?

A: As the CTO, I work with the management looking into long-term product strategy. So when we look at developing IFS applications, we need to look at what is happening in business, what is happening in IT in general, what our IT partners such as Microsoft and Oracle are doing. We take all this information and combine it to think how our software needs to change in the future; and that's where I come in. I get involved in figuring out how we fundamentally need to change the nature of the application to be successful to support our customers in the future.

So regarding IFS Applications, specifically we discussed many years ago that we need to make the application better at visualising the data so people get some understanding and insight of the reality. We also know from a customer's perspective that we need to make it more cost efficient. My role is working with the long term product strategy and making sure whenever we make a big investment like we have done for Applications 9, we take some key steps towards where we want to be in five years' time. Even if it's something as big as IFS Applications 9, it's just one step on the road to where we need to be five, 10 years from now.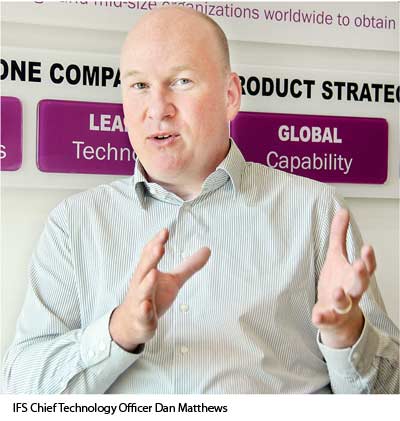 Q: How does IFS contribute to the software industry and IT sector in Sri Lanka?
A: In the software industry we are quite the key link because for us it's specifically about building solutions for our customers. We don't develop the core technologies like databases, programming languages and development tools and stuff. That's for Microsoft, Oracle, Google and other such companies to do. But we're very close to our customers so what we bring to the software industry, is the link where we can take new innovations of IT and actually make solutions for business needs.

It's necessary to be out there with the customers in the industry understanding what they are doing; knowing how their industries are evolving. Our role is to see how we can build solutions that can help them run their businesses better. It's quite an important role I think, to sit right between the end customer and rest of the IT industry.

Concerning the IT sector in Sri Lanka, we have around 750 people working here on IFS Applications. We needed clever people and that's one of the reasons we came to Sri Lanka in the first place but we don't see it as outsourcing. It's a part of our core or in fact biggest R&D sector, we have for IFS Applications. We started back in 1997 with about five people and this number quickly escalated. We have been able to grow the business here organically and for nearly 20 years now, people have been staying with us and there's very low staff turnover. This means we have built a competence that's actually vital to us.

Then we also have IFS Sri Lanka, which implements IFS Applications locally here for the region. So we have the R&D sector, the local operations and another part we call the development service which does some of the international implementations.


Q: Can you comment on IFS R&D capabilities and process which IFS as an organisation adopts to future proof its product (IFS Applications)?

A: In terms of keeping the product future proof, there are three mainstream investments we need to look at. Firstly, what do our customers actually need and how they want to run the business? For ERP systems today, the challenge is to build a system which can financially control an international system where let's say, people are working on four different sides of the world. Something more on the interest of the business and there is no academic answer on how you do that.

So the most important thing we need to do is to work very closely with the leading organisations in the industries and understand what they want to achieve in their business in service, utilities etc. Thereafter, we have to understand how we can use our capabilities in IT and software development to help support their businesses.

Secondly, we need to work with our IT partners to understand what's happening on a mega scale in the IT industry. There's the Cloud, the Internet of Things coming out and we need to understand what the big IT trends are and what it means for our customers.

IFS Labs deal mostly with innovation and most of those people are based here. This is our own internal think tag and we look at consumer trends, consumer IT and try to conceptualise what this means for IFS Applications in the future.


Q: How have ERP solutions evolved during the past 20 years and what are its future trends?

A: If you take a broader perspective, 20 years ago ERP systems were about process automation to replace manual routines and transactions with computer based routines and transactions. It was a lot about automating the management process. But 10 years ago, it moved on to how can I measure and optimise my business? It was about how can I measure the production of my performance or purchasing and how can I optimise it. So you get more of the planning and optimising in individual processes. Now it's more about thinking, how can it give me what I need to know from the boardroom from an executive point of view to make the right strategic decisions?

If you think about future trends, it's more about how to deal with the high volumes of information. Information coming in from the Internet of Things, from social connections and things like that. We see new technologies developing to support that. It's going to be more about how can I visualise and provide insights to this data. It's about taking a wealth of information from all outputs, operationalising it and doing something with it.

Then it's about how to use this information to do predictive maintenance and fix something before it breaks or more efficiently deal with my service or to improve the next generation of the product. Only when you can do something with the data you can make any money from it. The other thing is the pace of change. You need the software capabilities to develop as the business grows.


Q: On a recent report, Gartner talks about post-modern ERPs. Can you share some thoughts on how organisations can adopt this concept?

A: Post-modern ERP is mostly about dealing with basic change, being in a situation where you look at the processes where you want to be more innovative and where you want to move quickly. Perhaps be a little bit restrictive on how you implement IT support. Maybe go out and see if you can find the solution or service in the Cloud or what you can implement to support that. Fundamentally, they are aiming at the need to act quickly and the need to use new technology to help the business. However, Gartner is forgetting about the integration challenges.

My advice to businesses that consider post-modern ERPs as Gartner describes, is that yes you want to be agile; you do want to make a change and adopt new technologies but also consider the risks you're taking. We at IFS, provide quite a good middle ground because we work in a way that helps you to be more agile, it helps you deploy these new technologies without too much diverging and too much risking.


Q: Generally, is there a considerable customer demand for the integration of CRM, HR and ERP systems; or do customers prefer to run these systems separately?

A: This varies between industries, but overall people prefer to see the total of business activities. That means if the sales department, purchasing department and the financing department and everybody use different systems it's harder to get the overview. For a long time, CRM has been kind of a separate thing which sales and marketing people used. Now people are looking at a much more customer-driven approach to their services or products. So you need to have the linkage between what are we doing in terms of taking care of our customers and what are we doing in terms of developing our products and services. In general, the trend is shifting towards integrated system.


Q: Will Mobile ERP software change the ERP market? And how will it affect the efficiency and productivity in organisations?

A: I don't think it will change the market because mobile ERP is about how we use ERP solutions on mobiles. Now we all have smart phones so you use work email at home and at work, then you do some private things like checking Facebook every now and then when you're working. Work and private life is blending a little bit more in society than it used to. This brings expectations like, if I can do my emails at home why can't I do other activities like creating staff rosters or by all means just see what the business situation is like.

For instance, when I take my phone and check my Outlook, I see if I need to get to work early on Monday morning or can I go in late. Why shouldn't someone working in finance or purchasing have the same possibility. So I think Mobile ERP is about allowing people to work in this kind of flexible way. So it's changing how we use the application but I don't think it's going to change the market.


Q: Will wearable technology change the way ERP systems are used, and how practical are they for day to day business operations?

A: It's going to be some time before we see any changes; because if you think about where you can see wearable technology, it will only be a few places. For instance, automated warehouses have barcode scanners on the fingers and headphones picking up instructions. You also find wearable technology in places where you need to have your hands free and eyes up for safety reasons like when working on power lines.

Likewise, there are places where it's already being used. Then there are consumer wearable technologies like smart watches, fitness bands and so on. Currently, wearable technology is a young market and not quite built for long term, eight-hours a day kind of use. It's going to be a long time till we see wearable technology becoming popular.


Q: How would the Internet of Things (IoT) implicate the current business environment and how does IFS plan to take up this change?

A: Internet of Things can be used to make money but people usually focus only on obtaining the data. The Internet of Things helps you get data all the time from products while they are being used in real life. There's a huge potential in terms of what you can be doing with this data. All the areas that can make money from the Internet of Things are what we will be looking in to. This includes, providing better services, optimising logistics and controlling other processes. Our key role to play is to help our customers see how they can gain information from the Internet of Things, do their business better and make some money from it.


Pix by Bhanuka Kirinde