A constellation of 648 low-orbit telecom class satellites to provide high-speed low cost Internet access to consumers in rural and unconnected areas across the world
Bharti to hold strategic minority stake in OneWeb through a global subsidiary
Qualcomm Incorporated, Virgin Group, Airbus Group, Coca-Cola Company, Intelsat and Grupo Salinas among other investors in the company, which plans to start services in 2019
$ 500 million funding from investors
Bharti Airtel, a Bharti group company, will be a preferred distributor of the service in India, Bangladesh, Sri Lanka and Africa, with a strong focus on rural markets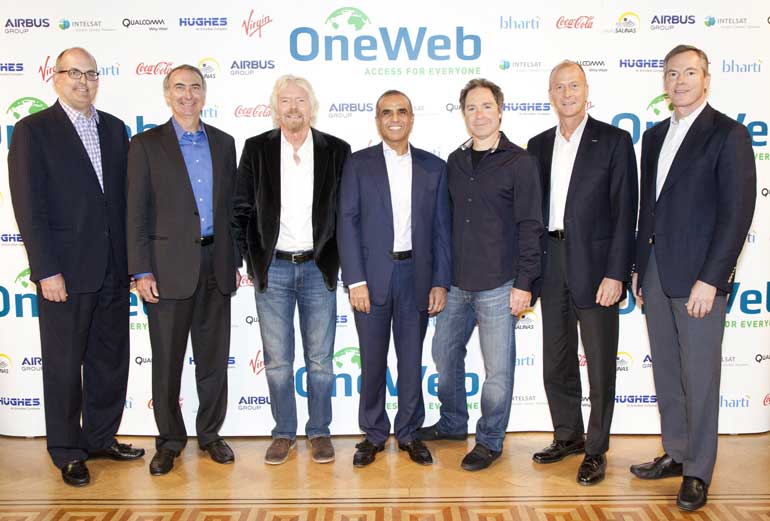 From right: Qualcomm Executive Chairman Dr. Paul E. Jacobs, Airbus Group Chief Executive Officer Tom Enders, OneWeb Founder Greg Wyler, Bharti Enterprises Chairman Sunil Bharti Mittal, Virgin Group Founder Sir Richard Branson, Intelsat CEO Stephen Spengler in London to announce the latest round of investment in OneWeb, which is an initiative to provide global access to affordable internet through a constellation of 648 satellites. Bharti Enterprises from India is one of the founding members of OneWeb
Bharti Enterprises, one of India's leading business groups, said that it has acquired a strategic minority stake in OneWeb, which is supported by a global consortium with an aim to provide affordable internet access to all.

As one of the founding members of OneWeb, Bharti will have representation on the Board of the company. OneWeb announced $ 500 million in funding from its investors to take forward its mission.

OneWeb's mission is to enable affordable internet access for everyone and the company aims to build a communications network with an initial constellation of 648 low earth orbit satellites that will provide connectivity to billions of people around the world.

The OneWeb user terminals contain embedded LTE, 3G, 2G and Wifi access capabilities that extend the reach of mobile operators. With more than 10 terabits per second of new capacity, the system will transparently extend the networks of mobile operators and ISPs to serve new coverage areas, bringing voice and data access to consumers, businesses, schools, healthcare institutions and other end users.

Bharti Airtel, a Bharti group company with operations in 20 countries across Asia and Africa, will be able to leverage the investment by becoming a preferred distributor of these services across its operations. Bharti Airtel's mobile networks currently cover a population of over 1.85 billion people and is supported by a vast distribution set-up with presence in rural areas.

Announcing the investment, Sunil Bharti Mittal, Chairman, Bharti Enterprises said, "Access to affordable high speed Internet is a powerful tool for economic development and empowerment of populations, particularly in emerging economies. OneWeb, an innovative system backed by leading global corporations, will complement the efforts of Governments and telecom operators across the globe to take internet to the masses. Having witnessed the deep positive impact of enabling communications across our global operations, Bharti is delighted to be a part of this initiative that will accelerate the journey towards building a digitally inclusive world."

"In India and Sri Lanka, which is on the cusp of a massive data revolution, hundreds millions of consumers in rural areas will benefit from this initiative and it will boost the Government's vision of broadband access for all. Similarly, nations across Africa will be able to fulfil their digital inclusion agenda and aid economic growth through these affordable services."

Following the announcement of its joint venture with Airbus Space and Defence to build the highest volume satellite production factory in the world, OneWeb also announced the largest commercial rocket acquisition ever of more than 65 rockets from Arianespace and Virgin Galactic. Arianespace will be providing 21 Soyuz rockets from 3 separate launch pads on a firm schedule, 5 Soyuz options and 3 Ariane 6 options. Virgin Galactic will be providing 39 separate launches.

"The dream of fully bridging the digital divide is on track to be a reality in 2019," said Greg Wyler, founder of OneWeb. "Together with our committed and visionary founding shareholders we have the key elements in place: regulatory, technology, launches, satellites, as well as commercial operators in over 50 countries and territories. We are committed to solving one of the world's biggest problems – enabling affordable broadband Internet access for everyone. We are excited about the next phase, which will involve working with countries, telecom operators and aid organisations to help them realise their goals of open and ubiquitous access."

OneWeb has also raised investment from Airbus Group, The Coca-Cola Company, Grupo Salinas, Hughes Network Systems (Hughes), a subsidiary of EchoStar Corp., Intelsat, Qualcomm Incorporated and Virgin Group. The company plans to start services by 2019.