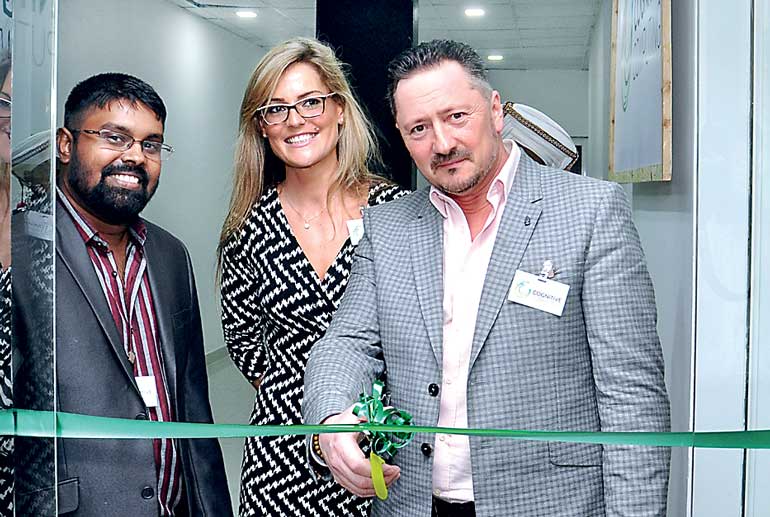 AI and Robotics CEO and Head Chris Sykes ceremoniously opening the Colombo Centre for Cognitive Computing (CogCom) at the Orion City Colombo 09 while (from left): CogCom General Manager Asiri Fernando and Volume Chief People's Officer Gemma Hood look on – Pic by Ruwan Walpola
By Asnah Anver

Artificial Intelligence (AI) is one of the most talked-about and hyped technologies today but very few offer the technology in the market for businesses and corporates. The Colombo Centre for Cognitive Computing (CogCom), launched last Thursday (2 March), takes this extra step to provide artificial intelligence applications in the regional and global market.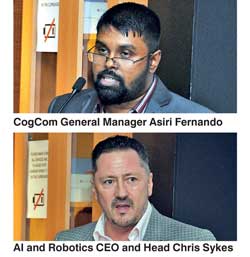 CogCom is a technology agnostic developer of AI solutions, with a focus on 'optimising human performance through Smart Machines'. The Centre's team of AI specialists focus on building apps that help businesses worldwide to automate mundane tasks and improve the customer experience. These apps are powered by smart machines, which can respond to questions asked in natural language, instantly – from anywhere at any time.

CogCom is a wholly-owned subsidy of Volume Ltd., a global company based in the UK with its Head Office in Workingham, UK. The company first established its presence in Colombo in 2011 as Volume Technology Centre prior to its rebranding as CogCom.

In order to provide the best solutions to its customers, CogCom and its team have shifted office to a new state-of-the art facility at the Orion City IT Park, from its earlier premises of nearly six years at the World Trade Centre in Colombo.

Walking through the doors of CogCom, you would be excused for believing you were at one of Google's notoriously creative offices—with its open spaces, glass-walled meeting rooms and collaborative working areas filled with natural-wood swings, colourful beanbags and artificial lawn, closely resembling a San Francisco start up.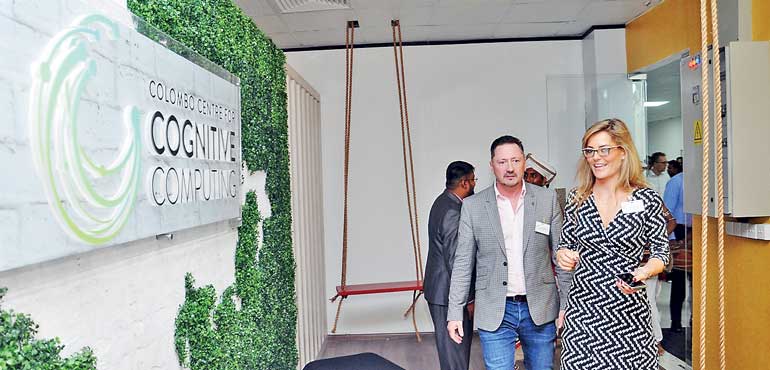 Chris Sykes, the CEO and Head of AIand Robotics of Volume, CogCom's sister company based in the UK, officially opened the new office space by cutting the ribbon. Sykes and his colleague VolumeChief People Officer Gemma Hood had flown in specifically for this occasion. At the event, Sykes stated that Volume looks forward to maintaining a happy, long and prosperous association with the city and people of Colombo.

CogCom General Manager Asiri Fernando stated: "We at CogCom aim to maintain Volume's global lead and growing presence in the world of AI and Robotics from right here in Colombo."

Fernando stated that CogCom "will continue to forge new relationships through innovation, determination and a focus on delivering excellence" while adding that "over the years, as a part of Volume, we have proven that the best in Sri Lanka could provide software solutions to some of the biggest companies in the world".

Having been a sole technology provider to Volume, CogCom will also be opening its doors to businesses and public sector organisations in Sri Lanka and the Asia-Pacific region.

Speaking at the event which was attended by representatives of corporates in Sri Lanka, Fernando stated: "It'll be an important day for you too – our guests, as we open our CogCom doors to new customers in this region and globally."

Present at the occasion to light the oil lamp were Chris Sykes and Gemma Hood from Volume in the UK, ICTA Director Projects Arunesh Peter, IBM-Watson Sri Lanka Country General Manager Krishan Fernando, John Keells Group Chief Information Officer Ramesh Shanmuganathan, Orion City Director/CEO Jeevan Gnanam and CogCom Lead UX Hiran Karunananda.

At present CogCom employs 25 professionals of Sri Lankan nationality and offers opportunities for UK staff to work at the Centre. CogCom will also be working closely with the many high quality IT-focused universities in the country to help develop AI-focused curricula and to mentor young and emerging talent.