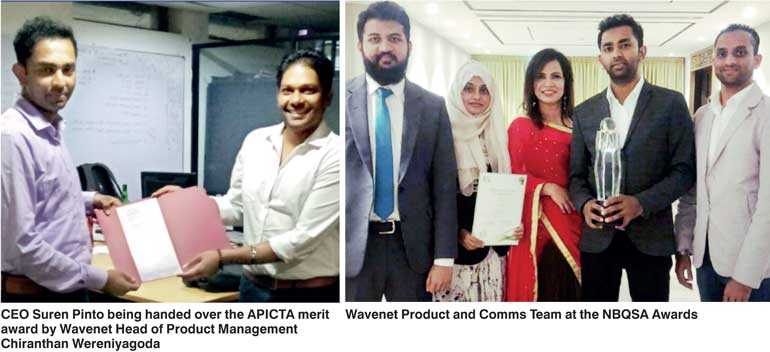 Wavenet International Ltd. was recognised with three industry awards this month for its telecommunications Unified VAS (Value Added service) Solutions at the international 2018 Asia Pacific ICT Awards (APICTA) held in China, and also at the 2018 National Best Quality ICT Awards (NBQSA) held in Sri Lanka.

Wavenet is a global software platforms and solutions provider in the global telecommunications industry serving millions of subscribers in Oceania, Africa and Latin America, with an extensive telco solutions portfolio including Wavenet's unique Unified VAS, Charging and Revenue Management and BSS Orchestration. These solutions are focused on delivering value to telco operators through cutting-edge technologies such as NFV (Network Functions Virtualisation), AI and IoT in current and future 5G networks.

The 2018 National Best Quality ICT Awards (NBQSA) in Sri Lanka took place on the 19th of October at the Galadari Hotel, Colombo, where Wavenet won two awards for its Unified VAS solution – The Gold Award in the category of Communications Applications, and the Overall Silver Award of the entire event. The awards ceremony was organised by the Sri Lankan Section of the BCS (British Computer Society) on the occasion of the Chartered Institute celebrating its 20th year in Sri Lanka this year.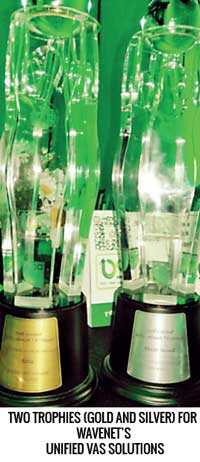 The NBQSA Awards recognises outstanding achievements of national individuals and organisations who have developed high quality ICT products, provided opportunities for Sri Lanka to be recognised internationally, have achieved service/product qualities of international standards and have provided opportunities for employment in the ICT sector. The NBQSA nominees were nominated to participate in the 2018 Asia Pacific ICT Awards to compete on an international stage, where participants are recognised with international awards following presentations of their solutions to an international panel of judges.

The 2018 (APICTA) Asia Pacific ICT Awards were held in China, Guangzhou, from 9 to 13 October, and Wavenet International was awarded a prestigious merit (second) place under the Industrial – Specialised Solutions category, again for its Unified VAS solution offering in telecommunications. This award recognises international companies that offer solutions that deliver automation through the integration of systems technologies and processes, industrial activity that is focussed on next generation improvements, and the development and competitiveness of the global marketplace. Wavenet secured merit place against a multiple of 17 other APICTA member economies which is a significant achievement.

"These awards are a reflection of Wavenet's dedication towards delivering innovative state-of-the-art telco solutions that are of high-quality international standards and fits global enterprises, and proof of our skilled staff strength who are dedicated in designing, delivering and deploying world-class telco solutions around the world," said Wavenet CEO Suren Pinto.

Wavenet's Head of Product Management Chiranthana Wereniyagoda stated: "One of our secret ingredients in our telco solutions is the intricate quality and customisation we build into the design, development and delivery process of our products. This enables us to offer a unique product offering to our customers, supported by our proprietary technology that is world-class."