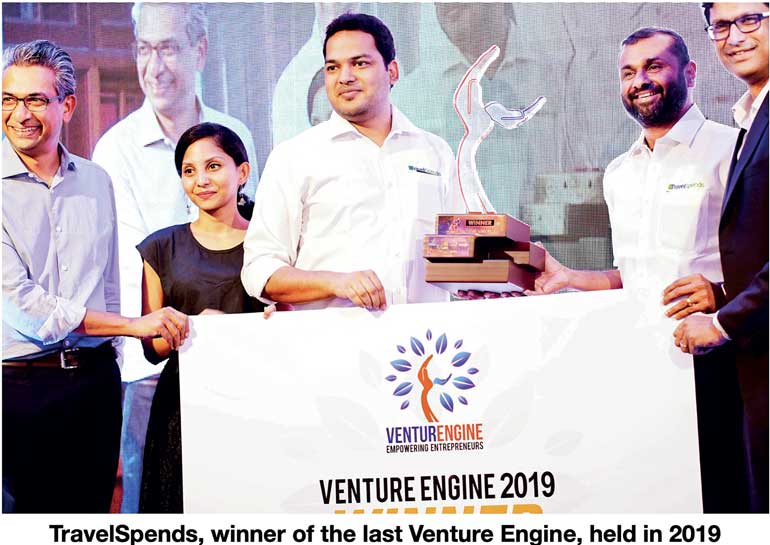 Impact Entrepreneurship Award for social enterprises on offer for fourth year
Sri Lanka's pioneering startup acceleration program Venture Engine has launched its 2021 edition, with applications now open until midnight on 22 October. Being held over October, November and December 2021, to provide much needed support to the local startup sector during this pandemic, Venture Engine has returned for its 10th year with plans to help innovative and scalable startups solving a genuine pain point. 

Even though the program will look at Seed and Growth stage startups that are interested in scaling, it will also cater to entrepreneurs opting to submit new, early-stage business ideas with huge addressable markets. 

Founded by BOV Capital and the Indian Angel Network, Venture Engine is partnered by the Lankan Angel Network (LAN). Platinum Sponsor for Venture Engine 2021, the Ford Foundation noted: "Startups are the catalysts to innovation, and initiatives like Venture Engine are specifically and thoughtfully targeting them to help channel and propel these innovations towards serving Sri Lanka and also beyond. We have been very keen on partnering with organisations and ventures who are working on putting Sri Lanka on the world map. This particular initiative, we believe, is a big step towards that, and we didn't want to miss the opportunity."

This year's Venture Engine program will, for the fourth time, offer up a very special Impact Entrepreneurship Award that highlights for-profit Social Enterprises. This initiative is once again being promoted by Indian Venture Capital firm Aavishkaar, a Gold Sponsor for Venture Engine 2021. Other sponsors and partners for 2021 include ICTA, SL@100, Council for Startups, SLASSCOM, Hatch, Dialog Axiata PLC, KPMG, PwC, AOD, Shift and CPP.

Following the closing of the Venture Engine 2021 application process, selected participants will go through several rounds of filtering and workshops, during which they will pitch their ideas to a panel of investors and domain experts. 

Since it first kicked off 10 years ago, Venture Engine has become Sri Lanka's most successful platform for accelerating, and growing, the country's most promising new business ideas. Over 1,000 Sri Lankan startups have been vetted and mentored by this program since its launch in 2012. To date, the Venture Engine program has attracted Rs. 2 billion+ in funding for 35 of Sri Lanka's most exciting startups. Some of the successful Venture Engine startups include InsureMe, Roar, ZigZag.lk, Takas.lk, Saraii Village, Stripes & Checks, Skrumptious, Kimbula Kithul, Strive, PlushBox, Nithya, Extrogene, OMAK Technologies, LiveRoom, Intellocut, BusSeat.lk, IgniterSpace, House of Lonali and 24-7 Techies. 

Visit www.ventureengine.lk to learn more about the application process.