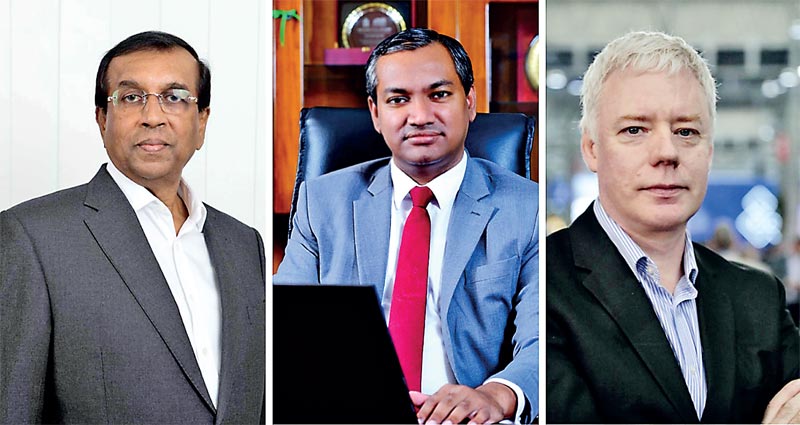 From left: Secretary to the Ministry of Technology Jayantha de Silva, ICTA/TRCSL Chairman Oshada Senanayake, GSMA Head of Technology – APAC David Turkington
---
Throughout the pandemic, the adoption of digital technologies has accelerated across every aspect of our lives. In turn, the threats we face in cyberspace have evolved in complexity. We now live in a world where deadly cyber-attacks are borderless and can be launched with a single click. As such, there is a critical need for strong cyber security governance for us as individuals, in organisations, and especially at a national level.

Sri Lanka CERT operating under the purview of the Ministry of Technology organised the 14th Annual National Cyber Security Week (eCSW), with the theme of 'Striving with Hope,' from 25-29 October 2021. Taking place online owing to the pandemic, this year's eCSW was packed with several keynote events.

The 14th Annual eCSW was launched with the hacking challenge, with 56 teams coming on board consisting 168 participants on the platform powered by Cyber Ranges. Working together in teams, the participants were tasked with gaining access to systems and capturing as many virtual flags as possible within the stipulated time frame of six hours. At the end of the challenge, participants received certificates of recognition and the winners were conferred awards courtesy of Huawei. The purpose of this initiative is to help cyber security professionals develop their ethical hacking skills. This challenge was taken up by both professionals as well as the student community with astounding enthusiasm and zest.

The second day of eCSW commenced with a much-awaited series of workshops – two private workshops on defining the organisation's critical information assets in the context of critical national infrastructure by international security experts from Cyber4Dev, memory forensic analysis by experts from Delta spike, and two public workshops on digital transformation and cyber resilience by ISC2 Colombo Chapter, took place with over 400 participants. These workshops will enable and empower the development of strong information and cybersecurity governance and strengthen the skills and expertise of cybersecurity professionals.

From the 27 October onwards, the eCSW flagship event launched its three-day conference featuring over 40 local and international experts sharing their insights on information and cybersecurity. The list of speakers included prominent names such as Secretary to the Ministry of Technology Jayantha De Silva, ICTA and TRCSL Chairman Oshada Senanayake, Virtusa EVP, CIO and General Manager Madu Ratnayake, Lanka Clear CEO Channa de Silva, John Keells Holdings CISO and Senior Advisor Sujit Christy, GSMA Head of Technology – APAC David Turkington, General Counsel of ICTA Jayantha Fernando, and many more. Over the up skilling three days, there were in-depth discussions held on the current and future cybersecurity landscape, in a series of panel discussions and presentations moderated by N. Deenadayalan and Nelushie Bandara – Information Security Engineers at Sri Lanka CERT – with over 1,150 participants joining the session.

The 14th Annual National Cyber Security Week concluded with the vote of thanks issued by the Sri Lanka CERT Chief Executive Officer. The 14th Annual eCSW was open to the public and free to attend whilst being streamed on Sri Lanka CERT's official Facebook page and YouTube channel.

As threats in the digital world evolve and cybersecurity becomes increasingly borderless, international exchanges like the Annual Cyber Security Week are of utmost importance. The exchange of insights and the up skilling of local cybersecurity professionals are essential if we are to safeguard our national infrastructure from the ever-advancing threat landscape. It is essential for the private, public sectors, and the general public to follow best practices to achieve cyber resilience.