The sixth annual Cyber Security Summit on 20 September will have a dedicated session on 'Prevention of Data Leakages,' organisers said yesterday.

Keynote speaker of the session is Nikita Zaychikov, Senior Manager, InfoWatch, Russia while Vishak Raman, Director – Cyber Security for India and SAARC, Cisco Inc., USA is the Guest Speaker.

The session also includes a panel discussion where the two speakers will be joined by two industry experts from Sri Lanka, namely Ramesh Shanmuganathan, Executive Vice President/Group CIO, John Keells Holdings PLC and Damith Pallewatta, Deputy General Manager – Risk, Hatton National Bank PLC.

Inforwatch's Nikita will share his experience under the theme 'Challenges and solutions in protection against data leakage'.

Nikita has an extensive background in IT, Engineering and Security fields on data loss prevention. He has extensive knowledge in technical challenges and business applications of various information security tools. During his employment at InfoWatch, he worked in several regions around the world, including Russia, the CIS, the Middle East, South-East Asia. This gives Nikita understanding of how approaches to security and information technology differ in various regions of the world.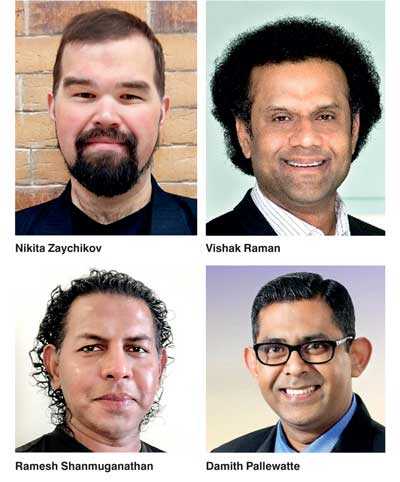 Meanwhile, Guest Speaker Vishak has over 20 years of experience in the Information Security Services space with stints in product management, sales, marketing and business development. Prior to joining Cisco, He was the Senior Regional Director – India and SAARC at FireEye. Vishak was also the Global Head of Content Delivery Network (CDN) and Managed Security Services (MSS) business at Tata communications for three years.

Annual Cyber Security Summit – organised by Daily FT, Sri Lanka's only business and finance newspaper and CICRA Campus, country's pioneering cyber security training and certification provider – has drawn an audience of over 400 participants in 2017.

The main objective of this summit – under the theme of 'Towards a Secure Digital Future; – is to create awareness on the importance of Cyber Security among top officers in the Government, corporates, and IT professionals; it also promotes the best practices to participants in acquiring, implementing, managing and measuring information security postures of their organisations and countermeasures.

The summit also exposes latest flaws in information security that affects the global community including corporations and governments. Discussions and presentations will revolve around some of the most malicious attacks and potential threats surrounding the security field.

Top speakers from global corporations such as Cisco, Visa and Cellebrite are among the keynote speakers at the summit along with top corporate professionals who have worked closely with the FBI, Interpol and Fortune 500 companies.

The event will comprise the Cyber Security Summit Day Conference for IT professionals targeting senior officials from the corporate and government sectors, and 'Night Hack' – Evening informative session for IT professions on 20 September. The summit will also have an invitation only CEOs Forum on Cyber Security on 19 September.