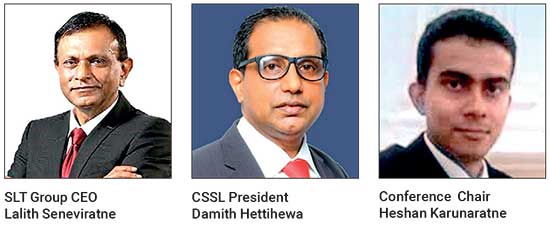 Continuing its support towards accelerating the digital transformation and digital investments in the country, SLT-Mobitel, Sri Lanka's National Telecommunication Service Provider, has joined hands with the Computer Society of Sri Lanka (CSSL) as the Platinum Sponsor of the 40th Anniversary National Information Technology Conference (NITC) and Digital Investment Summit 2022.

NITC is one of the most respected and anticipated ICT events in Sri Lanka and in the region and will be held on 12-13 at Shangri-La Hotel Colombo.

The 40th anniversary edition of NITC has a special feature, NITC 2022 Digital Investment Summit which is organised in collaboration with key industry stakeholders, Ministry of Technology, Ministry of Foreign Affairs, Ministry of Tourism, ICTA, BOI, FITIS, SLASSCOM, BCS, CFA, EDB, SLA SLTDA, Sri Lanka Conventions Bureau, and SLT-Mobitel.

High Commissioner of New Zealand for Sri Lanka and the Maldives Michael Appleton will grace the conference and CSSL National ICT Awards on 12 October as the Guest of Honour and the keynote speaker. CSSL President Damith Hettihewa welcomed SLT-Mobitel platinum partnership as a great contribution towards supporting the efforts of CSSL which is advocating acceleration of digital transformation of the country to leverage Industry 4.0 opportunity for Sri Lanka to become a wealthy nation.

"Our country needs to accelerate policy formation, legal enactments and research and design to adopt cutting edge technologies such as Artificial Intelligence (AI), Machine Learning, Augmented Reality, Internet of Things (IoT), Robotic Process Automation and Integration Big Data and real time analytics, Cloud Computing and Blockchain in the vital sectors of the economy," said Damith Hettihewa.

SLT Group CEO Lalith Seneviratne said, "SLT-Mobitel provides a range of ICT facilities including voice, data, broadband, wholesale, enterprise, cloud, international, and IPTV. Further, SLT-Mobitel has laid the largest fibre optic-based nation-wide telecommunication backbone network which is a veritable asset in propelling the country's development to the next level. The group's efforts to expand the broadband footprint are supplemented by an array of technologies including carrier-grade Wi-Fi, and both fixed and mobile 4G LTE technologies. SLT-Mobitel has also consistently been Sri Lanka's fastest 4G network as adjudicated by the internationally reputed Ookla organisation.

This year's National Information Technology Conference is organised under the leadership of CSSL President Damith Hettihewa. The Conference Chair is Heshan Karunaratne while Dr. Ajantha Atukorale, Professor Chandimal Jayawardene and Dr. Adeesha Wijayasiri are spearheading the academic track and colloquium of the conference.

NITC 2022 will also be supported by Ministry of Technology, Information and Communication Technology Agency (ICTA) of Sri Lanka as the National Partner.