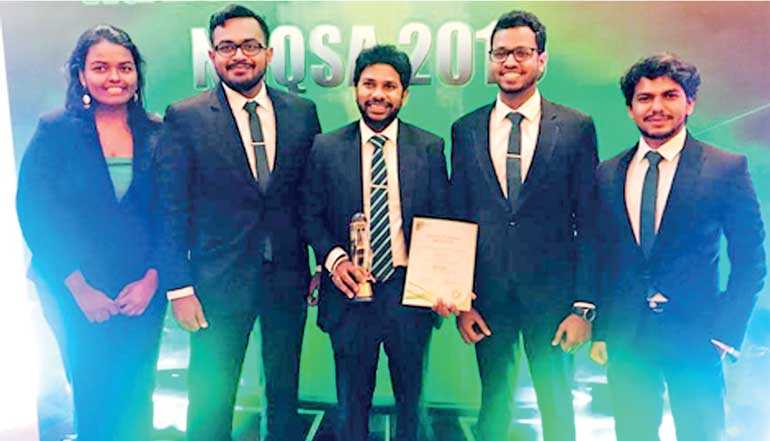 Bronze Award for Tertiary Projects, Technology Category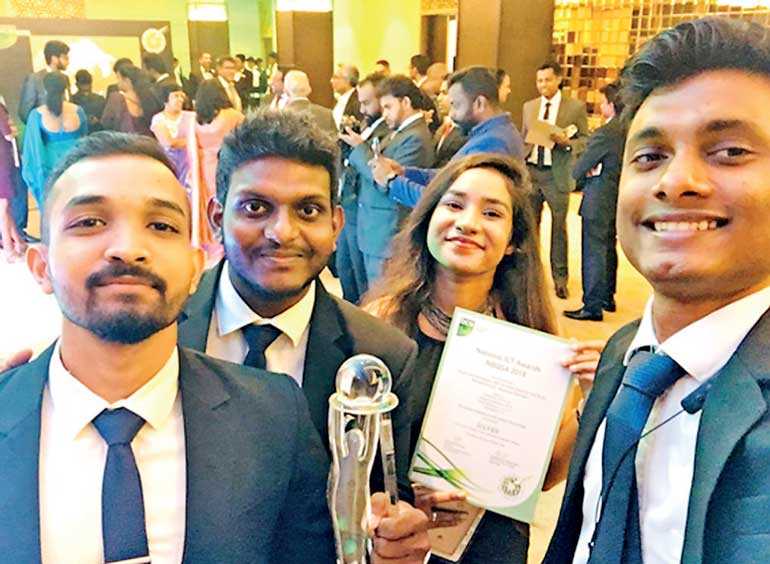 Silver Award for Tertiary Projects, Business Category
SLIIT wins Silver in Business Category and Bronze in Technological category
Final Year Research students from the Faculty of Computing SLIIT, Sri Lanka's premier higher education institute, were inducted to the 'Winners Circle' winning multiple National Best Quality ICT Awards 2019 (NBQSA) recently showcasing their talents. SLIIT teams clinched Silver and Bronze awards in the Business and Technological categories respectively for Tertiary projects.

The competition held annually for the past 21 years, was organised by BCS Sri Lanka, the Chartered Institute for IT and provides an ideal platform to recognise outstanding achievements of individuals and organisations in Sri Lanka who have developed high quality ICT products.

Commenting on the students' achievements, SLIIT Faculty of Computing Dean Prof. Chandimal Jayawardena said, "I congratulate our students and their supervisors for winning multiple awards at this year's NBQSA Awards. At SLIIT we constantly encourage inventions and a research and development culture to ensure that they are empowered as they begin their professional careers well prepared with ideas and skills. These awards also showcase their talents and their desire to solve social problems with innovative applications developing a greater empathy for society and the communities they live in."

The following teams from SLIIT received their accolades during the ceremony. The Team 'Crop Medic Plus' which was designed to identify the diseases of crops and forecast the disease dispersion won the Bronze Award for Tertiary Projects, and received the esteemed honour of being selected to participate at the 19th Asia Pacific ICT Alliance, APICTA Awards in Ha Long, Vietnam held in November 2019. The Team went on to win a merit award at the APICTA Awards. The team was supervised by Dr. Janaka Wijekoon, co-supervisor, Dr. Dasuni Nawinna and included group members, Dharatha Rathnaweera, Yashodha Samarawickrama, Ryan Miriyagalla and Lashan Sachintha.

SLIIT also clinched a Silver Award for Tertiary Projects, titled 'Dynamic Defender' for creating secure web navigation with intrusion, detection and quota management. The group was supervised by Mr. Amila Nuwan Senarathne and comprised Sandun Amarathunga, Manula Udugahapattuwa, Shenal Roshli and Chamali Utthara. Receiving a Merit Award for Tertiary Projects was the ICT product which 'Enhanced Theft Detection System for Automobiles and Automobiles parts'. Dr. Anuradha Jayakody was the group supervisor and members included Liyanage N.S.B., Abhayawardhana J.A.M.S.A., Nisal De Silva and Sahan Vimukthi Nishshanka. SLIIT also received a Merit Award for 'DiabiTech', a non-invasive blood glucose monitoring system and was supervised by Chathu Kahandawaarachchi with Isuri Udara, Ashan Kanishka De Alwis, Wandana Silva and Maleesha Ashanshani participating as members.