Coding for Humanity & Beyond, SLIIT CODEFEST 2018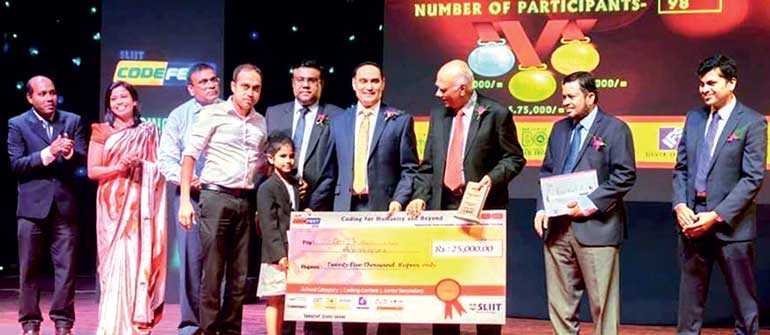 Prof. Lakshman Rathnayake, Chairman/Chancellor, Prof. Lalith Gamage, CEO/Vice Chancellor of SLIIT, Prof. Chandimal Jayawardena, Dean, Faculty of Computing, Dr. Pradeep Abeygunawardhana, Coordinator, CODEFST 2018 and Dr. Nandadasa Narayana, Chairman, Samson & Sons
SLIIT, the nation's leading degree awarding institute in Information Technology successfully concluded for the 7th consecutive year, the much-awaited annual CODEFEST, a nationwide software competition recently.

Held in collaboration with the Ministry of Education, SLIIT's Faculty of Computing conducts CODEFEST to inspire the next generation of software developers, innovators and other ICT enthusiasts. Through CODEFEST, SLIIT also aims to elevate the ICT knowledge of the nation, towards recognition as being the knowledge hub in Asia.

Commenting on the event, SLIIT Vice Chancellor Prof. Lalith Gamage said, "As knowledge of ICT and coding gains greater importance across many sectors in society, we need to work towards encouraging and inculcating these skills together with innovation among the younger generation. Through this competition, we provide students the opportunity to gain valuable experience by applying their skills in challenging scenarios; work with mentors to hone those skills and offer a springboard for students to launch successful careers."

CODEFEST 2018 included; an ICT Quiz for students, Junior and Senior coding competitions, an Open category to award the 'Emerging Innovator', a Tertiary category for teams to compete in an 'Overnight Hackathon' and an 'Overnight Designathon', a 'NetCom' competition and a test of cyber security skills with 'Capture the Flag' competition.

"SLIIT's annual CODEFEST has earned an enviable reputation in attracting high performing competitors skilled in coding and tech skills. Through it we inspire and create a pipeline for hundreds of young people towards a brighter future and help to meet a critical national need for highly skilled, educated computer tech experts," said SLIIT Dean, Faculty of Computing Prof. Chandimal Jayawardena.

At this year's event over 450 teams from schools island-wide and undergraduates from both state and non-state universities participated.

Speaking on the success of CODEFEST 2018, Dr. Pradeep Abeygunawardhana, Coordinator, CODEFEST noted, "For the seventh consecutive year, CODEFEST has encouraged our younger generation to navigate digital technologies and expand their coding skills. We firmly believe this event helps contribute towards the nation's IT skills pool and contributes to addressing how technology can drive positive change in society."

In the ICT Quiz competition, Mahinda College, Galle won Gold with St. Thomas College, Mt. Lavinia and Musaeus College, Colombo winning the Silver and Bronze respectively. An impressive 440 students representing 146 schools across the country participated showcasing their ICT knowledge and technical knowhow.

Tasked with building an innovative ICT-based solution, winning Gold in the Junior Coding contest was De Mazenod College, Kandana. Silver was awarded to Thurstan College, Colombo and Bronze to Sri Rahula College, Anuradhapura. 46 teams took part in this contest.

In the Senior Coding contest, Gold was awarded to Babul Hassen College, Kegalle, Silver to Central College, Bandarawela and Bronze to Central College, Pinnawala. In this category, 124 students forming 31 teams participated.The inaugural edition of the 'Emerging Innovator Competition' exhibited ICT based innovations developed using cutting-edge technologies. 101 competitors presented 36 submissions for this category.

In the Tertiary events category, SLIIT teams won Gold and Silver accolades for the 'Overnight Designathon competition. The University of Kelaniya won Bronze. Confirming their software expertise, SLIIT teams also won Silver and Bronze in the Overnight Hackathon competition. University of Colombo received Gold.

Demonstrating their networking skills through the NetCom competition, SLIIT students won both Gold and Bronze. Silver was awarded to the National Institute of Business Management.

SLIIT teams also won Gold and Bronze in 'Capture the Flag' competition. Silver was presented to Asia Pacific Institute of Information Technology (APIIT).