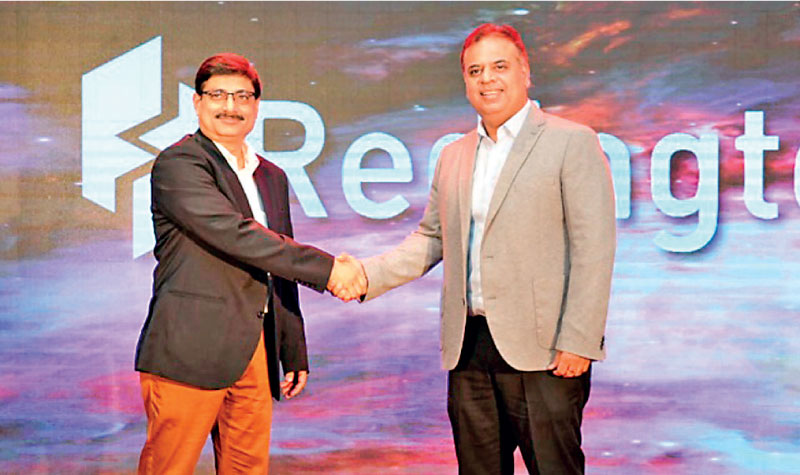 Adobe Digital Media Channel Leader Tapan Chaturvedi (left) and Redington Deputy General Manager Pankaj Lamba
---
Partnership aims to foster digital empowerment in Sri Lanka, Maldives, Bangladesh, Nepal, and Bhutan
---
Redington, a leading technology solutions provider, recently announced that it has been appointed as Adobe's exclusive distribution and market development partner across key markets in South Asia, including Sri Lanka, Maldives, Bangladesh, Nepal, and Bhutan. Accordingly, this partnership aims to ignite creativity and foster digital empowerment across the region, by improving accessibility to Adobe's range of creative and digital workflow software tools.

"At Redington, we're committed to eliminating technology friction and bridging the digital divide between emerging and developed markets through our unique blend of technology, innovation, and partnerships," said Redington Chief Executive Officer Ramesh Natarajan.

"Our collaboration with Adobe is a testament to this commitment, and together, we aim to empower businesses and individuals with innovative and robust tools they need to succeed in the digital age, through our extensive partner network and digital distribution platforms."

"We're excited to join forces with Redington to expand Adobe's footprint in South Asia. We're confident that this go-to-market partnership will go a long way in catalysing creativity, enhancing productivity, and fuelling economic growth across the region," said Adobe India/South Asia Senior Director and Head of Digital Media Business Girish Balachandran.

Redington and Adobe joining forces will allow for wide and easy access to Adobe's cutting-edge software solutions across Sri Lanka, Maldives, Bangladesh, Nepal, and Bhutan. It will bridge the gap between innovation and adoption, empowering businesses and individuals to embrace cutting-edge tools, driving a transformative wave of digital growth, empowerment and value creation across the region. Combining Adobe's prowess in creative and digital workflow software with Redington's extensive distribution network and local insights, this collaboration is poised to be a game-changer that inspires creativity, drives digital transformation, and shapes a brighter tomorrow for everyone.