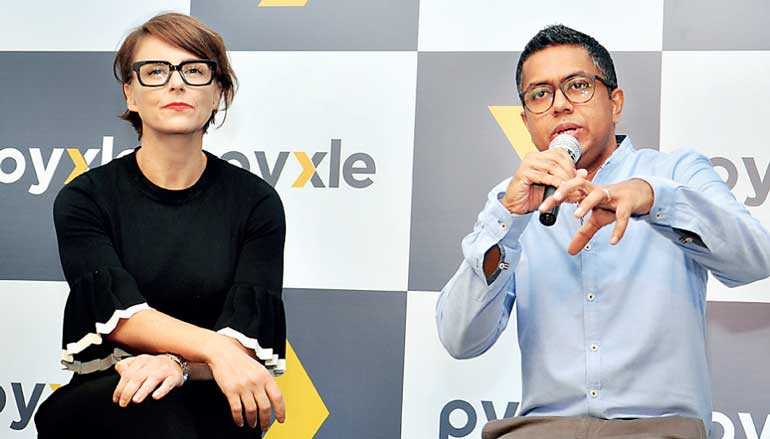 Pyxle Founder and Director Presantha Jayamaha (right) with Tavistock Group Australasia President Hayley Evans – Pic by Ruwan Walpola
By Divya Thotawatte

Enterprise technology solution provider Pyxle recently celebrated its 15th anniversary with the launch of Pyxle 2.0, its new workspace and brand identity.

Pyxle 2.0 is a vision for the company's next decade of growth, reflected in its new logo which enlivens the familiar print with a futuristic design. Pyxle's new vision is twofold, focused on providing innovative solutions that enable partners to change the way they do business, drive revenue and improve operational excellence. This view is emphasised by a commitment to fostering a rockstar environment that enables the Pyxle team to thrive and create. A new office space, thoughtfully designed to strengthen team dynamics and workplace wellbeing, is a key element of the Pyxle 2.0 relaunch.

Pyxle Founder and Executive Director Presantha Jayamaha stated that in 15 years Pyxle has transformed from a small unit of two to a thriving family of 90 that works with partners around the world to consistently deliver results. He said that this consistency had helped the company reach its targets.

"From aviation companies in Sweden to agricultural companies in Australia, we provide technical business solutions and we have solved the problems of these companies. At Pyxle it's not about the money or the size of the deal but it's always about winning. We grew through hunger and learned through challenges. And our first five years were just that, we were a small company with big ambitions so we decided to venture overseas. This company is still 15 years and we still have to grow and mature. We sometimes have to drop habits and experiment with new things," he said.

Jayamaha added: "We are committed to growing the business over the next few years as a brand that is instantly recognisable as a leader from Sri Lanka and the region. To do this of course we will rely on continuing to build a strong team of disruptors, thinkers and innovators who are always curious about framing everyday problems via a tech lens."

Pyxle, which was founded in 2003, offers partners a package of technology consulting, software development and managed IT and data services.