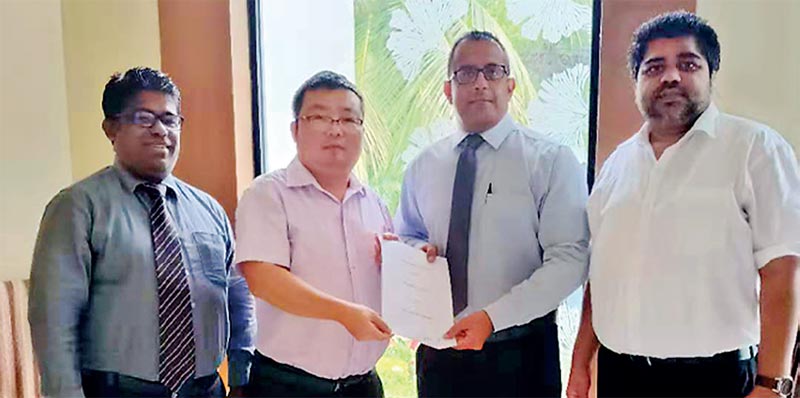 Abans Chief Marketing Officer Buddhika Dharmawardana, Xinda Lanka (Oppo Sri Lanka) CEO Bob Li, Director – Operations Dinesh Perera and Abans Snr. Brand Manager and Category Head Fritz Fernando
---
Global smartphone brand Oppo celebrated five years of partnership with Abans PLC together with a renewal of the partnership for the next three years.

Since 2016, the brand has enjoyed a positive response from Sri Lanka having entered into a partnership with Abans PLC, a major Sri Lankan conglomerate with an extensive product portfolio. For over 50 years, Abans has been a trusted name for high quality electronics and home appliances, mobiles and smartphones, security surveillance systems, IT and communication equipment.

Established in 2004, Oppo is a young, vibrant smart device manufacturer available in over 50 countries and regions. This year marks five years of effective partnership between Oppo and Abans.

Abans PLC MD Behman Pestonjee said: "Oppo has been a welcome addition to the Sri Lankan market and has been embraced by consumers across the island making it one of the most popular mobile phone brands in the local industry today."

The evident success of the partnership also led to its recent renewal, sparking new opportunity and growth for the relationship between Oppo and Abans.

With 400+ showrooms across the island, Abans has been the catalyst to increase Oppo attraction around the country and create an unparalleled market presence.

Xinda Lanka (Oppo Sri Lanka) CEO Bob Li agreed, stating: "Abans has been a dynamic organisation under which Oppo has been able to thrive and grow in popularity in the local market. The long-standing partnership between these two brands is a testament to the strength and reliability behind the two brands and their high standard of quality."

Abans is no stranger to successful international partnerships and has been a trusted name which is synonymous with a multitude of popular global brands. Its customer-centric approach and easy payment schemes and flexible payment options are a just a few reasons behind the wide market reach and has inadvertently extended this popularity to OPPO making this partnership one that is offers the best of both worlds.