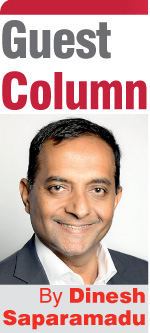 The coronavirus pandemic has shaken up the business world in a way that no other crisis has done in modern history. The enforced closure of stores, supermarkets and restaurants almost suffocated earnings. The alarmingly rapid spread of infection and the stringent measures needed to stem this have had severe economic ramifications.

The greatest threat to the survival of most retail outlets in a pandemic-riddled world has been the absence of diverse channels to sell their goods and services. The inability to conduct business at their brick-and-mortar facilities brought to light a reality most establishments had never considered before: in a world that is becoming increasingly more unpredictable, having only a single sales avenue is far too risky.

The production and administration of vaccines has given rise to some hope in the business world. There is now optimism that financial recovery can soon begin. That said, sticking to the old business model is not going to bring about the kind of growth necessary for organisations to bounce back. Companies have to reimagine the way they operate, taking into consideration diversification from a customer service standpoint. They must think about how to promote and market their goods and services in new and innovative ways.

For businesses to thrive in the next normal, what is needed is a well-thought-out digital strategy. Last year's extended curfew triggered a transformation in purchasing patterns. According to Survey Research Lanka, online ordering jumped from the pre-COVID 9% to 47% as of June 2020. The 'COVID-19 Barometer Sri Lanka Report', published by Kantar/LMBR also in June 2020, revealed a similar leap in Sri Lanka's e-consumer basket from $ 11 to $ 38. This year's travel restrictions have fuelled a further surge in virtual buying. Forecasters predict that online shopping will continue to grow even once the pandemic is brought under control. In order to benefit from changing consumer behaviour, merchants should diversify selling channels and build a strong online presence.


Entering the online market

Making a foray into the digital arena can seem quite daunting, especially if an enterprise were to venture out on their own. Third-party aggregators are a good starting point for merchants who are new to the virtual market. These platforms offer easy entry and signing up is fairly straightforward. Since these aggregators already have a customer base in place, merchants can gain exposure and start getting orders very quickly.


Knowing the pitfalls

While third-party aggregators are a sensible first step in online ordering, merchants need to look at long-term success. In order to grow, retailers should be able to determine their future, plotting their course for themselves and taking their business in directions that would be beneficial to them. For this, an establishment requires autonomy. Companies should be free to make their own decisions and act independently.

The biggest drawback with third-party aggregators is that merchants have little to no control. The platforms call the shots on store placement and classification. Unless they are willing to pay extra, a merchant's visibility is determined for them. These platforms can increase commissions at will, as was seen last year when some of the big players hiked their commissions to 30% or more. The pandemic had already severely dented revenue. The added burden of higher commissions had a noticeable impact: profit margins plunged, with some establishments ending up making no profit on items sold through these aggregators.

Depending completely on third-party aggregators for online sales can be dangerous, as there is always the possibility of them pulling out of the market. In mid-2020 one of the giants of food delivery apps suddenly announced it would be closing down operations in Bangladesh, leaving hundreds of merchant partners high and dry. With the country in lockdown, establishments who had no other virtual sales channel were stranded with no way of keeping their business going.


Thriving independently in the virtual world

In order to ensure future success, an establishment must own the online sales channel they are using. This is the best way to stay in control of orders and prices. Owning a platform also makes a business more robust through a high degree of immunity from the pressures of third-party forces. Owning an online store gives an organisation independence and stability.

With an online store, retailers do not have to depend on an intermediary for anything. They can engage directly with their customers and this connection fosters customer loyalty. A loyal customer base is fundamental for success, as it facilitates repeat orders as well as recommendations that will bring in new customers. Loyal customers also fortify an establishment against competition by keeping the orders flowing in the direction of that store and away from rival outfits.

Unlike with a third-party aggregator, an online store gives the owner access to all customer data. The insights into purchase patterns and preferences that data analytics provide, enable a deeper understanding of customers. When a company knows its customers well, it is able to effectively cater to their needs. The information derived from data analytics can inform promotions and special offers. It is also invaluable in formulating targeted marketing programmes. Overall, data-driven decisions boost business.


Building an online store

The safest and most effective method of diversifying sales options is to own an online store. While for the less tech-savvy merchant this could be an intimidating prospect, IT expertise is in fact not a prerequisite. There are professionals who specialise in setting up web stores and it is advisable to hand over all matters technical to them.

Webstore creators come in two forms. There are freelancers who can create an online store and integrate payment gateways. These individuals often offer an economical path to establishing a virtual presence, especially for the smaller-scale outfits. While they are skilled at designing and launching, there is always uncertainty surrounding maintenance and upkeep. Unfortunately, freelancers do not come with a long-term guarantee of assistance.

In terms of reliability, it is more prudent to engage the services of an experienced company with a track record of building efficient platforms that run smoothly. These firms have templates that can be customised to meet the specific requirements of an enterprise. The platforms they offer often have built-in payment gateways providing an all-in-one sales solution. They have dedicated customer support personnel who will be on-hand at all times to deal with any difficulties that may arise. By working in partnership with retailers, these software providers offer assistance beyond the technical, collaborating and strategising on customer success.


Paving the way to long-term success

The coronavirus pandemic accelerated the digitisation of the country's retail sector. With people getting more and more comfortable with conducting transactions virtually, online purchasing is fast becoming as commonplace as visiting a brick-and-mortar store. Beyond helping businesses overcome the challenges of the pandemic, the growing popularity of online stores will keep these outfits relevant in the years ahead. Thus, by launching an online store retailers can ensure their present and future success.
---
(The writer is CEO and founder of the hSenid group of companies, CEO and founder of Appigo International Ltd. and Chairman of hSenid Group of Companies. He has over 30 years of experience in IT and other technology-related industries and serves on many advisory boards of the public and private sectors.)
---