Akmal Latiff was recently appointed as the new Head of Operations for Omentra.com, Sri Lanka's first digital procurement solution provider.

Elevated to this position from being the Head of Business Development at Omentra.com, during which time he instigated many positive changes to Omentra's customer portfolio which showed a rapid growth, Akmal has clearly demonstrated his capacity to significantly impact the profitability of a business through experienced leadership and direction in a wide range of disciplines.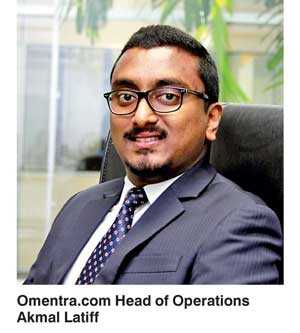 Akmal is a product of the Royal College Colombo and is qualified in management and marketing, currently pursuing his studies in the final stage of Master of Business Administration from the University of Wales Trinity Saint David UK. He brings on board many years of experience in developing operations strategies that have proven to be instrumental in the continued growth and success of the organisations he has served.

In his position as Head of Operations, Akmal will be responsible for the retention and growth of Omentra's services, managing and overlooking the day-to-day operations, service delivery developments and the growth and expansion of their customer portfolio.

"I am excited to lead the team at Omentra.com as the company develops to become the leader in online procurement services in the country," said Akmal.

He further stated that Omentra.com having recently celebrated its first year in operation, has over the last one year, been delivering a host of benefits for both suppliers and buyers. "For buyers, our platform has helped save money by preventing duplicate spending, leveraging volume buying, saving costs associated with paper-based systems, simplifying the purchasing process, providing visibility into day-to-day transactions, making it easier for users to get the supplies that they need and overall speeding up the procurement cycle. Furthermore, many of the companies that have used our services have been able to release their procurement staff from processing orders and handling low value transactions to having them concentrate on strategic sourcing with high efficiency. This has had significant bottom-line benefits, including cost reduction, process efficiencies, spending controls and compliance," he said.

In terms of the benefits reaped by suppliers, Akmal commented that it has widened the number of contract opportunities that has come their way. "Rather than waiting weeks or months to get a response from a marketing campaign, our platform has been a direct channel that has helped improve sales by providing one platform that has demonstrated and built awareness of the value of the goods and services they market."

Outlining his future plans Akmal cited, "Most organisations today realise there is a need to develop a more comprehensive digital supply chain strategy that includes not just internal supply chain operations by external collaboration with trading partners. With data almost becoming like a new currency, it's a resource that people are trying to leverage more effectively. Therefore strengthening our verticals to give customers further value, the plan is to launch a host of new applications that will further digitalize our current solution through the use of advanced analytics that will provide advanced spend intelligence and automated sourcing insights."

"Knowing what a part or service "should cost" when produced at maximum efficiency and effectiveness is a key weapon for every buyer when negotiating with vendors. Our solutions will be designed towards being specifically geared toward the requirements of strategic sourcing. These include consolidating demand and specification data, vendor insights, analyses, and strategies across diverse BUs and functions, allowing for timely and effective interactions to challenge what, where, and how to source."

Omentra is backed by a team of diverse and young, talented tech savvy professionals who carry out their own digital strategies while keeping in mind that customer service is key. They even create their own content through blogs in order to build their social presence. Omentra.com looks set to make some big changes in the market that will positively affect the supply chain management of many companies, both big and small.