Sri Lanka Cybersecurity Resilience Team (SL CERT) Chairman of the Board Jayantha Fernando, Sri Lanka Air Force Director Information Technology Air Commodore Arosha Vithana, ICANN Regional Security, Stability and Resiliency Manager – Asia Pacific Champika Wijetunga and Aviva UKI and Cyber Operations Lead Diana Moldovan

From left: Meta Defence Labs UK & Sri Lanka CEO Clive Simms, CIMA Sri Lanka Chairperson and Cargills Bank Head of Private Banking Mahesha Amarasuriya, NIBM Computer Science Department Head Buddhima Subasinghe, IBM Systems Lab Services Worldwide Business Unit Executive for IBM Storage and Software Defined Infrastructure Maria McDade and Emotional Intelligence and Leadership Coach Jaqueline A. Hinds

Sanjee Balasuriya, Maria McDade, Saurabh Gupta, Clive Simms, Nishta Cassim

Chani Simms, Dr. Nirmal De Silva, Rohan Jayaweera, Diana Moldovan, Jaqueline A Hinds and Senela Jayasuriya

M.C. Abeysekera receiving her certificate of completion from Jaqueline A. Hinds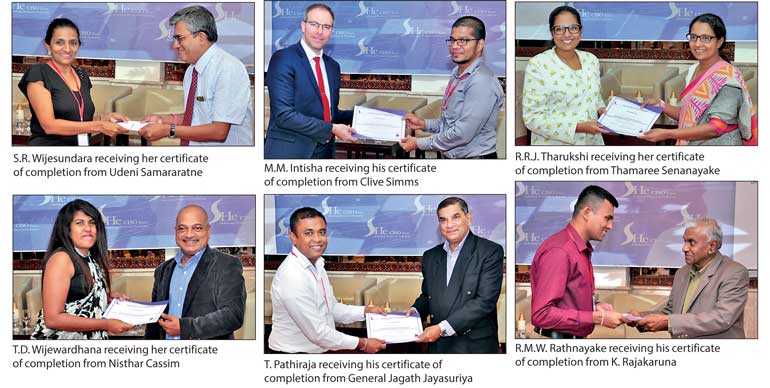 ---
The SHe CISO Exec. global cybersecurity leadership empowerment boot camp 2018 was a resounding success. The boot camp concluded with a business forum recently attended by over 100 business leaders in the industry. This was the pilot event of a series of future global give back projects planned by Meta Defence Labs UK & Sri Lanka.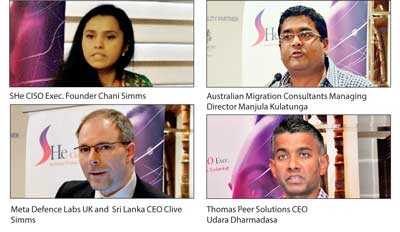 The boot camp was held from 29 October to 2 November at The Kingsbury, Colombo. Twenty scholarships of worth Rs. 2 million were issued by Meta Defence Labs for selected participants from various industries and backgrounds to be trained on cybersecurity, data protection, leadership and personal development that empowered not only the participants but also the fantastic international and local speakers who volunteered their time for this project.

Interactive training sessions during the five days covered more than 30 modules such as fundamentals of cybersecurity, data protection, social engineering, information security frameworks, information security policies and governance, artificial intelligence, network security, ethical hacking, leadership elements and emotional intelligence as part of the program.

"Security is not just the IT guys' responsibility anymore, it is everyone's responsibility! We are in an era where technology is advancing so fast that we battle to keep up with that technology and a constantly changing threat landscape. To add to this situation, we don't have enough people with the right skills in the industry and we don't have time for people to spend three years at universities to be graduated into degrees that are already outdated by the time they complete them," said SHe CISO Exec. Founder and Meta Defence Labs UK & Sri Lanka Managing Director Chani Simms on the opening day ceremony.

She added: "According to an ISC2 study in 2018 the skill gap in the cybersecurity industry is almost three million globally and around 2.5 million for Asia Pacific. So, we clearly need more cybersecurity savvy leaders and we need them now!"

Simms also said that this is just one part of the problem and there are massive diversity gaps, confidence and attitude gaps that can make this industry less attractive to newcomers.

"As professionals in this industry, it is our responsibility to help bridge these gaps by creating a community that shares knowledge, supports and empowers each other to help create a talent pool of information security leaders we need. You always hear that humans are the weakest link in the security chain, but with the right training and support, we can empower our staff to be the strongest link. Thereby making it much more difficult for cyber criminals to succeed. It should always be, People over Process over Technology!" said Simms and other speakers agreed.

The boot camp opened with a speech and a panel discussion which comprised of many industry experts such as Sri Lanka Cybersecurity Resilience Team (SL CERT) Chairman of the Board Jayantha Fernando, Sri Lanka Air Force Director Information Technology Air Commodore Arosha Vithana, ICANN Regional Security, Stability and Resiliency Manager – Asia Pacific Champika Wijetunga and Aviva UKI and Cyber Operations Lead Diana Moldovan. The panel was moderated by Emotional Intelligence Coach from the UK Jaqueline A. Hinds.

All cybersecurity modules were covered by the main speakers Chani Simms, Diana Moldovan, Clive Simms, Saurabh Gupta and Maria McDade. The course included real life examples of data breaches occurring over the last decade globally.

Guest speaker 99X Sri Lanka Country Manager Kushan Ratnapala spoke about, 'Using information security as a differentiator and Trust LED Information Systems'. Cybersecurity frameworks were covered by

ES2 Solutions Managing Director Thilak Dammananda and BCIS Director/Researcher Dr. Harinda Vidanage delivered a speech on 'How vulnerable people are to social engineering'. KPMG UK Information Security Professional and Leader Nasim Ali spoke about Security Operations while Chanaka Sekkuge spoke about the current legal landscape for data protection in Sri Lanka.
Leadership and empowerment
Day 3 of the boot camp was named Leadership day, which began with a very powerful presentation by Dr. Nirmal De Silva on Leadership – Power Play. In his presentation he discussed key areas in successful business leadership such as engagement, personal growth/development, intrapreneurship and self-competition.

The leadership element of the program was followed by Women Empowerment Global – Leadership Trainer and Coach CEO Senela Jayasuriya, who further discussed building confidence, personal branding and positive attitude.

After a lunch session IBM Systems Lab Services Worldwide Business Unit Executive for IBM Storage and Software Defined Infrastructure Maria McDade and Emotional Intelligence and Leadership Coach Jaqueline A. Hinds held a workshop for the participants on exploring effective skills to lead and facilitate meetings and workshops, design thinking, leadership qualities, managing teams, effective communication between tech to business, networking and mentoring. A workshop on emotional intelligence was conducted by Jaqueline Hinds which helped participants to identify their leadership style. Leadership day concluded with a panel discussion which was moderated by Senela Jayasuriya. The panel comprised Meta Defence Labs UK & Sri Lanka CEO Clive Simms, CIMA Sri Lanka Chairperson and Cargills Bank Ltd. Head of Private Banking Mahesha Amarasuriya, NIBM Computer Science Department Head Buddhima Subasinghe together with Maria McDade, and Jaqueline Hinds.

The panel discussed some of the leadership qualities around how to build credibility by maintaining integrity and authenticity, which has helped each of the panellists to become who they are today and the importance of finding a mentor when climbing in the career ladder.

Several interactive workshops were held on the Hacking & Security Operations Day including a remote training session conducted by KPMG UK Information Security Professional and Leader Nazim Ali. In his presentation he explained the typical schedule of a Security Operations Officer and how important it is to act fast when managing threats. He also highlighted that where you are located does not matter when it comes to hiring good talent.

The five-day boot camp ended with a comprehensive assessment and evaluation process which made mandatory for all participants. The participants were awarded with a certificate of completion, a digital badge and CPE points as a validated indicator of their accomplishment.
Cybersecurity, Leadership and Empowerment Business Forum highlights
SHe CISO Exec. Colombo event concluded on Friday, 2 November with a successful business forum joined by many industry leaders. The event highlights included two panel discussions followed by cocktails and dinner.

The event began with a speech by Chani Simms who explained the purpose of SHe CISO Exec. program and how community can be part of it. Five participants from the boot camp spoke about the importance of such programs and how they were empowered by SHe CISO Exec. to rise in their respective careers. Boot camp participant, Wimalaratne, Assistant Superintendent of Police Special Task Force said that the program managed to help him identify unforeseen threats to the national security. He further added that programs like SHe CISO Exec. are much needed in current society.

All attendees of the business forum experienced keynote presentations by Meta Defence Labs UK & Sri Lanka CEO Clive Simms who explained the importance of data protection for business success and how businesses can build trust by adopting frameworks such as Cyber Essentials and IASME certifications offered by Meta Defence Labs. Thomas Peer Solutions CEO Udara Dharmadasa spoke about hyper availability in modern data centre. Thomas Peer Solutions was the Silver Sponsor of SHe CISO Exec. Colombo 2018 event.

First panel discussion addressed 'Future of Cybersecurity with AI and Quantum Computing' was moderated by Daily FT Chief Editor Nisthar Cassim. The Daily FT was the Official Newspaper of SHe CISO Exec program. The panel included Clive Simms, Maria McDade together with KPMG UK Senior Manager – Infrastructure Delivery Lead Saurabh Gupta and eCybersec Sri Lanka Managing Director Sanjee Balasuriya. eCybersec Sri Lanka was one of the supportive partners of SHe CISO Exec. program.

In answering to a question raised by the moderator, Simms said, "We need to start adopting quantum resistant encryption sooner rather than later due to the exponential development rate of quantum computing and AI."

Second panel of the day discussed the theme 'Diversity, Equality and Empowerment in Tech Industry'. Panellists included Chani Simms, Diana Moldovan, Jaqueline A. Hinds, Senela Jayasuriya, together with Dr. Nirmal De Silva and Rohan Jayaweera. The panel was moderated by SHe CISO Exec. Program Director Nisa Vithana.

The panel discussed about the importance of diversity to business where they highlighted how diversity can help drive innovation, creativity, successful product development, better decision making. Chani further added how employers can create a supportive culture for their employees to be treated equally. She further added that SHe CISO Exec. was founded as a solution in addressing these barriers in the field of cybersecurity to encourage more women and men to be part of a global community that supports each other.

The forum concluded with a speech by Australian Migration Consultants Managing Director Manjula Kulatunga who spoke about the migration opportunities available for cybersecurity professionals in Australia which interested the audience.

Chani Simms extended her appreciation for the partners and supporters of the Colombo 2018 and announced that monthly meet-ups will commenced for the Alumni group as part of the sustainability program which will extend for anyone who would otherwise not have experienced the boot camp. Event followed by cocktails and dinner.