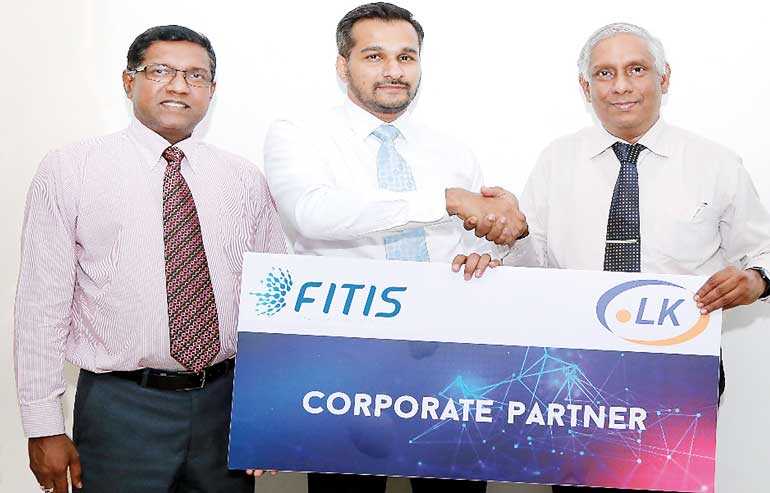 The sponsorship cheque handed over to FITIS Chairman Abbas Kamrudeen by LK Domain Registry CEO Prof. Gihan Dias. FITIS CEO Aruna Alwis is also present
---
The sole registry for domain names that end in '.lk' in Sri Lanka, the LK Domain Registry, powered the Federation of Information Technology Industry (FITIS) with a Corporate Partner Sponsorship recently.

The LK Domain Registry has come onboard to extend its support to FITIS to carry out its professional activities for the benefit of its members and the public. The sponsorship cheque was handed over to FITIS Chairman Abbas Kamrudeen by the LK Domain Registry CEO Prof. Gihan Dias.

Welcoming the LK Domain Registry onboard for the year 2019/2020, Kamrudeen said: "It is indeed a pleasure for FITIS to have the support of '.lk' to complement its development activities. I am very pleased to welcome the registry as a Corporate Partner, and I believe this partnership will tremendously benefit both organisations."

Kamrudeen also noted that this partnership was also an endorsement of the Federation's mission to continue to serve society by promoting and developing the ICT sector continuously.

Commenting on the Corporate Partnership with FITIS, Professor Gihan Dias said: "The LK Domain Registry is a non-profit organisation established in 1990. Since its inception it has served the country not only by providing a professional domain registration service, but also facilitated development of Internet infrastructure to improve the Internet in Sri Lanka. I am sure this partnership will add value to ICT industry, businesses across the country and beyond."

As the national-level domain name, a '.lk' domain provides Sri Lankan organisations and individuals with their unique brand identity on the internet. It registers a range of domain names including the top-level domains .lk, .com.lk, .org.lk and .edu.lk. In addition to English, domain names can also be registered in Sinhala and Tamil. Our clientele spans all countries, with the majority in Sri Lanka.

The Training Division of LK Domain Registry under the brand 'Suhuru Sara' is focused on assisting in the development of ICT literacy in the Sri Lankan community for over 25 years and have been conducting awareness and training programs island-wide in schools, universities, educational institutions, government departments and private sector organisations. This partnership will enable additional channels thought which training and awareness will be delivered.