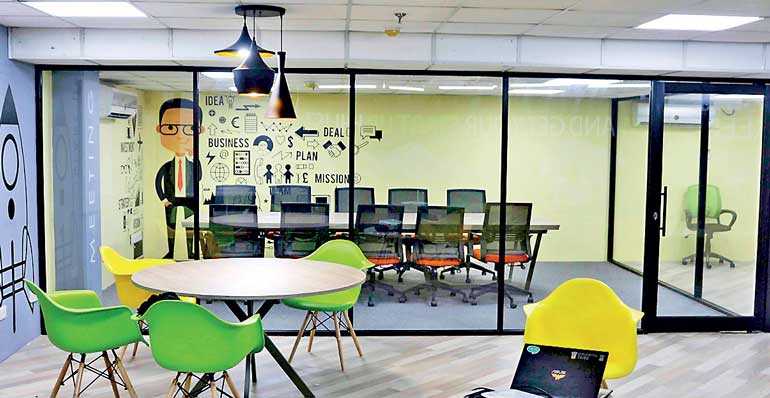 Winners of the challenge are provided access to the John Keells X Office Space at Crescat Boulevard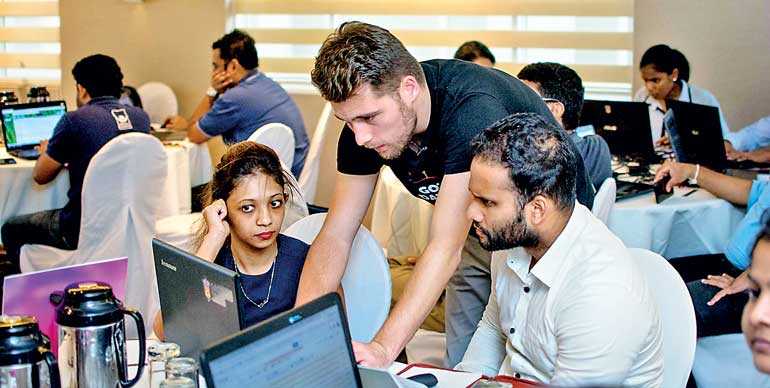 Luke Montgomery, Growth Hacker and Lead Speaker at Growth Tribe Academy advising workshop participants

Marius Ursache, teaching fellow and mentor at MIT and Singularity University, talking to participants at a workshop
---
Applications sought from all aspiring entrepreneurs from 3 December 2018 until 6 February 2019
John Keells Holdings is calling all entries for the third edition of its start-up accelerator program, John Keells X Open Innovation Challenge 2018/19, where teams of local innovators and entrepreneurs will compete for the chance to win entry into JKH's impressive Accelerator Program.
This coveted prize will offer winners of the challenge Rs. 2.5 million in seed investment, a specially curated growth-oriented curriculum, delivered by leading international trainers, free office space in Colombo, access to the best legal, finance and secretarial expertise, as well as to mentors involving senior JKH leadership, active interaction with JKH businesses, as well as the possibility of further investment during or after the six-month Accelerator Program.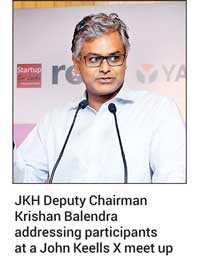 Initiated in 2016 with the aim of encouraging and aiding local creative and intellectual talent through a public competitive format, John Keells X has since evolved into a fully-fledged accelerator program since last year. Fuelled by the overwhelming and enthusiastic response from young innovators in Sri Lanka, the objective is to not just support, but to actively invest in the futures of prospective talent by holistically educating participants on key factors and know-how that will enhance business performance. This also includes an entrepreneurship curriculum and growth hacking curriculum delivered by leading international trainers with extensive start-up experience. Additionally, participants will receive mentorship from some of the most respected entrepreneurs and business magnates in the country.

Through last year's program, six teams secured seed funding and entered the accelerator program to receive JKH-certified extensive support, allowing them the opportunity to successfully accelerate their own business ventures over the six-month period.

The key to innovation is the ability to constantly evolve, and having collected insights from previous years' editions, JKH has now incorporated these learnings into shaping an even more impactful program. Entries are now open for the newly revamped John Keells X Open Innovation Challenge 3.0.

Applications will be taken from 3 December 2018 until 6 February 2019, and can be submitted via the John Keells X official website: www.johnkeellsx.com More information on the Accelerator Program, basic guidelines on how to get started, and even details on the selection process will all be available on-site. Additionally, JKH has scheduled a series of road shows and meet ups with the objective of providing more direction to the pool of potential applicants. Teams competing in the 2018/19 edition of the John Keells X Open Innovation Challenge will be judged by their ability to exhibit uniquely innovative ideas that hold the potential to either complement or disrupt the core sectors that John Keells Holdings PLC is currently engaged in, such that growth of their early stage businesses can be accelerated through aligning with any JKH business unit or industry vertical spanning Leisure, Transportation, Consumer Foods and Retail, Property, Financial Services, Information Technology and Plantation Services.

Following a shortlisting process, up to 30 candidates will be chosen to go on to a 'Demo Day' where they will be expected to pitch their concepts to an eminent panel of judges. The panel of judges for this year will comprise of Krishan Balendra (Deputy Chairman – JKH), Gihan Cooray (Group Finance Director – JKH), Ramesh Shanmuganathan (Executive Vice President and Chief Information Officer – JKH), Ajit Gunewardene (Founder and CEO – Bluestone Capital) and Dumith Fernando (Executive Chairman – Asia Securities Holdings).Up to seven of the best teams from Demo Day will secure seed funding of Rs. 2.5 million each and thereafter participate in a six-month Accelerator Program running from June through to December 2019. Through this much sought-after program, JKH will offer these teams access to JKH customers and channels, and access to senior leadership level mentors at JKH along with opportunities for further investment in the selected winning entities during or after the Accelerator Program. The ultimate objective of the program is to provide support in achieving desirable business outcomes within the shortest time frame possible.

"We want to create successful long term business partnerships," says JKH Deputy Chairman Krishan Balendra. "The interaction with John Keells X and its participants does not end with the accelerator program. The relationships built with JKH will most certainly assist individuals and teams navigate the tough path of a start-up, armed with greater confidence and skills acquired through the John Keells X experience."John Keells Holdings PLC is the largest listed company on the Colombo Stock Exchange. From managing hotels and resorts in Sri Lanka and the Maldives to providing port, marine fuel and logistics services to IT solutions, manufacturing of food and beverages to running a chain of supermarkets, tea broking to stock broking, life insurance and banking to real estate, inbound and outbound travel, JKH has made its presence felt in virtually every major sphere of the economy. Since modest beginnings as a produce and exchange broker in the early 1870s, it has been known to constantly re-invent, re-align and reposition itself in exploring new avenues of growth.