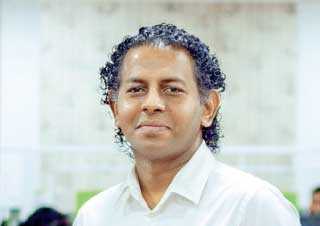 John Keells Holdings Group CIO Ramesh Shanmuganathan
---
Businesses around the world have been affected by the COVID-19 pandemic, compelling them to adapt, innovate and reinvent themselves to survive and sustain. Businesses in Sri Lanka are also in the process of recovering from the damages caused by the pandemic by adapting to the 'new normal'.

In order to rectify the situation, John Keells IT has taken upon itself to spearhead a program to help businesses to reimagine and reinvent themselves. This is the goal of the CXO Disrupt Initiative by John Keells IT, which aims to help business leaders, rethink, reimagine, and reinvent their businesses to adapt to the new normal and be more agile in adapting to the future.

Due to the coronavirus, many businesses have been compelled to shut down or reduce their operations. In order to confront this unique situation, organisational leaders need to start thinking of new ways to stay relevant. The necessity may have arisen as a result of circumstance, but organisations that habitually pivot and evolve, have greater chances of far exceeding the required ability to deliver on market demands in these post-pandemic times.

According to John Keells Holdings (JKH) Group CIO and John Keells IT (JKIT) CEO Ramesh Shanmuganathan: "When we talk of this new normal, it's not going to be just about the products you sell. It will also be how you sell the product. Companies should focus on core areas to add massive value while collaborating with others to fulfil the end-to-end proposition."

JKIT, a subsidiary of the well-established JKH, is relatively new to the latter's umbrella of businesses. "We have noticed a lack of depth in thinking by leaders on how to effectively utilise and deploy technology, as well as how often available technology is under-utilised for innovation purposes in organiSations. This may be as a result of various factors. We are at a definite advantage in being able to service the JKH group as a key account. Through this arrangement, JKIT gains exposure to the most up-to-date innovations and technologies out there," Shanmuganathan added.

The very first session of JKIT CXO Disrupt, named 'Reimagine Retail' was held recently. The panel consisted of Ramesh Shanmuganathan; Hemas Holdings PLC Group CEO Kasturi Chellaraja, John Keells Holding PLC President – Retail Charitha Subasinghe, and was moderated by John Keells Information Technology Ltd. CMO Rohan Jayaweera.

"Today digital adoption is closing the gaps between the traditional competitive advantages organisations enjoyed. The value proposition needs to be re-imagined and realised with the concept of the new customer journeys. The customer experience is fast becoming the most critical aspect. We see superior customer experience is another way to define the priority of businesses to reduce/remove friction. During COVID-19 customers did and are willing to tolerate friction as the alternatives are far less. However, it is not a long-term viable option to stay competitive and grow," explained Shanmuganathan.

A similar point was echoed by Chellaraja: "The pharmaceutical industry is tightly regulated, which made it too costly to adopt eCommerce and other digital platforms. Further, customers were comfortable with physical stores. But the pandemic has relaxed regulatory barriers and has made consumers rethink how they can obtain their medication. With 60-70% of the population afflicted with non-communicable diseases like diabetes, this was a critical issue once the curfew came into effect."

Reflecting on how Keells Super had to adapt to the lockdown-imposed curfew, Charitha Subasinghe shared that COVID-19 has only accelerated existing trends. "It is forcing organisations to tweak their business models, with digital and eCommerce playing bigger roles."

Looking at it optimistically, Subasinghe also stated, "I believe this is an opportunity, which we as business leaders must not waste. It is important that we listen to our consumers." Due to the crisis, health and safety factors are at the forefront of the responses adopted by corporates, where a digital presence helps consumers and essential workers function through limited contact.

The utilisation of existing technology has given corporations fresh opportunities to shift from physical retail to an online platform. Adding to this, Shanmuganathan shared: "The technologies needed for a supermarket chain like Keells Super to operate online existed many years ago. What has finally changed is our collective mindset and willingness borne out of necessity, to try these platforms in reacting to the sudden landscape shift in the market. Before the crisis, the Keells Super website got only a handful of orders. The technology had always been there. But thanks to a circumstance and mindset change, we now have to operate like a startup, reconfiguring things, and executing ideas at scale in fulfilling the needs of our consumers."

The upcoming sessions of JKIT CXO Disrupt are planned to focus on reimagining every aspect of a business in the future to enable digital transformation and is anticipated to showcase an international panel in appealing to a much broader and global audience.